This month UnitedKpop wrote about Hallyu in the UK for Mexican publication K-Magazine, an interesting K-culture magazine written in Spanish [translated by Renata Tarrangona].
Check out the article (La Invasión K-Pop Británica) in the magazine here, or read the article in English below
—-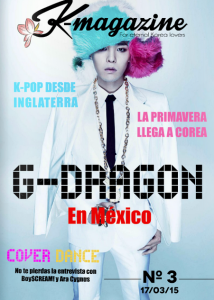 Pop music is a staple of the British music industry, in fact many of the world's biggest pop acts have hailed from these shores, The Beatles, The Spice Girls, and One Direction are all British born, fortunately we can't be blamed for Justin Bieber.
As the Britpop Revolution began in the 90s, influenced by the British Pop Invasion and Beatles Fever of the 60s, South Korean music too was revolutionising and Kpop was being born.
Watch UK music tv or listen to UK radio and you can probably sing the entirety of Ed Sheeran's Thinking Out Loud, even if you aren't a fan, but you'll never see or hear any K-Pop.
That doesn't mean there isn't demand for K-Pop in the UK however, or that fans do not exist here.
Last year BBC Radio 1, the UK's biggest radio broadcaster, played excerpts of Fantastic Baby and Crayon as K-Pop fan Sam Ranns recorded his Access All Areas show, something he never expected to be broadcast even in part.
The UK knows K-Pop exists, and many of us know there is far more to the genre than just PSY, who will unfortunately be forever played at British working-class wedding parties for children to cringe at as their fathers attempt to poorly dance along.
Britain's flag on the K-Pop map may be as small as the island itself is, but it does exist.
The UK has seen performances from the likes of U-KISS; Jay Park; 2NE1; B.A.P; Super Junior; SHINee; Infinite; PSY; BIGBANG even sold out an impressive two nights at the Wembley Arena in London back in 2012.
UK K-Pop fans have also had the chance see a rising number of idols visiting these shores for photo and music video shoots. A large section of BIGBANG's Extraordinary 20's photobook was shot in London. MVs from G Dragon [Crooked]; B.A.P [Where Are You? Where Are You Going?]; Donghae & Eunhyuk [Still You]; BoA [Fly Japanese release]; CNBLUE [I'm Sorry]; and Hyorin [Lonely] have all be filmed in the UK.
For those with an interest the UK K-Pop scene isn't hard to find.
There are many of K-Pop and K-Culture writers and bloggers in the UK. UnitedKpop is the UK's leading source for K-Pop and K-Culture news; reaction videos are all the rage, Kspazzing are extremely popular, one of their reaction videos was even watched by BTS; BeyondHallyu write wonderfully thought provoking opinion articles; ConceptLore explains music video narrative; Korean Class MASSIVE write about all things Korean.
For those who want to explore their own K-Pop talents you could visit one of the handful or Noraebangs, or attend a LoKo class. LoKo are the London Kpop Dance Workshop and hold classes to teach popular K-Pop choreography. They've even hosted masterclasses with BTS choreographer Mr. Son and SM Entertainment choreographer Mihawk Back; the team made it to the top 15 groups competing in the Kpop Cover Dance Festival in Korea in 2013.
Though the Hallyu waves impact on Britain isn't just there for those of us that appreciate the music of Korea.
Chinese food establishments have been commonplace in the UK for the past few decades, though Korean eateries have only become more common in the past couple of years. Korea's own Bibigo is open in two London locations; supermarket retailer Tesco even stock some of CJ Bibigo's cookery products in larger cities and online nationwide; and Masterchef's Dale and Larkin look set to introduce Korean elements into the Spring Asian fusion menu at Hokkei in Cardiff.
The UK is also a hotspot for fashion, even if many of our own citizens haven't had the memo yet, and many Korean fashion designers chose to study here. The Korean Culture Centre is currently hosting a Style Sharing exhibition showcasing the relationship between British and Korean style, featuring designers such as Ha Sang Beg, J KOO, and Hyunsoo Heather Park.
The KCCUK is the perfect place to immerse yourself in all things Korean. The centre hosts exhibitions; literature nights; screen films and dramas; support artists and designers in events such as London Fashion Week; they even run a K-Pop Academy.
One of the biggest events the KCC is involved in is the London Korean Film Festival. The 9th Festival saw attendance by Super Junior's Donghae & Eunhyuk to promote the formers film The Youth and perform for fans; actor and director Jung Woo Sung; and actors Ahn Sungki and Gang Dongwon.
Hallyu, and kpop, is easy to find in the UK especially if you know where to look, and for those lost at the beginning of their adventure into K-Pop a quick internet search will lead you to UnitedKpop. We're happy to help, wherever you're from, whatever your English language ability.
From everyone at and reading UnitedKpop, to everyone at and reading K-Magazine Mexico: 화이팅!