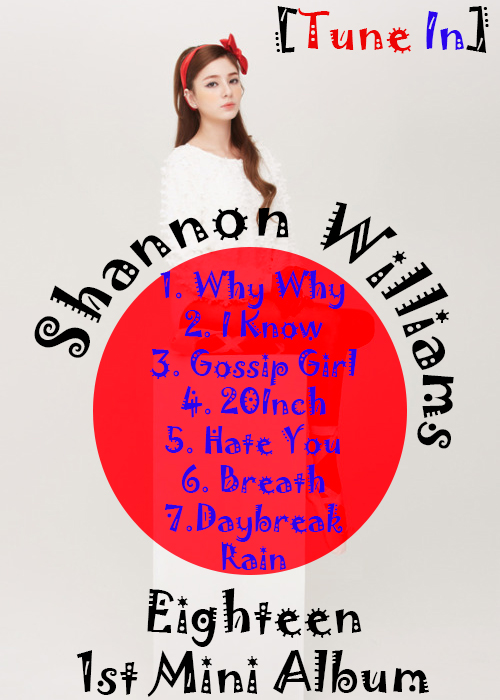 This month, there will be two album reviews, so here's the first of the two which features Shannon Williams' Mini Album – Eighteen!
Shannon Williams is a rookie idol from MBK Entertainment, formerly known as Core Contents Media which contains idol groups such as SPEED and T-ara. She is originally from the UK, being born to a Welsh father and Korean mother and attended Sylvia Young Theatre School before going to pursue a career in singing in South Korea. She make her official debut as a soloist at the end of 2014 with the song 'Daybreak Rain' which is also included in her debut mini album. She has covered a range of songs on shows
1. Why Why
With the first title track, the lyrics paint the typical picture of a young school girl pining for the attention and affection of her crush. In terms of the song itself, I quite liked the general tune, it's bubbly and contains sugary sweet vocals. With the M/V, it's a somewhat difficult story while some parts were enduring and a few even comical to an extent, I wouldn't help but think some of the segments of the music video were most certainly bordering on creepy. This is because it's not usually the typical reaction to keep used ketchup packets that the 'crush' in the video had used or even keeping the sweat coated handkerchief that she gave him to use, for those who don't follow with the examples it makes more sense if you see the music video! The concept is slightly overused for rookie girl groups which doesn't necessarily make her debut stand out as it could have. However, this is only the start of her career in the industry and given by her strong covers from 'Listen' from internationally successful singer Beyonce and the popular song 'Let It Go' from the Disney film Frozen, she most definitely has star potential.
Check out the M/V to Why Why!
2. I Know
The song style switches into a different direction, there's a soft touch about the vocals – it has very delicate undertones yet that doesn't mean say that Shannon is afraid of belting out during the high notes. Though, perhaps it's just an observation I've made through listening to the songs over and over again, the phrase 'hand phone' comes up on a number of occasions in the lyrics of some of the tracks in the album. This might suggest that Shannon's album may be relating around her age since she's sixteen years of age (seventeen in Korean age) and teenagers have a tendency of being glued to their technical devices, especially when they might either be expecting a text message back or debating on whether to send the first message.
3. Gossip Girl
At the start of the song, I could hear a similarity from the song 'Talk Dirty' – Jason Derulo, then the tune soon shifts into a different upbeat melody as the song hits the infectiously addictive chorus. The song transits smoothly from one melody to the next, making it very pleasant to listen to. Shannon displays her vocal capabilities through being able to change from the slow paced segments of the song to faster parts to match the beat. Honestly speaking, this is most likely to be my favourite song of the album, as the moment I first listened to it, I instantly liked the general feel and concept of the song, it's very light-hearted in comparison to some of her other songs which are based on heartache – it's good that she can sing songs which she can relate to.
4. 20Inch
In comparison to the previous tracks, whereas 'Why Why' and 'Gossip Girl' have upbeat melodies, the the colour of this song differs with an element of maturity seeming to come to light in the song. From what I can only guess, this is a collaboration song with a male rapper taking up some parts of the song however there are no names to identify whether he is from the same company. Regardless of this fact, the voices cause contrasting effects to the song, with Shannon's vocals bringing a soft and feminine touch while the male rapper adds in parts between intervals which completes the song to a nice finish.
5. Hate You
Within the first few seconds of the song starting, the single sound you hear when you listen to this song is fingers softly pressing into the piano keys, within the first verse Shannon maintains the low tones and once the chorus kicks in she does not hesitate to let her controlled vocals run freely. From a first glance at the title of the song, you might think that the inspiration could have stemmed from angry feelings towards a past loved one, however given by the English phrases such as 'I can't hate you', 'I need you' and 'I love you', this seems to be far from the truth. What I can just about gather from listening to this song is that Shannon can't bring herself to be angry with her past loved one and through the medium of this song, she's calling out in an attempt to reach out to this person by relaying the message that she still has feelings for him.
6. Breath (FT. VASCO & Giriboy) 
The song was released back in December 2014 so it's been around for a while since this album was recently published, this is a collaboration which features rappers VASCO, who is a Korean underground rapper and Giriboy who was a contestant on 'Show Me the Money 3'. As the name of the song is entitled 'Breath' it is suggested that the person that Shannon is singing about is somebody she can't live without, somebody she needs to be able to breath. From the lyrics of the song, that kind of impression I'm getting is that it might be a love triangle with VASCO opening up the song and cuts the relationship with the partings words of 'meet a new guy and start again'. With Shannon's part of the song,  I have to say that her vocals are very soothing to the ears as she crones softly of missing the company of her loved one. Then with Giriboy's bit, it could be unrequited love on his part as he professes his feelings.
Check out the M/V here!
7. Daybreak Rain
Finally to top the album off to a good finish, Daybreak Rain is Shannon's debut single back in December 2014. This ballad styled song gave us a little snippet of Shannon's vocal abilities, hitting all the right notes at the right intervals. From the lyrics, it tells the story of heartbreak and the road of slowly picking up the pieces of her life – or at least that's what she tries to do, but all attempts seem to be in vain. It's very bitter-sweet, with one side wanting nothing more than to welcome back her loved one into her life, the other wants nothing more to do with him. In essence, it's a very vicious circle of wanting somebody back yet over-thinking whether she really wants him back if he only makes her cry. In the M/V, the scenery is well planned with the rain shadowing her distraught emotions as it poured down relentlessly. The acting in the music video does not give off the impression of being awkward that sometimes happens with newly debuted idols, instead she confidently shows off her talents like a flower bud opening for the first time.
Overall, this is a well balanced debut album with all the songs differing in colour and style from Shannon Williams which showcases her talents in the form of ballads and pop songs. There is still room for improvement and growth of course, she's still only young and growing up. Though I'm very excited for all the opportunities she will have in the future to further showcase her talents as there is real potential with this one, watch this space!
A very well presented first debut album from Shannon Williams.
Though, I have to admit, from listening to her covers of 'Listen' and 'Let It Go' I had much higher exceptions from this album. I don't think that her vocal capabilities were fully reached, however having said that she is still quite young and her voice is still developing. I think that we can expect to hear great songs from her in the future with hopefully unique concepts too.
Content Material of Album

User Ratings (

2

Votes)