SHINee's latest MV 'View' serves as our 'Get the Look' inspiration this time around! The concept gives us a very laid-back, summer style that is perfect for both genders.
Here is the MV:
Baseball-style clothing can often be found anywhere during the summer season, and is usually sold at quite an affordable price. The loose style and thin fabric are great to keep you cool in the warmer weather. The SHINee members pair it with their ever skinnier jeans, full of rips and tears which is very on trend right now.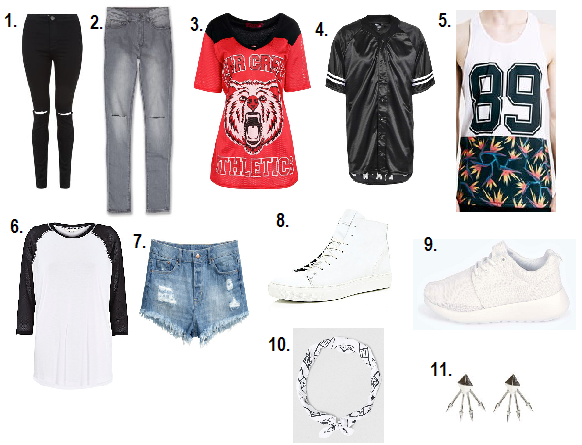 Women's Black Knee Ripped Skinny Disco Jeans – New Look: £19.99
Men's Grey Knee Ripped Super Skinny Jeans – New Look: £19.99
Women's Jemima V Neck Mesh Printed Baseball Tee – boohoo.com: £12
Men's Oversized Longline Embroidered Baseball Shirt – boohoo.com: £12
Men's 89 Floral Panel Hem Vest – Topman: £14
Women's White Mesh Raglan Sleeve T-Shirt – River Island: £18
Women's Worn Denim Shorts – H&M: £15.99
Men's White Leather High-Top Trainers – River Island: £55
Women's Daisy Mesh Lace Up Trainers – boohoo.com: £20
White Astronomy Bandana – Topman: £5
Silver Spike Diamante Earrings – New Look: £3.99
White trainers will work really well with this look, but of course, (the classic baseball shoe) Converse of almost any colour would also be incredibly fitting.
Finish off the look with simple silver jewellery and, if you are feeling particularly 'SHINee' – add a cool bandana of your head/wrist/waist.
What do you think of this look?