A crowded sea-front pub in, for once, truly sunny Blackpool is the setting of our impromptu meet up with fashion designer Bajowoo. The pub is a sea of mohawks, leather and colourful dye, and the 99%IS founder is no different, though he's given the spikes a rest this afternoon. Blackpool is playing host to Rebellion, one of the world's most popular Punk festivals, as it does every year, and that is exactly what has brought Bajowoo to this English seaside town.
I'm going to see The Damned tonight. I've seen them three times.
He shows me the group on the schedule on his smartphone to clarify. I can tell he's a fan. He's sporting a tshirt with the punk group on, so I'd have expected no less.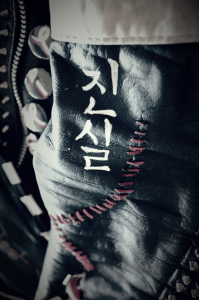 The shirt might be the only thing he's wearing that he hasn't customised, or subjected to a little 'DIY', the term he prefers. He's wearing a vintage Vanguard leather biker jacket, a jacket I later learn is one from his collection of hundreds, but he chose this one for a reason. Vanguard isn't a Korean company, but this particular jacket was made in Korea, it feels like a piece of home to him. Don't let the word vintage here fool you, this jacket isn't pristine and untouched to maintain its value, it is DIYed to the max. Every stud was attached by hand, there are metal clips made from lighters he sourced from smoker friends (himself not a smoker), there's hand stitching, screen printing; it's an impressive jacket and you can see it has a story to tell. Bajowoo is a storyteller.
I was 11. I saw Crying Nut on the tv. From then, punk.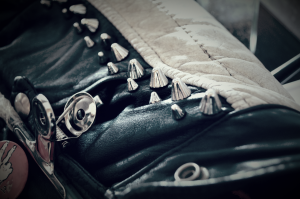 He's trying to tell me how he became a punk and a fashion designer, I see it's hard, it's as hard as it is for me to answer his question to me about my own music loves and design ventures. So I understand his muddled answers in a way I probably still can't truly express for anyone else. It's a sense of belonging that captures you and motivates you, and from then it is just … you. He knows punk is old and outdated, he knows the subculture has become repetitive, so it is his aim or dream to at least change this and inject new life into punk for those directly around him. 99%IS as a brand is actually representative of that 1% minority, the punk collective, his punk family. To build up his brand Bajowoo spent months sofa surfing, in cities such as London and even slept on a park bench in Paris, often relying on the generosity of the punk community to build his foundations.
Punk is everywhere. Punk is family. Everyone else thinks it is 1% but as a punk it is your 99%. I am 99% from 1%
Growing up in a town that has always played host to hundreds of punks I've never known them as anything but genuinely friendly people, and Bajowoo is just the same as those he describes. Our interview doesn't at all goes as I imagined. In fact he uses a very visual analogy of his brain when he thinks about fashion, waving his arm wildly to create a crazed line, and this too fits the course of our conversation, flitting from one topic to another as we each get excited about something that the topic flow brings us to. To paraphrase Lewis Carroll, he's entirely bonkers, but all the best people are. As we talk of his experimentation he gets excited about reinventing the old punk and twists from his seated position to show me his jeans. Ripped skinny jeans are standard for a punk, right? Well yes, he's explained this much to me, but he's flicking through photos on his iPhone to find one he's extremely proud of. A friend, wielding a chainsaw. If you're going to create the old, why not do it in a new way? I have to admit, he makes a brilliant point. And it's not just taking chainsaws to jeans that you'll find Bajowoo and his friends doing.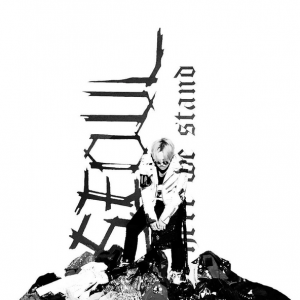 Xin [ex 2NE1 stylist]is my best friend. I am … nothing. Xin has fame. Jiyong is world star. We make a line. It's crazy. I called Jiyong when he came back from Singapore to shoot for my collection. Just him, me with the light, and Xin with an iPhone. [The whole lookbook was shot on Xin's iPhone] Then Jiyong called me and said come and shoot for my music video. After five years asking I must.
You can see Bajowoo in the ZUTTER mv as one of the Bill Counters. He tells me G Dragon, who he considers a close friend, had been asking him to be in BIGBANG mvs for about five years, but he's always been wary. He's never wanted to be the strange guy in that kpop music video. This time he felt he owed GD a favour. Frankly Bajowoo was never going to be the strange guy in a video that includes GD and TOP and that makes it a great platform for him, even if he is still a little skeptical.
He fears that his association with G Dragon, and the other artists modelling his line such as Zion T, Okasian, and Kush, will create too much pressure for 99%IS. He fears all they hype will amount to nothing, and he will disappoint. Bajowoo knows an association with G Dragon is gold in the Korean fashion stakes, and it is this he is thinking of. Punks do not buy clothes made by punk designers, they make their own, just as he always has. Bajowoo makes clothes for those with a real love of fashion – so don't expect them to be cheap, no real leather items are anything short of a pretty penny! His designs are for the G Dragons and Lady Gagas of the world, but that doesn't mean you have to be famous to own them.
My brand is for anyone. Young boy or old man. If you like it 99%IS is you.
It's a sentiment I admire. Reappropriating punk style for fashionistas may not be A-OK with the older generation within the subculture, but by doing so 99%IS journeys towards Bajowoo's aim to reignite the punk spirit to a new audience. And so, Bajowoo heads off to see The Damned, and I leave inspired. Bajowoo isn't just another fashion designer, isn't just another punk. He is a great mind, with the ability and skill to influence the changes he dreams of. He may have torn up the guidelines where running a fashion label is concerned (and probably set them on fire too) but by doing things his own way, the DIY way, he's set the wheels in motion for his own personal revolution.
| | |
| --- | --- |
| Bajowoo is a Korean Fashion designer and professional leatherworker based between Tokyo and Seoul. Known for owning Korea's first Punk fashion label Bajowoo currently runs the brand 99%IS. His latest SEOUL capsule collection and archive pop up was exclusively shown in XIN's BOONTHESHOP in Gangnam, and modelled by G Dragon, Zion T, Kush and Okasian. The full archive show will take place later this year in Tokyo. He has created outfits for artists such as G Dragon, Lady Gaga, Chris Brown and Justin Bieber; and has collaborated with Comme des Garçons, Underground and Mackintosh.  Bajowoo promises new and exciting ventures for his S/S16 collection, and hopes to collaborate with XIN again in the near future. | Follow Bajowoo |