With the rise of k-pop popularity in the UK, we're seeing more concerts here in London. Only 2 months after Boy's Republic, Topp Dogg came on over as part of their European showcase.
Although they're a large group (12 members!), Topp Dogg aren't massively popular in the UK but they've gone and proved that they should be! As I was already aware of the large number of them, I was surprised to walk in to a cosy venue with a rather small stage. This got me wondering if the boys would be able to give fans a proper show, but despite all odds they completely blew me away. The small nature of the venue meant fans could receive a closer and more personal show, as well as keeping the high quality "k-pop" feel.
The show started off at roughly 8:30PM with a short home-style video the boys filmed whilst on tour. It shows them playing around and preparing backstage for each concert before the screen goes completely black and announces the beginning of what would be Topp Dogg's very first performance in London. They then exploded on stage with their opening number – Annie.
Soon after, they begin to introduce themselves one by one and of course, jumping at the opportunity to give fans a sneak peek at their abs, making the girls go wild. All fun aside, the members reassured the fans that a comeback in imminent, and told us about what they've been up to in their 1 year break from music – mentioning their acting projects, practising English and choreographing their own dance routines. Fans got a taste of all 3 through their Ellie Goulding cover later on in the show.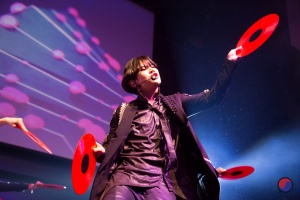 Suddenly, Topp Dogg bursted into some high energy performances of Open The Door, Follow Me, Keep Smiling, Cigarette, 이건 아니지않나 싶어 (I Don't Think it's Right), and I Know. During Cigarette was also a surprise fan event in which every fan in the venue held up a sign stating "Always with Topp Dogg", which evidently surprised the members, and myself for that matter! Despite being not so well known here, they fans they do have are definitely committed which is something that made the show much more exciting.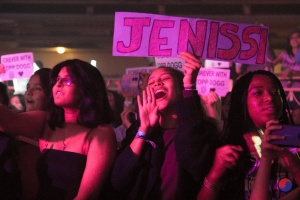 Next came a fun little video to keep fans entertained whilst the members prepared for their next stage, which consisted of only the rapper line. I personally have to say this was the highlight of the show, the boy's didn't limit themselves and went completely crazy even going as far as throwing water all over their fans. After 3 or 4 songs, they introduced a special stage which has been prepared exclusively for their European tour. This included some original choreography to a couple of well-known American songs and their own reindition of Ellie Goulding's Love Me Like You Do complete with, some more original choreography.

But Topp Dogg don't stop treating the fans there, and as a nice surprise they held a personal fan event which gave fans the chance to play a game with Topp Dogg themselves! The game involved 6 fans and all members of Topp Dogg split into two teams, they then had to play a game almost like Chinese Whispers but using actions instead of words. They had 3 minutes to go down the line trying to act out the word and the person at the end had to guess what it was. Funnily enough, neither teams could guess any of the words which led onto a tiebreaker to determine the winning team. Topp Dogg took the fans in and treated each of them as if they had been friends for years, I'm sure every girl wished they those lucky fans. This was topped off with yet another surprise from London fans! A specially prepared cake for Topp Dogg was given to them, yet again proving the fans loyalty to the boys.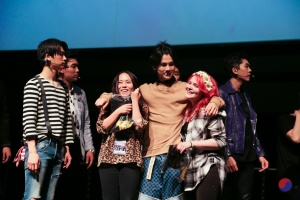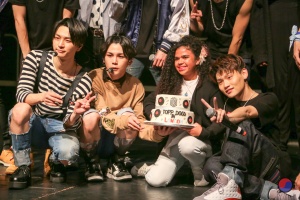 The 12-membered group showed no signs of tiredness with the songs that followed, as they were still full of energy exactly as they were when the show kicked off. But, sadly the show was coming to an end which lead onto Topp Dogg reminiscing their time in London. Constantly expressing how much they would love to come back (hint, hint). They finished off with an almost party-like encore. The members, in the midst of the excitement ended up coming off stage to meet their fans more personally, and throwing water into the audience. As soon as the show ended, the party vibe was still present and I could hear fans still singing.
Photography by Michael East, do not crop, edit or repost without permission. You can view our full gallery from the night on our Facebook page.
What was your personal highlight of the night?