Today I'll be bringing you a review for Etude House's Etionette Crystal Shine Lips lipstick.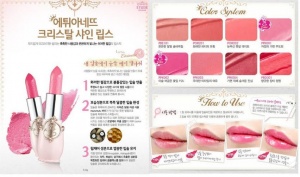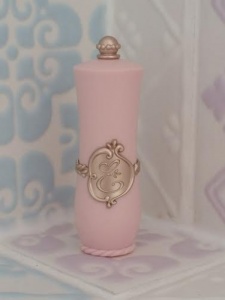 The Etude House Etionette collection was released in Winter 2013, and since I got the lipstick it has been a permanent go to. The lipstick has a beautiful moisturising formula, which is perfect for the coming Autumn/Winter months as it'll keep your lips hydrated and prevent cracking while adding a pretty hint of colour.  As well as being super moisturising the lipstick is very build-able, this'll give you endless possibilities with how you can incorporate it into your daily look depending on your mood.
Aside from the beautiful products one of the greatest things about Etude House are their cute packaging designs. I could buy all of their products based on how cute they are alone! Nothing quite beats going to reapply your lipstick throughout the day and getting to showcase a pretty pink tube, fit for a princess.
I bought the lipstick in shade 'PPK002' which is a stunning shimmery pink colour. To try capturing its entire dimension I've included some swatches below; one image is in natural light, and the other is under flash. Plus to show you the versatility I've got the left side with a thin layer applied and the right has a built up opaque coverage as well as an image of the colour worn. The formula and colours available in this range work for every skin tone, you can build it up to your own comfort and the subtle shimmer in this particular colour will add dimension. 
Due to the nature of this lipstick, you will find that you'll have to reapply throughout the day after eating or drinking. This isn't a problem though, as you can get a couple hours extra wear and boost the lipstick's staying power if you use a lip liner underneath.
When I bought this lipstick, I ordered it from KpopMart's beauty section. However, since the collection was released a long time ago now, it's no longer stocked on the site. But, not to worry! If you wanted to try the lipstick for yourself you can still get them on Amazon UK here (albeit at a higher price).