It's been an interesting week for Kpop and Korea: With a couple of interesting debuts, including DAY6; Show Me The Money going on an American tour; and Super Junior announcing the details of their next release; it is always hard to keep up with the goings on in Korean media!
UnitedKpop don't always cover all the interesting news and releases from Korea, so we decided to put together UnitedKpop Hot Picks! Hot Picks shares with you those things we couldn't share that we absolutely love, and we hope you'll love too. You can find our Hot Picks at a glance below, because we're busy and we know you're busy too! Or, if you have a little time, why not continue reading for all the information you'd possibly need on each topic!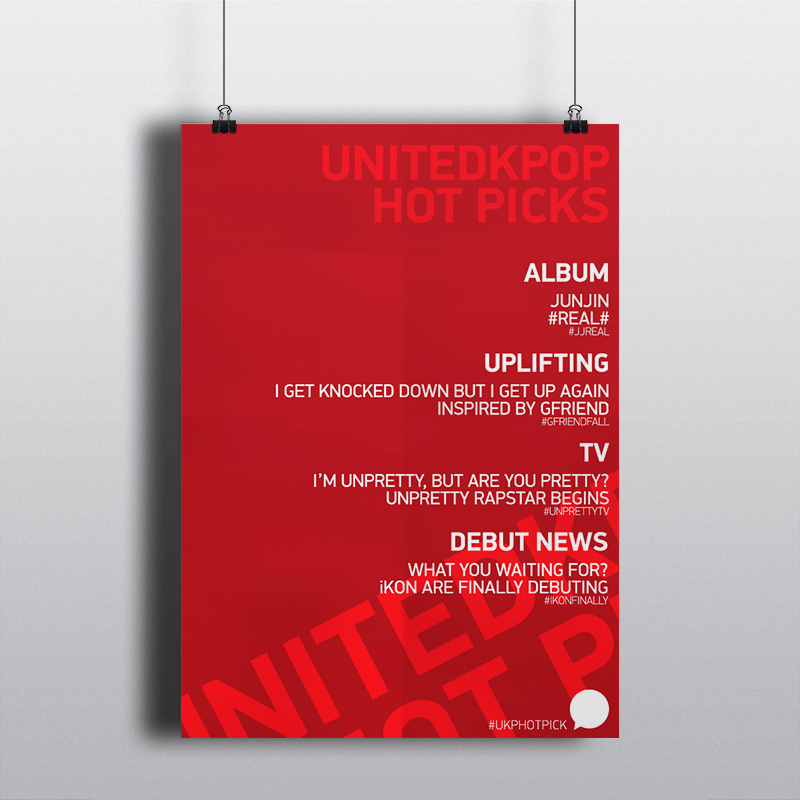 Album: JunJin – #REAL#
#jjreal
Shinhwa's JunJin has made a comeback as a solo artist, with his mini album #REAL#. Lead track Wow Wow Wow should probably be called Lookin' At You, but it is undeniably catchy. It's up for debate as to whether this is actually the weakest track on the mini album, so the full album is worth checking it out.
Rather than watching the mv, the best way to see Wow Wow Wow is probably by watching a music show performance, as it shows off JunJin's dance skill.
UPLIFTING: Inspired by GFRIEND
#GfriendFall
It has been covered by news outlets all over the world, including many in the UK. Last week GFRIEND found themselves facing extreme conditions on stage at the 2015 Hyundai Eco-Driving Concert, falling numerous times, and being surrounding by rather large moths. But the GFRIEND girls continued to perform, showing their determination and strong will. The video is nearing six million views on YouTube!
TV: Unpretty Rapstar begins
#UnprettyTV
Unpretty Rapstar has begun, with this year's line up including idols from Sistar, Wonder Girls and Fiestar, and a YG trainee it's starting to look a little like Pretty Rapstar.
The first episode saw an mv being produced, though Hyolyn of Sistar caused the ZanyBros one-shot style to take far longer than it should have, eventually lip syncing to complete the shot.
There are plenty of talents to keep watch of, Truedy's Yoonmirae-esque style certainly stands out.
DEBUT NEWS: iKON are Finally Debuting!
#iKONfinally
Two years in the making and we are now two days away from the iKON debut. Is there really much more to say, except, FINALLY! Check out the important dates below.
——–
You can use the hashtag #UKPHotPick to join in our conversation about this week's hottest topics, or use one of the topic hashtags to share your thoughts on our favourite stories.