Today, we are taking our fashion inspiration from Lovelyz' 'Ah-Choo' MV!
In keeping will their innocent and sweet image, 'Ah Choo' gives us a simple and girly look in this very 'lovely' MV! (See, what I did there? Okay, it wasn't that good).
Check out the video below:
This particular outfit style is extremely easy to emulate. Take a skater skirt, white blouse/top, accessorise with a bow and add some chunky lace up boots. That's it!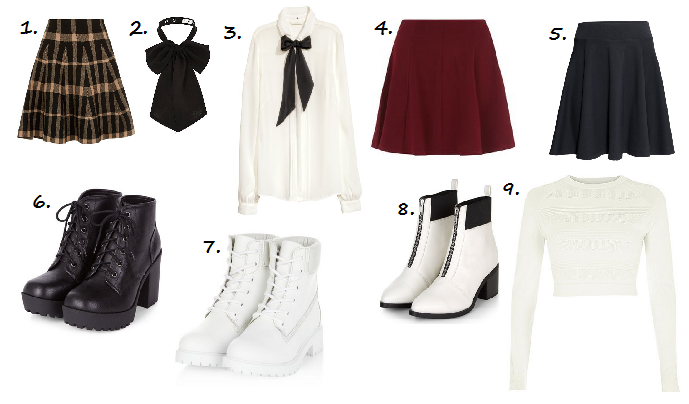 Camel Check Textured Skater Skirt – New Look: £17.99
Black Neck Bow – River Island: £8
White Chiffon Blouse – H&M: £19.99
Burgundy Skater Skirt – New Look: £9.99
Black Bell Shaped Skirt – H&M: £7.99
Black Lack Up Block Heel Ankle Boots – New Look: £29.99
White Leather Contrast Cuff Lace Boots – New Look: £59.99
White Zip Front Pointed Boots – New Look: £29.99
White Ripple Mesh Knitted Crop Top – River Island: £10
To make this look more suited to the cold winter months, the addition of some very thick black or even neutral tights would not go amiss. This look would also be cute with a jumper on top instead of a thin blouse. The zip up boots at number 8 also illustrate how you might mix things up a little bit and can perhaps add items that are more your own style whilst still keeping with this general fashion concept.
Unfortunately, it is easy to end up looking frumpy and shapeless in the winter months what with all the layers, but this style will ensure that you still look girly and fashionable!
The big boots are going to be quite expensive wherever you go, but they really do add another layer of interest to this look. Plus, they will, of course, help your feet stay warm when out and about in the next likely chilly few months, so are arguably worth the investment!
What do you think of this look?
Please share your opinions with us!
|| If you are interested in purchasing any of the suggested items, you can find them in their respective online stores! ||
[Sources: New Look Website, River Island Website, H&M UK Website].