South Korea really have been at the forefront of cutting-edge nail designs recently; and another beautiful and unique nail trend has been spreading through social media, and it's a perfect fit for the winter season! The design is a 3D sweater effect- and gives a pretty, season appropriate finish to the nails. And I'll be bringing you a short tutorial below on how to create these for yourself!
It's quite a time consuming and delicate technique, as it's created by layering a gel product in the desired pattern to raise it up enough from the nail so that when you apply a polish on top it'll give the knitted effect. But you need to be careful to cure the gel before it spreads out of the shape you paint on! I found it easiest to use a really thin nail art brush, and to tidy any edges that spread with a cocktail stick. And to flash cure the layers in between the full curing time just to keep it all in place.
1) After shaping the nail to your desired shape, apply a gel base coat and decide on what sweater pattern you'd like to create.
2) Taking gel on your thin nail brush being by drawing the shape  (I decided on 2 lines with a zigzag pattern and dots) so I began building up the line edges
3) After building up the border to a high enough line, I created the zigzags in the same method. Curing in my UV lamp after each line. I found it took 3-4 layers to get it to the best height.
4) I then added the dots along the edges. These only needed one application and then curing. After each of these layers I  used a gel finishing wipe over the design to remove stickiness.
5) To complete I applied a standard nail varnish, left it to dry and then applied a top coat. And you're done!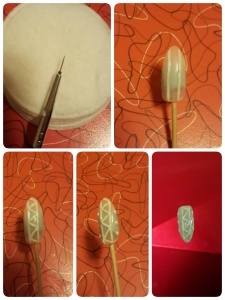 What do you think of this look? Did you try it for yourself? Let me know your thoughts or experiences in the comments below!
[Products: White Gel HERE,  Nail Art brush HERE, Nail Varnish HERE, UV Lamp HERE]