B.A.P have been preparing for this world tour alongside working on their upcoming album since they made their greatly anticipated comeback to the K-pop industry. They certainly seem to be eager to return back to the stage to meet their fans from all over and we are sure that their fans will be more than happy to welcome them back with open arms as the tour is set to commence next month!
The teaser video which announced the various countries they were set to perform from February onwards revealed an early estimate of 15 countries, 30 shows and 200,000 fans!
The extensive list of countries include Korea, USA, Mexico, Brazil, UK, Germany, Poland, Russia, Australia, New Zealand, Taipei, Thailand, Singapore, China & Japan.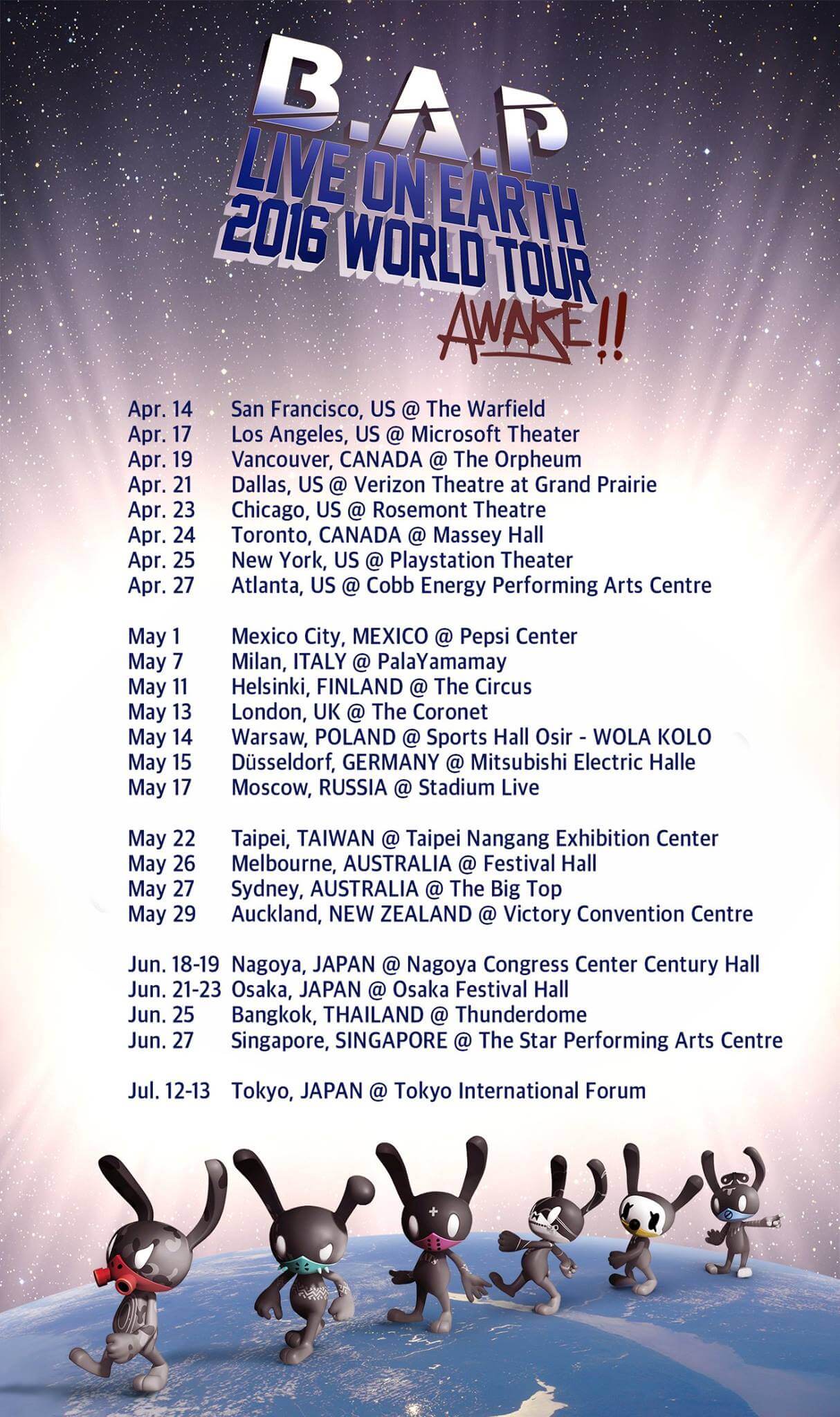 UPDATE: On March 3rd, TS Entertainment released the full list of dates and tour stops via their Facebook page.
Their London stop is confirmed to be on May 13th at The Coronet. Other stops in Europe include Italy, Finland, Poland, Germany and Russia.
17/03/2016 UPDATE: Date and time confirmed!
Date: Friday 13th May at 8:00 PM
Venue: The Coronet
To purchase tickets – they are set to go on sale at 1pm on 19th March! www.ticketmaster.co.uk
Ticket prices: £69 / 99 / 119 / 159
Upper Balcony Seats: £69
Lower Balcony Seats / General Stalls Standing: £99
Early Access Stalls Standing: £119 (30 minutes before door)
VIP Package: £159 including 1*Early Access Stalls Standing Ticket + 1*Special Edition B.A.P Latest Mini Album (signed by one of the B.A.P members) + High Five Event (after show)