After a long three year wait, Lee Hi is back with her new album "Seoulite"! She's released a couple amazing MV's so far, and one of them is the focus for this Get the Look!
The video for "Hold my hand" is amazing! There's a warm pink tone filter across most of the video and girly outfits to match the sweet love song, making it the perfect feature for this week's 'Get the Look'. The whole video is completed with the addition of the 8-bit pixelated border and 8-bit additions into the sets, such as the pretty falling cherry blossoms.
If you hadn't had a chance to check out the video yet, take a look below-
[su_youtube url="https://www.youtube.com/watch?v=cuUEnho33so"]
After searching around online, I found a collection of clothes perfect for re-creating the style Lee Hi wears in the videos- there's a lot of pastel colours, graphic tees and bomber jackets to give an edge and toughen up the look!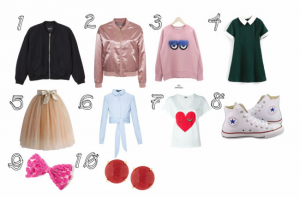 1) Monki Farah Jacket-  £40, Monki.com
2) Nly Trend Shiny Bomber- £55 Nelly.com
3) Furry Eye Print pullover- £35 YesStyle
4) School Girl Collared Mini dress- £15 StyleMoi.nu
5) Amore Tulle Midi Skirt- £37 ChicWish.com
6)  Waist Tie Crop Shirt- £29.50 PixieMarket.com
7) Sonia Rykeil Rainbow Heart T-Shirt- £30 Farfetch.com
8) White All-Star Converse- £60 LandauStore.co.uk
9) Daisy's and Mesh Hair Clip bow- £3.45 Icing.com
10) Panacea Glass Button earring- £18 Lastcall.com
The style in the video is perfect for the upcoming spring season, and it gives you lots of opportunity to layer different items and textures to make your own twist on the style (Her sequinned jacket and long pink dress combo is my favourite co-ord of the video!). Plus- with the new season approaching there'll be so many pastel, white and lighter toned clothes that you can buy to make loads of different outfits.
What did you think of the MV? Let us know in the comments below!
[All of the clothing pictures can be purchased from their corresponding sites listed next to them]