After placing second in MNET's Unpretty Rapstar 2 rapper Kitti B signed with the same company as show emcee San E, BrandNew Music. 
Her first offering with the company is a collaboration with one of their veteran rappers, Verbal Jint. Doin' Good has a strong message of taking control of your own life and not allowing yourself to be controlled or put down by anyone.
The visual for Doin' Good is just as strong. Created by Madscene; not a company regularly used by BrandNew, but one Kitti B had worked with previous to joining the label; the visual sits well with recent Korean hip hop trends.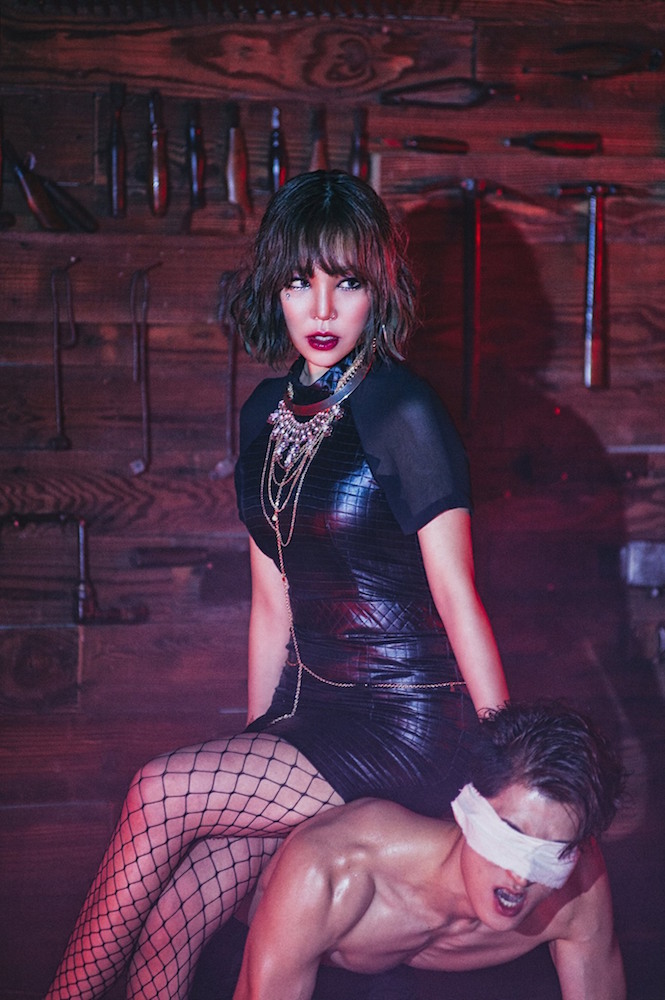 The visual narrative is very clear, and with very little work tells of a relationship that is both mentally and physically abusive. Kitti B does not play the female in the relationship narrative, though she is the one that brings retribution to the male.
Though never committing any form of violence towards the male, Kitti B can be seen amongst and holding tools that imply torture.
She is also seen sitting on the back of the blindfolded male. This visual sees her now the dominant one in the relationship in the lyrics. Now stronger, she is 'Doin' Good'.
Kitti B avoids the controversy Rihanna did by not even implying she has enacted violent retribution upon the male; Rihanna's B*tch Better Have My Money saw her covered in blood, and lying in a trunk (OldBoy remake reference) almost in confirmation she had tortured the male character played by Hannibal actor Mads Mikkelsen.
Though this lack of violence is probably not a conscious avoidance of controversy, more a marker of the still conservative nature of Korean music media.
The dominance of a female itself is a lacking image in the industry; even those that are meant to be presented as strong females still continue to perpetuate media stereotype (Sorry CL and Jessi).
The only other thing that might have made this music video truly refreshing was to see Verbal Jint's lyrics front a similar narrative with the roles reversed – but even the western world can sometimes struggle with the acceptance that men too can be victims of abuse, so such a visual may be too much to ask from South Korea – for now.
Kitti B's first track with BrandNew Music is hopefully a sign of great things from the young rapper, and is certainly worth checking out.
To see who else released music and accompanying videos this week, why not check out our Release Round Up!