For this week's review, we'll be bringing you a look at one of the many products I brought back from the Etude House Store in Harajuku! Surprisingly, for the review it's not a make-up product- but one of their skincare products 'AC Clinic Daily- Acne Foam Cleanser'
The Etude House official page describes the product as "Cleansing acne foam leaves the skin feeling clean and matte. Formulated with Salicylic Acid, Foam Cleanser removes acne causing germs to help keep your skin clean all day. Non-Comedogenic & Dermatologist Tested. AC Clinic (cleanser) is formulated without acne inducing ingredients to promote clear skin. This item is useful for calming your skin from acne, so you can use this item on trouble and sensitive skin. This product will not make your skin feel dry" [Etude House Website] What's especially great about this cleanser, is that it's non-comedogenic; this means it will not produce acne, or aggravate any acne areas already on the skin; it'll also keep your pores from getting clogged up. Also, the addition of the Salicylic acid will join in to keep your pores from clogging and it'll also prevent any legions from any breakouts.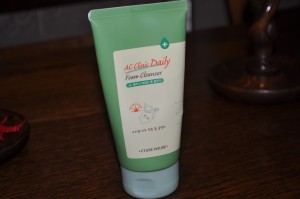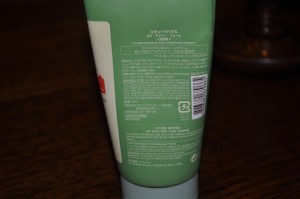 I've always suffered with sensitive skin that breaks out on me pretty much all the time, so after reading about all of the ingredients and their effects on break-out prone skin I knew it was worth a shot trying out the Acne Foam cleanser! They also market the cleanser as suitable for removing make-up, so you can fight and prevent acne whilst removing your make-up at the same time. Although the product doesn't dry out your skin, it says it can actually keep your skin with a more matte finish throughout the day- and as I also have terribly oily skin I gave this a test and washed my face with this before applying make-up and found my skin got less shiny throughout the day, which is a massive bonus! All you have to do to use the product is wet your face, and apply a small amount of the product- as you lather it in you'll find it foams up and then you can wash off leftover product and continue with the rest of your skincare routine.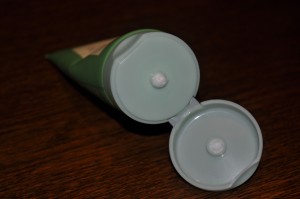 So far I've loved this product, it has a slight antiseptic scent which personally- I love but some people may find it a little overpowering or prefer a cleanser without the scent at all. While I've been using this I haven't suffered from anymore breakouts (whether that's just luck, or the cleanser I've yet to discover!) But if you've suffered from trouble skin before I think this is a great face wash to try as it'll prevent you suffering from any breakouts!