Earlier this month, YG's new girl group BLACKPINK made their much anticipated double title debut with tracks 'Boombayah' and 'Whistle'. For this week's Get the Look, we'll be focusing on their MV for 'Boombayah'! The song itself has a strong hip-hop feel and electronic undertones with incredible sets, dashed in colour; making for an amazing video. As well as some incredible outfits!
If you haven't checked out their MV yet, take a look below-
The video features a plethora of edgy outfits, with a dark colour pallet and pops of bright colour. Completed with chains on their jeans, sheer mesh and chokers! It's definitely a personal favourite. Luckily, plenty of stores are starting to stock rock inspired clothes, covered with band motif's and designs, ready for autumn fashion trends, so we're sure it'll be easy to recreate some similar looks with new items making their way in stores! Check out our hand selected pieces below: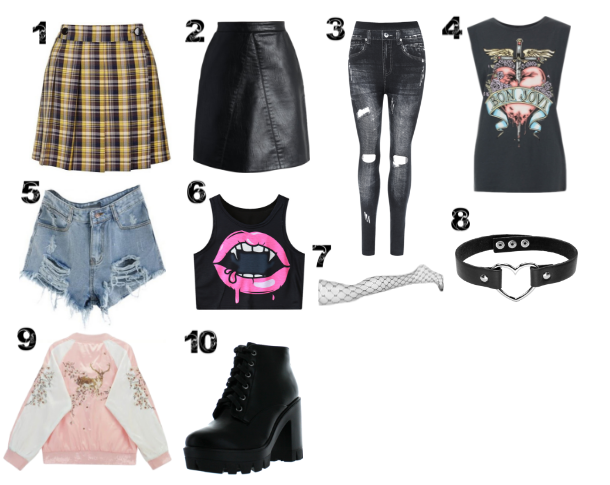 1) Plaid Kilt Mini Skirt- Topshop.com £40
2) Fetching Faux Leather Mini Skirt (Black)- Chicwish.com £35
3) Marilou Denim Look Jeggings- WearAll.com £10
4) Black Round Neck Bon Jovi Print Tee- WithChic.com £20
5) Mid Waist Light Denim ripped shorts- MakeMeChic.com £12
6) Vampire Lip Print Cropped t shirt- SandysShop.Storeenvy.com £9.90
7) Supersize Fishnet Tights- Topshop.com £6.50
8) Punk Rock Heart Leather Choker- Amazon.com £6.00
9) Deer Embroidered Bomber Jacket- Boogzel.com £25
10) Bamboo Jonas Lace-up Chunky boot- ShoeCenter.com £34
This style is perfect for anyone wanting to try an edgier look, you can round up the whole outfit with a big studded leather jacket, and you're ready to go! What do you think of the style BLACKPINK sport in this MV? Let us know in the comments!
All items listed can be found on their listed sites.
[Sources: Topshop, Chic Wish, Wear All, Make me Chic, Sandy's Shop, Amazon, Boogzel, Shoe Center]