This week has gotten slower in releases as we have now reached the beginning of September. With many large-scale comebacks scheduled for the next few weeks, this week was not as jam packed.
NU'EST cameback with a new artsy concept in their mini-album canvas with title track 'Love Paint' and Lee Hyun and Changmin of HOMME have released a new track that was co-written by BigHit's Bang Si-hyuk and BTS' Rap Monster. We also have two new english releases from Jay Park in anticipation for his upcoming English EP 'Everything You Wanted.'
In terms of collaborations, SISTAR's Hyorin had paired up with Yang Da Il for a beautiful duet and Kei from Lovelyz has released a new version of Freestyle's Y with myunDo. We also have Loco and Punch performing another smash-hit OST for Scarlet Heart: Ryeo.
We have girl group releases from Brave Girls, I.O.I and MAMAMOO. Some of the girls from I.O.I have teamed up with DIA's lead rapper in 'Flower, Wind and You' whereas MAMAMOO have split up into two sub-units and released songs simultaneously. They have announced that it is a competition and that the unit whose song does worst in the charts will have to face a penalty. We also have boy group releases from the underappreciated HALO as well as Plan A Boys who are in a new track with HuhGak.
Other releases come from Younha, Swings, Sunny Hill, Bolbbalgan4 and more so be sure to check out all of them below ^.^
Songs:
Love Paint – NU'EST
Release date: August 29th 2016
Galaxy – Bolbbalgan4
Release date: August 29th 2016
One Shot – H.Y.U.K
Release date: August 29th 2016
Flower, Wind and You – Ki Hui Hyeon (DIA) x Jeon Somi x Choi Yoo Jung x Kim Chung Ha (I.O.I)
Release date: August 29th 2016
Round & Round – FIVE RUN STRIKE
Release date: August 29th 2016
Dilemma – HOMME
Release date: August 30th 2016
Say Yes – Loco & Punch (Scarlet Heart: Ryeo OST)
Release date: August 30th 2016
Tired Day – PASCOL
Release date: August 31st 2016
And Then – Yang Da Il x Hyorin (SISTAR)
Release date: August 31st 2016
On The Way Home – Sunny Hill
Release date: August 31st 2016
Angel – Solar & Wheein (MAMAMOO) and DAB DAB – Hwasa & Moonbyul (MAMAMOO)
Release date: August 31st 2016
#BeginAgain – HuhGak x Plan A Boys
Release date: September 1st 2016
Draw A Love – Navi (W OST)
Release date: September 1st 2016
YOO-HOO – Brave Girls
Release date: September 1st 2016
Y – Kei (Lovelyz) & myunDo ft. BUMZU
Release date: September 2nd 2016
Your Soul – Swings
Release date: September 2nd 2016
Aquaman and Me Like Yuh – Jay Park
Release date: September 2nd 2016
I Believe – Younha (Cinderella and Four Knights OST)
Release date: September 2nd 2016
Mariya – HALO
Release date: September 2nd 2016
$10 – Hitchhiker (SMStation)
Release date: September 2nd 2016
Bonnie & Clyde – DΞΔN x Ta-ku (Remix)
Release date: September 2nd 2016
Albums:
Canvas – NU'EST
Release date: August 29th 2016
Katy's recommended song: Thank You
Red Planet – 
Bolbbalgan4
Release date: August 29th 2016
Katy's recommended song: You(=I)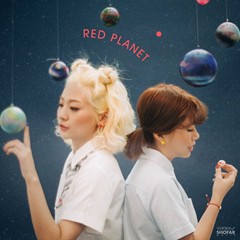 Happy Day – HALO
Release date: September 2nd 2016
Katy's recommended song: Popcorn