The K-Music Festival 2016, which is currently being held in London, has been the perfect response to those wanting to discover and explore new facets of the Korean music and art scene. The festival, a collaboration between music curator and producer Serious and the Korean Cultural Centre, has so far brought us everything from punk, post-rock and techno to name only a few.
READ MORE: Idiotape + PATiENTS in London, 2016
With the plethora of instruments, backgrounds and influences of each group, singer or band the festival has seen this year, it's not always easy to define their music as being purely 'rock', 'pop' or 'techno'. However, after experiencing Danpyunsun and the Sailors and Asian Chairshot at Rich Mix on Friday, defining these genre-blurring bands might turn out to be just impossible.
When Danpyunsun and the Sailors entered the stage, their appearance alone may have surprised a few spectators who were not familiar with the band yet. With their long hair, flowy white and sky-blue outfits, and even their instruments, which included bongo drums, wind chimes and a string of faded, golden bells that faintly resembled a collection of seashells on a fishing net, they almost looked like modern hippies. However, don't be fooled by their laid-back looks: their album 'Animal' was awarded 'Best Rock Album' at the 12th Korean Music Awards 2015 and their last concert in Brighton's Great Escape Festival was a huge hit, with many UK newspapers hailing their versatility and eye-opening live performance.
They then proceeded to pick up their instruments: Frontman Danpyunsun a classic guitar, Jang Soo Hyun the violin, Choi Woo Young the bass and Jang Do Hyeok on the drums. Like the captain of a ship, Danpyunsun stood at the front of the stage, barefoot and holding a guitar. One of his feet was slightly raised in front of him in a composed, dancer-like pose. Then they briefly introduced themselves and, almost with a bang, started playing. The start of their performance is almost like an explosion: The serene, calm impression from just a second ago shattered into a million pieces the moment their music started to resonate through the room; a loaded, heavy rock song, accompanied by a fast violin and powerful drums. The four of them, who just a minute ago seemed so calm and collected, were playing frantically, their bodies bent, and making use of all the available space on the stage. The explosive song suddenly turned into a slower, delicate one. But just when the audience was starting to get used to the new rhythm, it changed back into the initial, fast track. Then, as abruptly as it started, the first song was over.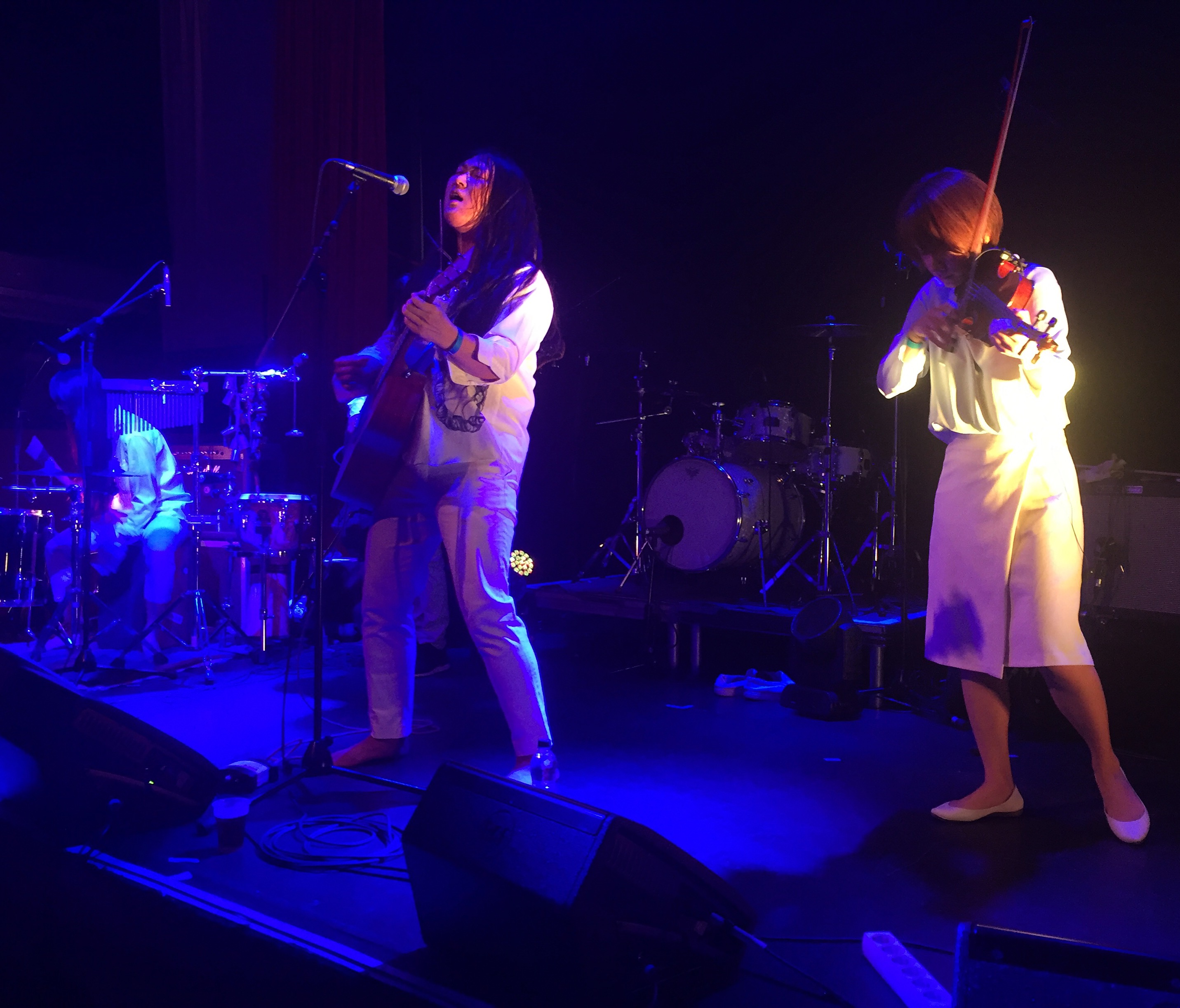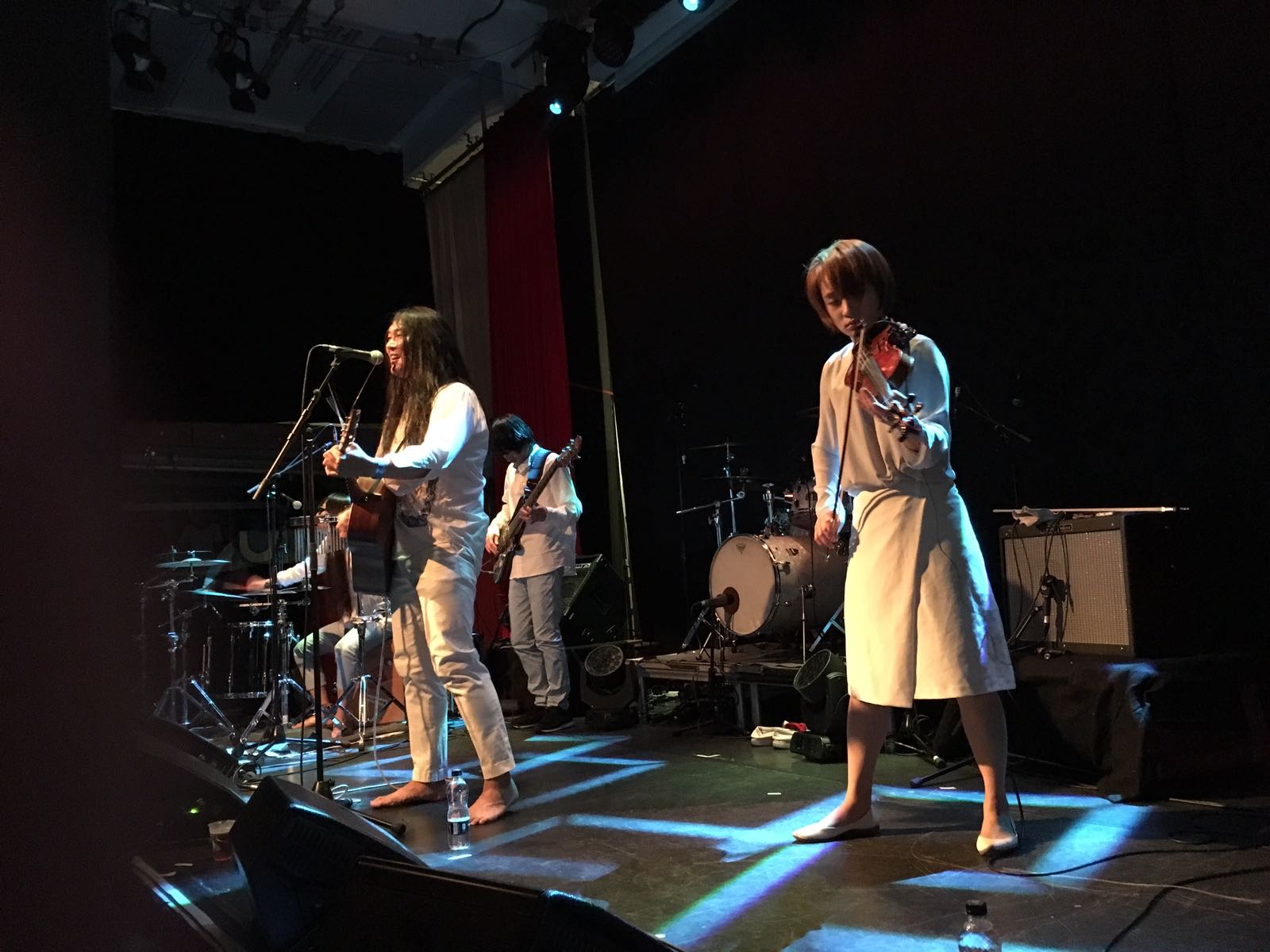 Putting Danpyunsun and the Sailors music into a labeled box is impossible, but if they were to have a genre, they'd call it "Psychedelic Chamber Folk". Throughout their performance, their music would change between heavy rock, folk, and even traditional Korean music. And because it constantly changes, the crowd is constantly kept on their toes, wondering what would happen next. With their interesting mix of sounds and instruments, their music isn't just a spectacle for the ears, but also for the eyes.
Watching percussionist Jang Do Hyeok use his feet, hands and arms to play multiple instruments at a time while talented Jang Soo Hyun elegantly plays the violin in deep concentration requires one to use all senses in order to be able to take in everything that happens on the stage. All the while, Danpyunsun's full, melodic voice and guitar dictate the flow, while Choi Woo Young's deep bass keeps everything together, making the group function perfectly together despite their different and unique characters. Similar to that, their songs constantly change, ranging from earthy folk that would fit perfectly in a movie set hundreds of years ago to slow, melodic songs with vocals that remind of the chanting in Japanese Kabuki theatres.  
However, what makes Danpyunsun and the Sailors so great to see live is the way they interact with their audience. Danpyunsun's sweary, unapologetic and hilarious speeches had the crowd giggling and laughing, while Jang Do Hyeok's cheeky comments created a laid-back, relaxed atmosphere. Even the youngest member Jang Soo Hyun took to the microphone to thank the audience, prompting warm waves of cheers and applause from the crowd. It was obvious that both the audience and the band were enjoying the gig.
Danpyunsun and the Sailors  was everything from funny, jaw-dropping and magical. With extremely talented members, Danpyunun's amazing vocal performances and their eclectic songs, there was no slow or boring moment throughout their whole gig, and we're pretty sure that we will hear a lot more from this unique group in the future.
After a 20 minute break it was time for the second band, Asian Chairshot. The group is made up of Youngwon Hwang on bass and vocals, Heenam Son on the guitar, and Kyewan Park on the drums. Asian Chairshot are one of South Korea's biggest rock bands, having previously worked with bands like Smashing Pumpkins and receiving multiple awards and nominations.  
READ MORE: Interview with Asian Chairshot
As soon as the trio came on stage, the room went silent for a second. At the front of the stage, Heenam Son was standing with his guitar slightly raised, wearing a long, black gown, his flowy hair combed to one side and wearing a creepy, demon-like traditional Korean mask. It almost looked like a scene out of an American horror movie. As he began to play his guitar, the deep, thunderous sound it produced immediately had the crowd coming closer to get a better look at what was happening. To his side, singer Youngwon Hwang appeared, wearing a completely white gown over his grunge outfit, his long hair bouncing up and down, covering up his face as he began to play his bass.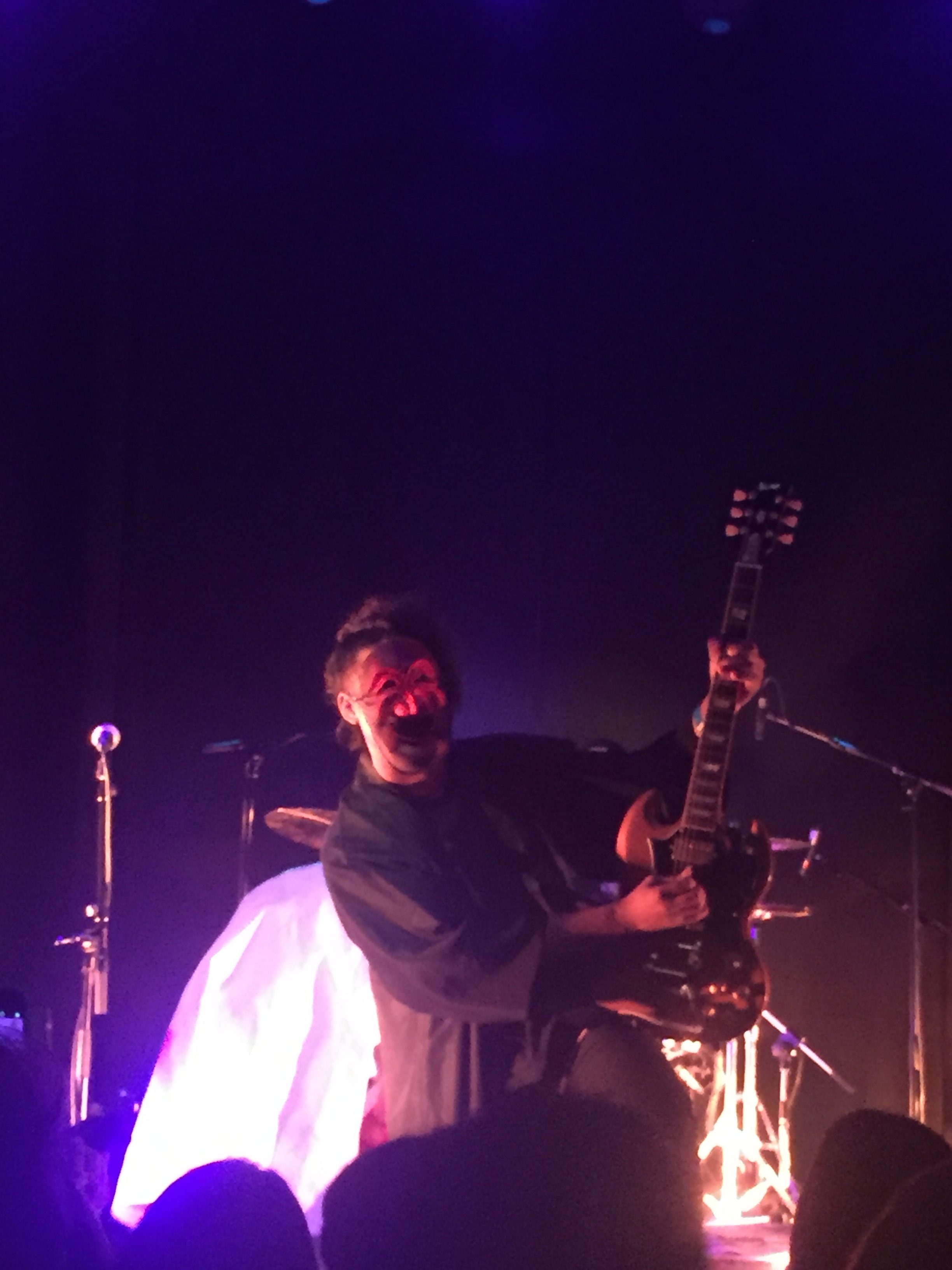 Their music is a mix of alt-rock, garage rock, and psychedelia, accompanied by powerful drums and clear vocals, and although their songs are heavy and intense, they are also full of intricately engineered melodies that somehow remind of Radiohead.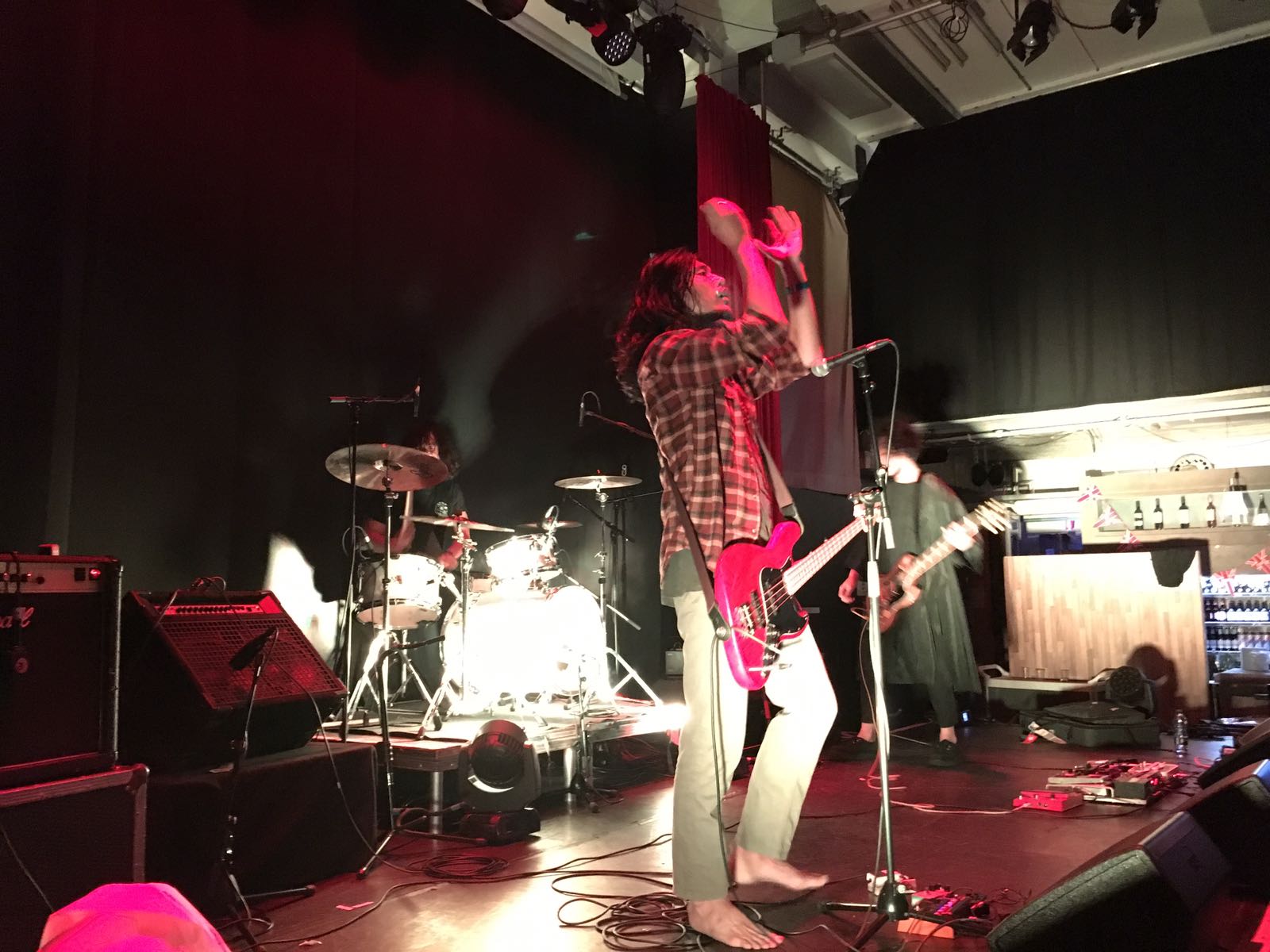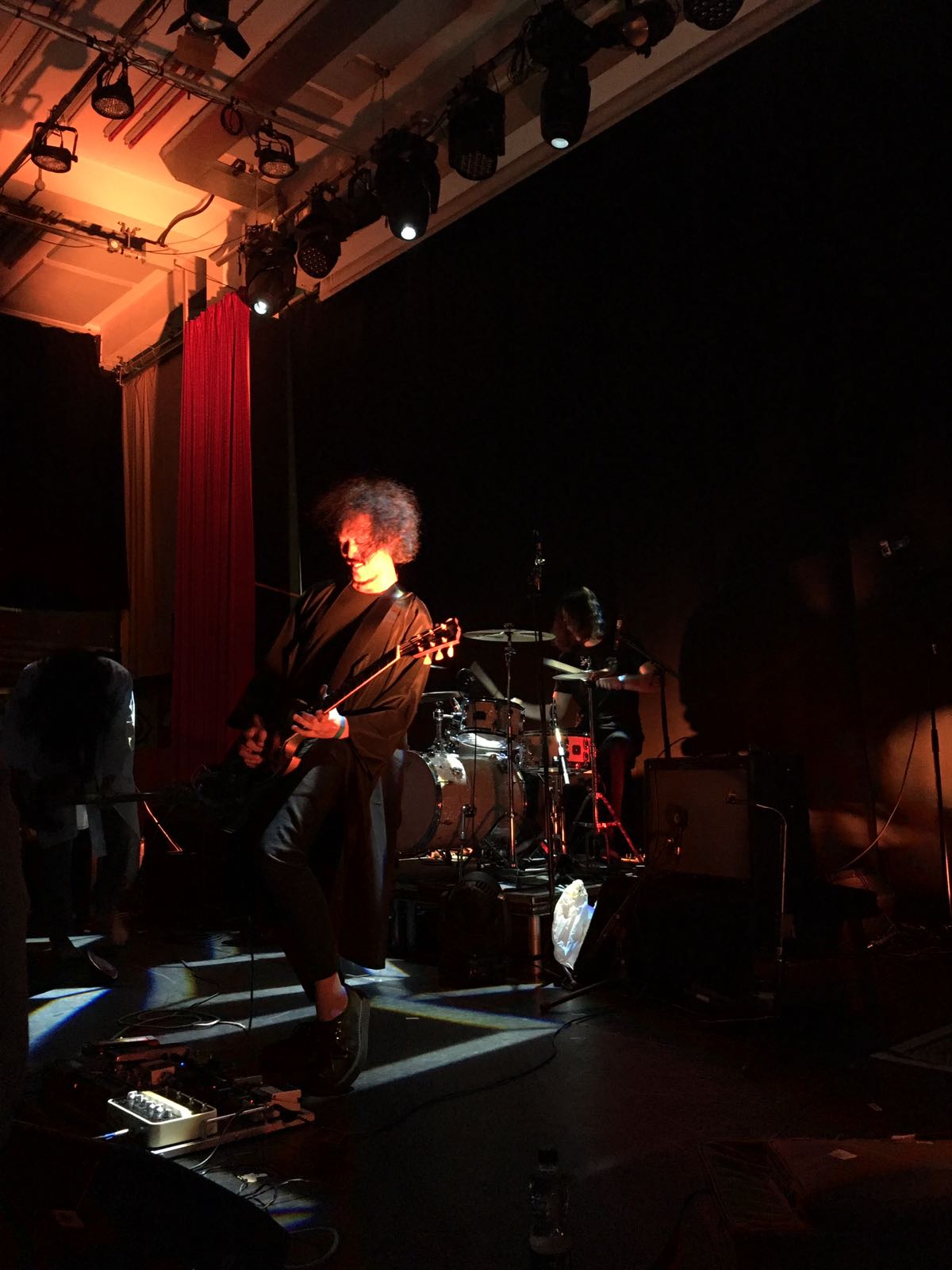 If anything can be said about Asian Chairshot, it's that they know how to perform live. From the creepy mask and thunderous guitar solos to their cool yet energetic attitude on stage, they know how to impress a crowd. There is hardly any break between their songs and the power and emotion they put into their performance soon had the audience moving enthusiastically to the rhythm.
What can also be noticed – and is undoubtedly one of the most important aspects of any live concert – is that Asian Chairshot are passionate about their music. It was clear that the band was putting their all into their performance and enjoying every bit of it, whether it was Youngwon Hwang singing his heart out, Kyewan Park playing the drums vigorously even though his face is covered in sweat, or Heenam Son playing guitar solos with a confident smile. This passion and commitment shows in the way they perform, so much so that the audience couldn't help but ask for an encore after the gig had ended, which was granted to them after a few minutes when the band came back to the stage for one last song. They closed the night in a memorable way, with Youngwon Hwang standing at the front of the stage, bass raised in one hand, his intense glance wandering through the clapping and cheering audience in front of him.
Even though Danpyunsun and the Sailors and Asian Chairshot are very different groups, putting them together in one gig was the best thing to do. Both bands deliver intense, visually and audibly enthralling performances that keep you on your toes at all times and make you question why you didn't find them earlier. We can't wait for them to come back to the UK soon! In the meantime, we'll be playing their songs on repeat for the foreseeable future.