In the words of John Snow, 'winter is coming". While many of us are looking forward to fluffy scarves, hot chocolate and comfy boots, others are already dreading the cold-weather related skin concerns like red, dry and flaky skin. Here's where the Korean skin care regime can make all the difference and help you maintain healthy and glowy skin even through the harsh UK weather. And by 'Korean skin care routine' we don't just mean slathering up to 10 products on your face and expecting it to work miracles.
What makes the Korean method so effective is the fact that it's all about adapting and rotating your products according to factors such as individual skin concerns, skin type and yes, the seasons. Our skin changes all the time; it is influenced by our lifestyle, stress levels and, for some women, even the time of the month. So, it only makes sense to adapt the products we use to tackle these ever-changing concerns. Now that the wind is getting colder and the AC's are being switched on again, it's time to swap the light summer products for something richer and more nourishing.
Here are our top tips on how to survive the cold weather while maintaining plump, radiant skin:
1. Ditch the cleansing tissues 
Cleansing tissues are ideal for those who don't have time for a complete 2-step cleansing routine or are simply too lazy/tired after a long day of work or a night out. But as convenient as cleansing tissues are, they can be quite harsh and often contain alcohol as one of their main ingredients, which can cause irritation and dry out skin, something you certainly don't need when your skin is already more sensitive and dry from the cold weather. Instead, opt for something more nourishing and soothing like a cleansing oil or balm. The oil seamlessly breaks up makeup and dirt without stripping your skin and causes less friction compared to cleansing tissues.
SEE ALSO: [MAKEUP] Top 5 Korean Makeup Removers
2. Add oils to your routine
Thos with already oily skin might be cringing at this, but hear us out first! Oils can help cure a variety of skin troubles, such as soothing irritated skin (e.g when you've abused your chemical exfoliants), moisturising dehydrated skin, healing damaged skin and helping maintain a healthy skin barrier. Goodal's Waterest Lasting Oil is a great alternative for those who don't like the 'heavy' feeling of oils; it's used as one of the first steps after cleansing and sinks into skin incredibly fast. Another alternative is camellia oil, which has been used by Asian women for centuries to treat skin and hair. This dry oil doesn't clog pores and absorbs quickly. Because it's loaded with antioxidants, it also inhibits free radical damage and helps ward of wrinkles. Need any more reasons to start including oils in your routine?
3. Finish your skin care routine with a sleeping mask
Sleeping masks are, as the name suggests, masks used as a last step in your routine before going to bed. They are meant to hydrate and create a barrier on skin that will prevent transepidermal water loss during the night. Since some of them can feel a bit too tacky and rich in the summer, now's the perfect time to make the most of these super moisturising masks! Simply use in place or after your regular night cream (no need to pat it in, this mask is supposed to 'sit' on your skin) and wake up to a plump, fresh face in the morning! Goodal's Nature Solution Firming Sleeping Pack smells deliciously like honey and deeply moisturises skin overnight. Because of its rich texture it may be too heavy for warm months, but certainly is a true skin saver in winter.
4. Invest in creamy foundation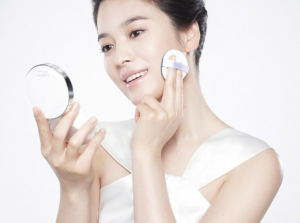 Summer is all about weightless foundation that won't clog your pores and make you look like an oil slick by 1pm. However, these light foundations may not be enough in winter, when skin gets dehydrated more easily and fine lines and flaky spots become more visible. For winter, put the powder and matte foundation back in the drawer and invest in a creamy formula that will make your skin look dewy without settling in those problem zones like around the nose, eyes and lips. Don't forget to use a mist and touch up throughout the day to make your make-up last longer! BB Cushions and stick foundations are great because you can reapply them throughout the day.
5. Don't forget the sunscreen
If you thought you could get away without using sunscreen now that there's less sunshine and temperatures are dropping, think again. Even though it feels colder, the sun's rays are still as damaging as in summer. UVA rays are the invisible enemies that can cause skin aging, since they penetrate deeper into the skin, causing wrinkles and even skin cancer. Be extra careful in areas with snow, since snow can reflect up to 80% of UV radiation. There's a good reason why sunscreen is considered the ultimate anti-aging products.
Remember: During the cold months, your skin might need some more pampering to stay happy and soft, and just following these simple steps might make all the difference this winter. Have any tips of your own? If so, make sure to share them in the comments below!