Wit the cold temperatures, it takes more time and effort to keep skin healthy and glowing, and the harsh weather can make ones skin look a little bit dull sometimes. Luckily, the ruling make-up craze this year has been focused on little tricks aimed at making your face look more defined, 3-dimensional and yes, luminous. Highlighting, contouring, strobing…all these make-up hacks involve adding light and shadow to different parts of the face to really make it 'pop'. Take this make-up trend and match it with the current South Korean dewy skin look, and you get Etude House's Nymph Aura Volumer.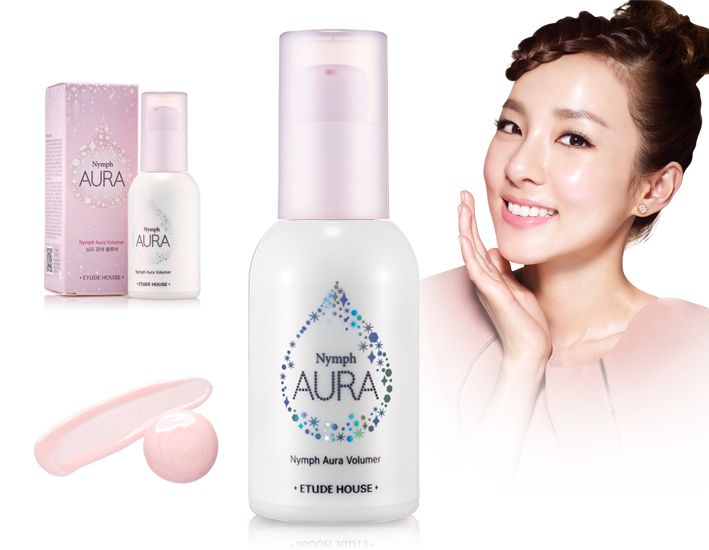 What exactly is it?
Etude House describes this product as being a "Makeup Multi-Cream that promotes skin radiance and glow with plumped up moisture."
It's basically a highlighter in a rich gel that can either be mixed with bb/cc cream for a more dewy look or applied as a highlighter to certain areas of the face such as nose bridge, and cheekbones for example. The Nymph Aura Volumer comes in 4 varieties: Pure, Brilliant , Transparent and Luminous. We'll be reviewing the 'Transparent' type.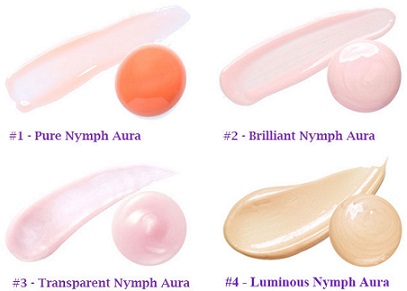 Packaging
The packaging is simple yet gorgeous and significantly less extravagant then their usual products. The Volumer comes in a sturdy plastic bottle with a pump and cap and comes with 0.82 oz / 24 g of product. It's not heavy or bulky and could easily be carried in a handbag or even during trips as it doesn't take up much space.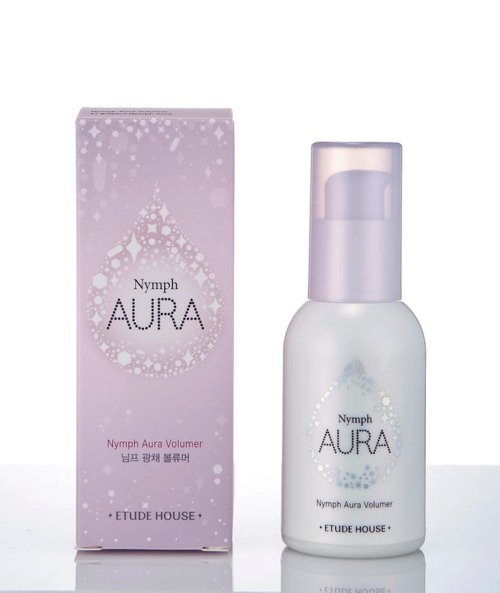 Consistency and smell
The Volumer in #3 is a thick gel that could almost pass as a cream. When applied to skin, it feels a bit tacky, almost a bit like honey, but not quite as sticky. It is almost transparent in colour but with a faint pink hue, which isn't visible at all once it's applied on skin or mixed with foundation. There is a sweet, floral scent to it which is quite strong at first but fades away quickly.
Effect
As mentioned before, this product can be used in different ways. When mixed with foundation, it creates a more dewy make-up look which is widely popular in South Korea. However, it's very easy to go overboard with this product. The pump works well to measure how much product you want to get out, but at first it can be tricky to know how much you need to achieve the perfect balance between a dewy and an oily complexion. A little bit too much and you could be left with an overly dewy face and sliding make-up with poor coverage. The Volumer also doesn't help with people who already suffer from oily skin as it does add to the already existing shine. However, if used in moderation, it actually does add a healthy, natural-looking glow.
The other way to use this is as a highlighter. When applied to the cheekbones, bridge of the nose and the area above your eyebrows, it gives a luminous, 3-dimensional look to the face that doesn't look glittery or highlight uneven skin and dry patches like some other highlighters do. Since this is the transparent type it also looks like your own skin is glowing, with no added colour or effect. Simply put a small amount on your index finger, rub together and gently apply to the areas on your face you want to stand out. Pat it on gently so it doesn't look like a film, but rather as if your skin is glowing from inside.
Overall Opinion And Conclusion
Etude House combined the popular Korean dewy make-up look with the highlighting/contouring trend to create the Nymph Aura Volumer. While it works great to give that glow to individual areas of the face, it's a bit harder to use when mixed in with foundation. Mixing too much is quite easy, which leads to a oily complexion and a thick, greasy layer on skin (the kind that makes hair stick to the face).
The Transparent Nymph Aura Volumer is probably a good call for people with dry/dehydrated skin who want to make their skin look more dewy naturally, without the dryness of highlighting powders. If you already have oily skin, however, this product might be too rich and form an extra layer of unwanted oil on your skin. When used in moderation, it doesn't clog the pores, but it's definitely not a lightweight product.
Overall, it's a nice addition to have in your make up stash, but not an essential product. If you have oily skin, better skip this one and go for something with a lighter consistency.
Rating: 3.5 
Get It From: Etude House Official Website