The ladies of AOA are back and welcomes the new year with their first full length album, Angels' Knock! Released on January 2 2017, the album contains ten tracks, two of which are Korean versions of their Japanese title songs.
Produced by Brave Brothers, AOA beckons listeners in with Excuse Me, 'do you have a minute,' only to play with hearts. As Chanmi says it's a 'dance with the devil', a teasing game of chase made more apparent with the music video. But it is in the repeated vocal hook where the track truly shine, and the shy but sexy choreography accompanying the verses.
Bing Bing, on the other hand, is a jazz-influenced track, with the opening instrumental reminiscent of the jazz-funk and swing sub-genres. This is where Jimin's rap verses stand out the most, with the refrain evocative of past tracks such as Like A Cat.
Three Out recalls the upbeat, catchy lyrics of ELVIS and the rocker vibes of Get Out. An upbeat pop with hints of electro and soft rock and the strong vocals of Hyejeong and Choa, and Chanmi's rap, produces an interesting instrumental filled with saxophones, guitars and drums. Where Feeling truly shine, meanwhile, is in its repetitive but not overly saccharine refrain, and the chill, good vibes that the song embodies. It is in the slightly EDM-influenced bridge that makes Feeling unique, and coupled with Seolhyun and Yuna's soft vocals and Jimin's signature rap, Feeling will certainly have listeners humming 'oh na na na na.'
Can't Sleep is an EDM pop track produced by Brave Brothers that will have you humming along to the chorus. Reminiscent of songs like Luv Me, you won't be able to sleep to the beat of this song and like the lyrics, it will have you singing 'insomnia, insomnia, insomnia.' With rookie labelmate SF9's Rowoon, Lily is an adorable, slow jazz tune with playful pianos and bouncing beats. Chanmi and Mina's sweet voices are particularly fitting for this song, while SF9's Rowoon lends his smooth vocals to give a gentle edge to Yuna's strong ones, producing a beautiful harmony.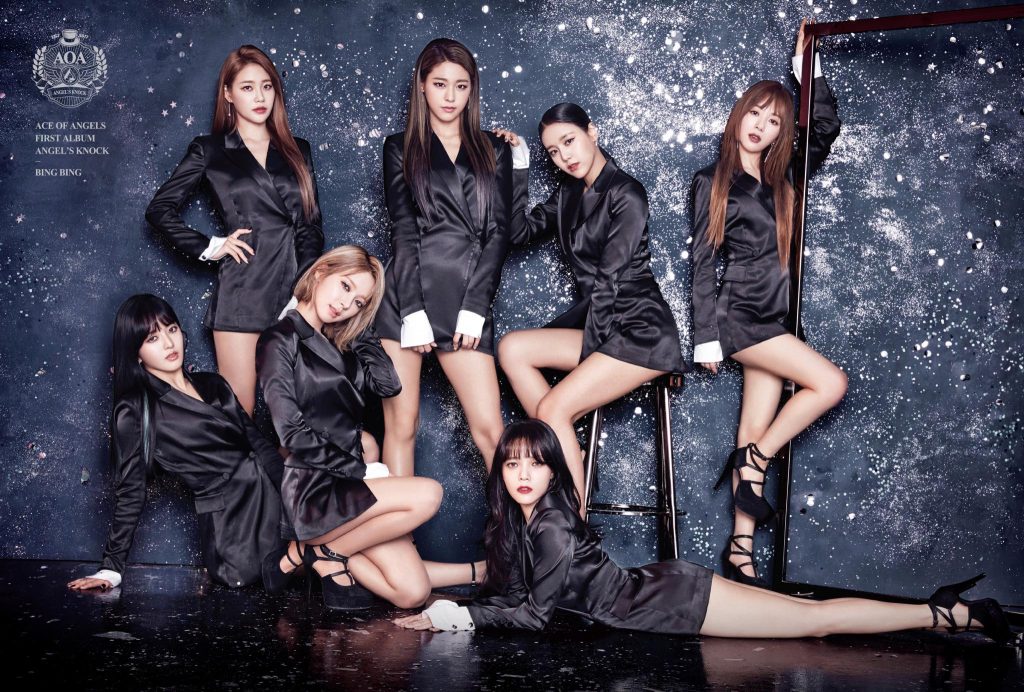 Melting Love is an upbeat, bouncy love song with happy electric pianos. With lyrics like 'my heart keeps trembling at your smile, my once cold heart is melting', the instrumental mirrors the hesitation the song is about and even Jimin's rap slows as if in nervous anticipation. While 때문에 (Help Me) and Oh Boy are Korean remakes of Japanese title tracks. Oh Boy is a playful and lilting track that is the perfect song for Choa's mischievous voice, Hyejeong's strong vocals and Jimin's teasing but confident verses. 너 때문에 (Help Me), on the other hand, is a fast-paced track. There is a sense of urgency and even desperation – as if the singers are on the hunt, hiding behind walls, 'where are you? Who are you with?', there is something like possessiveness and suspicion in these lyrics, 'are you sick of us? Or am I not good enough to you?' Jimin's rap style particularly stood out here, the quick pace lending to the sense of urgency even more.
Last but not least, With Elvis is a love song for AOA fans. A track of gentle guitars and mellow voices filled with lyrics of remembering and promises: 'Remember, you can lean on me, I'll keep my small shoulder empty for you. Without change, I'll think of you today and happily sing', With Elvis is one of those tracks that would surely sound beautiful live at concerts with the fans' voices creating a beautiful melody.
What did you think of AOA's first full-length album? Leave your thoughts in the comments section below!
An album with tracks of various styles from catchy dance tracks to jazzy tunes. AOA showcases their musical flexibility, and returns to their rock band origins, while never forgetting to thank their fans along the way.