We're back this week with another make-up review for you all! For this week we'll be taking a look at 3CE's Cream Blusher! There are four different shades to pick from, 2 warmer orange tones and 2 more pink based shades. Personally, I prefer a more pink shade for blusher so the review will be based off shade '#3 Baby Peach' although it leans more toward the pink family when compared to shades #1 and #2, it still has a lovely warm undertone that'll give a fresh look to the skin.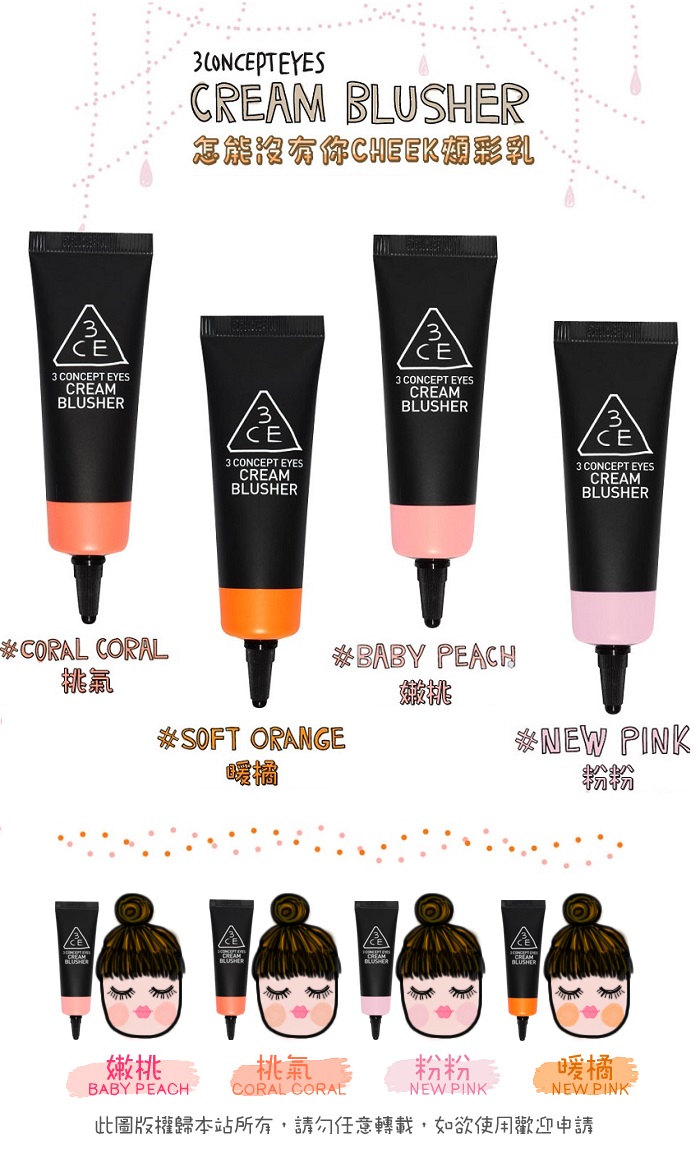 The first thing to note about the blush is how amazing the packaging is! The design is sleek and clean, 3CE always have effortless designs. The next thing you notice is that the applicator nozzle is a small squeeze tube; this makes it a great product if you're a professional make-up artist too, as it's hygienic and easy to dispense the right amount you need! Another thing I've took note of while using the blusher is that there's no noticeable scent so if you prefer your products with no strong smell then this is a great one to try.
The formulation of the blusher is extremely creamy and not too watery at all, this makes it easy to blend on the skin; even if you're in a rush it wouldn't take much time at all to apply! Since I bought it I've tried applying it with my fingertips and even blending it out with a damp sponge; for me I found the sponge gave an effortless finish with the perfect density of colour.
Usually one small application of the colour will give you the perfect finish, but if you go in with a second layer you need to be wary of the blusher going more powdery on the skin (despite its natural finish on the skin, I found applying too much made it go chalky) As for the colour range, unfortunately there isn't the biggest selection I think for darker skin tones you might find the shades too light, as the trouble with most Korean skin products.