BBC's everywhere, Block B are finally back! This past Monday they released the music video for 'YESTERDAY' unlike most of their songs, which are usually written by leader, Zico the song itself was co-written by member Park Kyung; and showcases a mixture of genres from rock, rap and even pop! The video compliments the catchy song perfectly and is full of bright colours- it even resembles a 90's sitcom, with each member having the perfect amount of time in the spotlight. Using their fashion choices as inspiration we've decided to make their video the main focus for this weeks 'Get the Look'!
If you hadn't had a chance to check out the music video yet- be sure to take a look below!
We've put together a list of items below that'll help give you any ideas if you wanted to re-create their colourful looks seen in the music video! It's been put together to try being as budget friendly as possible so most of the pieces themselves are around the £30 mark or less. You may even have some pieces similar already that you can use to mix and match which'll help saving extra money, too.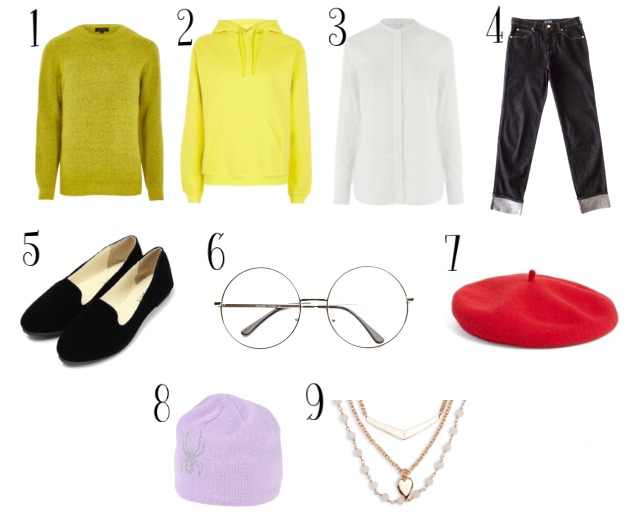 1) Lime Green Soft Knit Crew Neck Jumper- £30, RIVERISLAND.com
2) Yellow Oversized Hoodie- £30, TOPSHOP.com
3) Warehouse Brushed Cotton Grandad Shirt- £15, WAREHOUSE.com
4) Vintage Rolled Up Jeans- £25, REBELLE.com
5) Suede Slip on Round Toe Ballet Flat- £10, NEWCHIC.com
6) Vintage Era Large Round Glasses (Clear Lenses)- £5,  SHOPZEROUV.com
7) Halogen  Wool Blend Beret- £13, NORDSTROM.com
8) Spyder Lilac Beanie Hat- £20, YOOX.com
9) Vera Bradley Stylist Necklace (Rose Gold Set)- £29, VERABRADLEY.com
If you're interested in any of the clothes listed, you can find them on their websites as listed by searching the product names!
[Sources: Nordstrom, Yoox, Top Shop, Rebelle, River Island, Warehouse, New Chic, Shop Zerouv, Vera Bradley]