As part of their European tour, Block B stopped off in London to perform for British BBC's thanks to Onion Production and MyMusicTaste!
On March 5th, despite the wind and rain, fans had been already lining up for over an hour to get the best view. Although the weather was against them, everyone seemed to be in good spirits and there was a good vibe – even the venue staff were in a good mood!
Before the concert had even begun, the fans' singing along to the music was echoing around the arena, so much so that the music couldn't be heard over them! As the music turned up, the fans got louder and we knew that any minute now, the boys will come out. But nothing prepared for for the excited screaming when they did.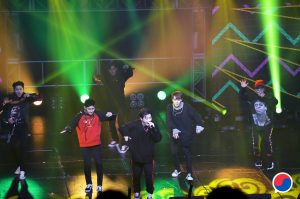 As Block B exploded on the stage, from the very first song, the lights and background projections really stood out as being exceptionally well done, and well planned out.
After their opening song, 'Her' blasted through the speakers and the fans immediately began singing along. The atmosphere was through the roof by this time, just in time for Block B's introductions! Each member went through and introduced themselves one by one in perfect English before introducing the next song – Action!
A couple of high-tempo songs had passed before the members took a minute to introduce themselves again and have some fun with the fans. Kyung even attempted a British accent before Zico promised that 'the stage will be on fire'.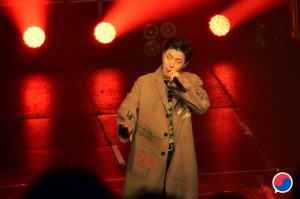 Next on the set list was 'Very Good' – followed by a very artistic video with obvious influences from the European Renaissance era (1300 – 1700) – very relevant to the continent they're touring!
After a few more songs and a special stage from Bastarz, the members had begun to show more fan service as the show was coming to a close. All members went to each edge of the stage and interacted with fans whilst confetti came pouring out of the stage leaving decorative strings on the audience. Block B were having way too much fun teasing their fans, including throwing water on the front rows! The place was buzzing when they left, and they left with one promise "if you guys are loud enough, we'll come back for an encore" to which the audience screamed at the top of their lungs.
After about ten minutes of chanting, Block B reappeared with the stage setting off some more confetti as the members held out the Union Jack to take a picture with.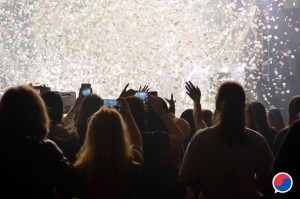 It's safe to say that the concert was a huge success – Block B seemed to really enjoy themselves and even said that this is their most responsive show to date! They expressed their wishes to return over and over – definitely a concert to keep an eye out for if they do return.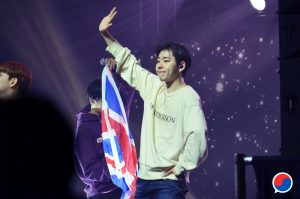 Check out the rest of our photos from the show here.