Minzy officially debuted back in April with her solo EP 'Minzy Work 01. Uno' and has made appearances on a number of variety shows and even was a cast member on the second season of 'Sister's Slam Dunk'!
She looks like she's enjoying herself from the snaps of the singer sightseeing to drinking matcha latte's in a cafe on her summer trip in Prague, the recent pictures have been linked in below! But you can keep up to date with her posts on her Instagram account here.
If you've been following her IG, you may know that the soloist has been uploading her travel updates since she arrived in Prague yesterday with the caption attached to the picture below: As soon as I got out of the airport, the pretty buildings and flowers welcomed us. What kind of memories will happen again through this trip?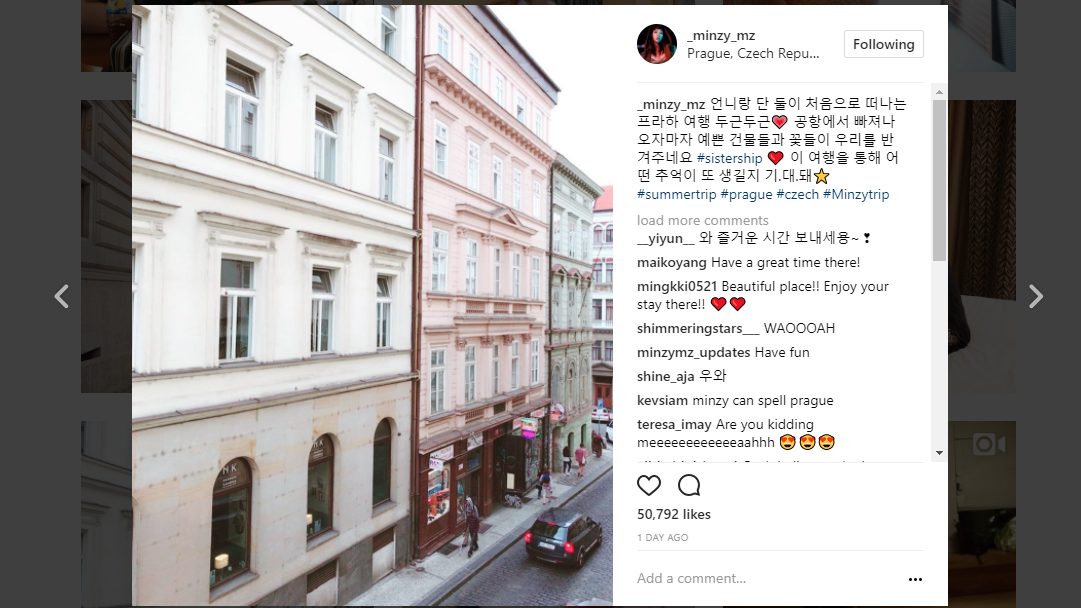 https://www.instagram.com/p/BWibT6MlE4a/?taken-by=_minzy_mz
Translation: After a long flight I must stretch! Required ~ Stretching time! #Czechtravel
Translation: One step forward.
https://www.instagram.com/p/BWkQF0bl7L0/?taken-by=_minzy_mz
https://www.instagram.com/p/BWkQz5Fll7k/?taken-by=_minzy_mz