Sones all over the world have been waiting in anticipation for one of the biggest veteran groups in the Korean music industry to make their comeback. They're back for their 10th anniversary and what better way to celebrate than to release their 6th Full Album 'Holiday Night'!
The girls pulled all the stops for a glamorous music video for 'Holiday' which gained over 4 million views already along with the release of a documentary version for 'All Night' where the girls share their thoughts on their group's milestone, make sure you check them out below if you haven't already!
The album contains a total of 10 songs to coincide with the general theme to further commemorate the occasion, along with the double promotional title tracks 'Holiday' and 'All Night'. You can listen to their album here on Spotify and also purchase it on iTunes for £6.99.
Since the release today, the album had risen from its initial position of #80 and has continued to soar up at it's top peak at #12! It's also the highest rank from a girl group to date following labelmate Red Velvet's 'The Red Summer' which reached #19 on the UK charts. Congratulations to Girls' Generation on reaching their 10 year anniversary!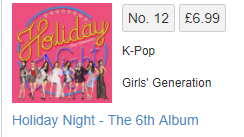 ---