The youngest unit group from NCT (Neo Culture Technology) has returned for their second comeback this year following their 1st Single Album 'The First'. Later on in March, the exciting news was revealed that they were chosen candidates to prepare the official song 'Trigger the Fever' for the FIFA U-20 World Cup Korea Republic 2017. Now they are back for the end of the summer with their first mini album 'We Young', which has charted at #50 and has risen to #36 on the UK iTunes chart!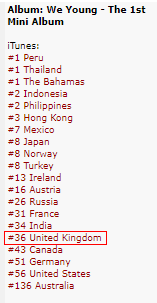 'We Young' is a tropical house track that's a great song to enjoy throughout the rest of the summer! It's light-hearted, catchy song and carries along with the boyish charms from the group. In comparison to their past songs, this seems to resonate with a sense that they're all growing up and have strayed away slightly from the bubblegum image they debuted with last year. We can definitely see the appeal as they pull off the concepts with their own twist with a great balance between the members.

Just like the title, there are references made to the celebration of youth. It's possibly linked to the concept of Peter Pan and the Lost Boys. There's an animated girl that features in the music video, again with the Disney theme, she's brought to a new world  which is symbolic of Neverland, described as a place where you can stay youthful forever. There's even an appearance from a crocodile, which was also a character in the Disney film! It is presumed that she falls asleep and meets the boys in a dream as they take her away on an adventure.
The video is full of sprinkles of magic (fairydust, perhaps?) and boyish youth of the members. Then it looks like the shadow of the girl escapes into a portrait, which may suggest that she doesn't want to leave and to remain a child. The boys then go on a rescue mission, where they find the shadow and return her back home with the video ending with her fast asleep on her couch. Youth can pass by in a flash, so the message could be to enjoy every moment while it lasts!
What were your thoughts on NCT Dream's comeback?