As expected, November has been explosive in many ways; Fireworks Night, Black Friday weekend and the countdown to the festive season. However, in K-Pop, it could possibly be one of the biggest months of 2017. Last month, we started a new feature to give you the biggest topics in the industry in our News Round-Up and now, we are back with five stories to keep you talking until December.
---
01. BTS Make Their Explosive US Debut
Throughout November, we have not stopped talking about these boys. BTS have been going from strength to strength by gaining air-time on UK radio and turning the iTunes chart on its head. However, the biggest achievement has to be their official US Television debut on this year's American Music Awards. The group spent the entire week doing US photo-shoots and recording for both "The Late Late Show" and "The Ellen DeGeneres Show" but it was all leading up to performing their latest track, "DNA" in front of musical idols, reporters and fans who were chanting along throughout.
Celebrities including Jared Leto, Ansel Engort and many more have already gave their love to the boys along with advice on advancing into the American and even UK market. That advice may be needed more than ever because BTS have kept the momentum of their AMA debut and took their profile to new levels. You may remember many artists gave love calls to the K-Pop super-group during their appearance in the Billboard Music Awards; including The Chainsmokers and Steve Aoki. We have already heard the result of one with the album track, "Best of Me" produced by the American EDM Duo but now we have been treated to the latter collaboration which includes Desiigner; a brand new remix of "MIC Drop".
Within a day of its release, "MIC Drop" is one of BTS' biggest songs to date; charting in 72 iTunes Charts across the world, gaining under 20 million views on Youtube and also winning the title of being the first Korean group to ever get to #1 on the UK iTunes album chart! Could we be seeing more of BTS in UK? With the AMAs airing on 4Music on the 26th November (5PM GMT) and a possibility of "MIC Drop" charting in the UK, there is still a lot to anticipate from BTS before the year is out.
02. Controversy Shuts Down Tarnished "Trainee"
Many fans know that one action can destroy an idol's career but what about those who don't seem to be bothered? It's only so much fans can take before the nail is in the coffin, and that seems to be the case for trainee, Han Seo Hee who is now famously known for being the girl in T.O.P's Marijuana case earlier this year. Since the court case, she has been very vocal on her own views that many would see as hypocritical; including making sexual comments about the Big Bang rapper, stating herself to be a feminist and voicing uncensored hatred towards multiple netizens such as EXO-L.
As expected, she has complained over the attention she has been receiving and said that she was discouraged to be an idol as she originally planned. However, those plans may be tarnished permanently as her recent comments has gained a huge backlash from netizens, the LGBT+ community and celebrities within South Korea. Han Seo Hee's comments towards transgender women lead to a heated response from Harisu, who is the country's first celebrity to identify as transgender. Harisu has since apologised for her words but the criticism may be too much for the troubled trainee as Seo Hee has shut down her Instagram page. Many have speculated that succumbed to the response or there is a situation with her company. All we know is that for now, she has stepped away from the spotlight for the time being.
03. Flash-Pink In Your Area
Justice League is now finally out in cinemas but eagle eyed fans have already noticed a little cameo from YG's new generation girl group, BLACKPINK. In recent trailers, the music video of "As If It's Your Last" is seen but the song was also listed in the film's credits as part of the soundtrack. During South Korean promotions of the movie, the Justice League cast spoke of their love towards the culture, especially Ezra Miller, who plays The Flash. During a V Live interview with Eric Nam, he spoke of his love towards BLACKPINK and even started dancing to the chorus as Eric sang.
The girls definitely noticed the actor's love and even sent a signed copy of their album through an interview with "MEGABOX". Like a true fan, Ezra's face lit up with the heartfelt gift, stating "BLACKPINK, I'm in your Area." Hopefully, we get to see more interactions between BLACKPINK and the actor soon, maybe a dance collaboration? You never know. Until then, Justice League is in cinemas right now so you can see the famous BLINK in action as the fastest hero in the world.
04. Christmas Collaboration Time!
It is that time of year again! So instead of running through up-coming comebacks, we have a little list of Holiday releases to look for in the next month. We already know a few singles that will be coming out, including the end of DAY6's year-long project but with Christmas around the corner, idols are lining up to bring out festive songs to keep you sane through Christmas shopping and carol singing.
First up, EXO-L's favourite tradition will continue as they have confirmed a new Winter single to succeed "Miracle In December", "The Winter's Tale", "Sing For You" and "For Life". No further details have been confirmed but a Winter Special Album is expected within December. That won't be the only release to expect from SM Entertainment. Girls Generation leader, Taeyeon has confirmed on Instagram Live that she is currently working on a Christmas album and concert next month. Again, little details have been revealed but we do know that Seohyun, a member who left the company earlier this year, will be making a guest appearance to perform during Taeyeon's concert; 'The Magic of Christmas Time' which will be held on December 23 and 24 at the Grand Peace Hall in Kyung Hee University, Seoul.
Finally, another tradition will be continuing with Starship Entertainment as they will be releasing their "Starship Planet 2017" Winter single in mid-December. Artists have already teamed together to record the music video, including K.Will, Soyu, MONSTA X, Cosmic Girls, Yoo Seung Woo, Mad Clown, JungGiGo, Mind U, Jung Se Woon, and Boyfriend. With previous releases including "White Love" (above) and "Pink Romance", we can't wait to hear a new track to get us smiling through the holidays.
05. The UnitedKpop Awards are Back!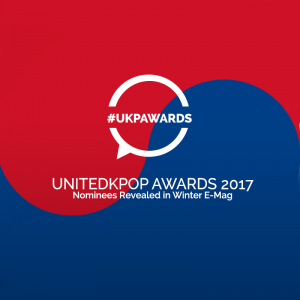 After a year long hiatus, the UnitedKpop Awards are back and bigger than ever! Why? We now have a record number of awards up for grabs that span across South Korea culture, including the NINETEEN categories;
Best Song
Best Album
Best Male / Female Group
Best Solo Artist
Best K-Hip Hop Artist
Best Music Video
Rookie of The Year
Best Rock Group
Best Dance Performance
Best Music Project
Style Icon of The Year
Beauty Pick of the Year
Best EU Concert
Best Drama
Best Movie
Best Drama Soundtrack
Best Television Programme
If you want to get involved, we will be revealing the entire list on nominations in our up-coming Winter E-Mag so make sure to follow UnitedKpop on Facebook & Twitter – via the hashtag #UKPAwards to find out more on how to make your vote count.
---
That is all for now until the end of the year, but we are counting down the days until we unveil our new online magazine. It is a bumper issue that you don't want to miss out so keep your eye out for the confirmed release date for not only the unveiled shortlist for this year's UKPAwards but for big exclusives from K-Pop within the UK.