Female duo 2YOON released an MV for the single '24/7' which features them switching a glam look for a more casual Country-Western vibe. Let's explore how we can steal this style!
Here's the MV:
As you can see, the girls start out with faux fur coats, changing up in favour of denim to fit in with their new surroundings. As usual, Gayoon shows a feminine look in this theme, whereas Jiyoon gives a more masculine interpretation.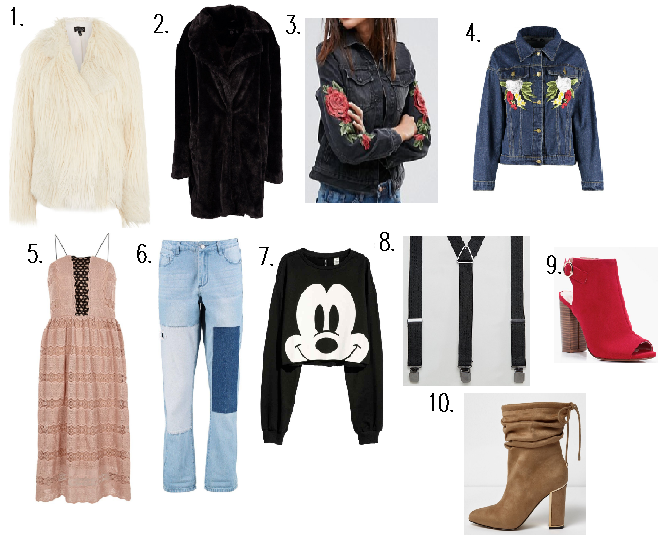 Patchwork Shaggy Faux Fur Coat – Topshop: £89
Jasmine Boutique Oversized Collar Fur Coat – boohoo.com: £50
Kubban Floral Embroidered Slim Denim Jacket – ASOS: £22
Jodie Oversized Rose Applique Denim Jacket – boohoo.com: £16
Light Pink Lace Midi Cami Dress – River Island: £25
Alice Patchwork Boyfriend Jeans – boohoo.com: £22
Cropped Sweatshirt [Black/Mickey Mouse] – H&M: £12.99
Peter Werth Braces In Black Jacquard – ASOS: £12
Paige Peeptoe Sling Back Shoe Boot [Red] – boohoo.com: £28
Camel Slouch Pointed Toe Heeled Boots – River Island: £55
Of course, the 'cowboy look' is not everyone's cup of tea, but there are many elements to one outfit that you could cherry pick. Whether that's Gayoon's frilly dress and denim jacket combo, or Jiyoon's patchwork jeans. The girls also add in a few modern pieces to the style, such as a jumper featuring Disney's Mickey Mouse.
Gayoon layers up with leggings when wearing dresses and skirts, this means that you can wear her sort of style even during this chilly January and simply subtract the layers when the weather is warmer.
The ladies finish up the look with red or brown ankle boots. However, you could also go for black boots or pumps. Converse would also look great with the more casual style.
The January sales means you can also go and grab yourself some bargains, so hopefully this has given you some style inspiration!
[Sources: Topshop Website, boohoo.com, ASOS Website, River Island Website, H&M UK Website].