UPDATE 04/09/18:
It looks like BTS's Answer: Love Yourself will definitely hit ASDA shelves near you soon! The supermarket giant recently contacted a fan confirming that they will be stocking the album, but are unable to state when the CD will be up for sale.
https://twitter.com/AsdaServiceTeam/status/1034012051767787520
This comes after the group's comeback single IDOL reached the Top 40 UK Charts. ASDA are not the only British supplier of the new BTS album; HMV, who have stocked K-Pop CDs at their Oxford Circus flagship store, are selling the CD in many physical stores as well as online. While stocks last, you can grab a free poster with your order too!
Guess what's available in store today. New #BTS album Love yourself: Answer. Also pick up a FREE poster whilst stock lasts. #BTSARMY #LoveYourselfAnswer @bts_bighit @BTS_twt #BTSinLondon pic.twitter.com/wrJx0PEdMH

— hmv Oxford Street (@hmvOxfordStreet) September 1, 2018
The 2CD Delux edition can be purchased here for just £24.99.
ORIGINAL POST:
After yesterday's announcement of BTS' new world tour drove fans wild, ASDA is driving up the excitement by revealing their plans to get BTS' upcoming album onto shelves in their stores.
HMV have previously stocked a small selection of K-pop in their Oxford Circus store, but this would mark the first K-pop group to get their CDs available to purchase across the UK. It is not yet clear if ASDA plans to stock the CDs in all of their stores, or if it will be largely available online.
Hello, We have had so many requests for us to sell this new album! We don't have any release dates however I know we are trying hard to get this in stock soon, keep your eyes peeled:) Have a lovely day, Jake:)

— Asda Service Team (@AsdaServiceTeam) April 28, 2018
ASDA are not the first UK retailer to promise ARMYs BTS goodness – last month Primark suggested they may stock BTS merchandise in the near future.
With both retailers revealing plans in such close proximity to the tour announcement, it sounds like BTS' management may be working hard in the background on plans of world domination – and so far, they're succeeding.
BTS are also a favourite of the BBC and regularly frequent the UK iTunes charts. Despite PSY holding the spot of the first Korean artist to top the official UK charts, BTS are on track to being the most internationally successful K-pop group yet. They even swept the floor at the 2017 UKP Awards – winning 5 out of their 6 nominations!
The European leg of their upcoming tour kicks off with 2 dates in London on October 9 & 10, followed by Amsterdam on October 13, Berlin on October 16 & 17 and Paris on October 19 & 20 – with more dates yet to come!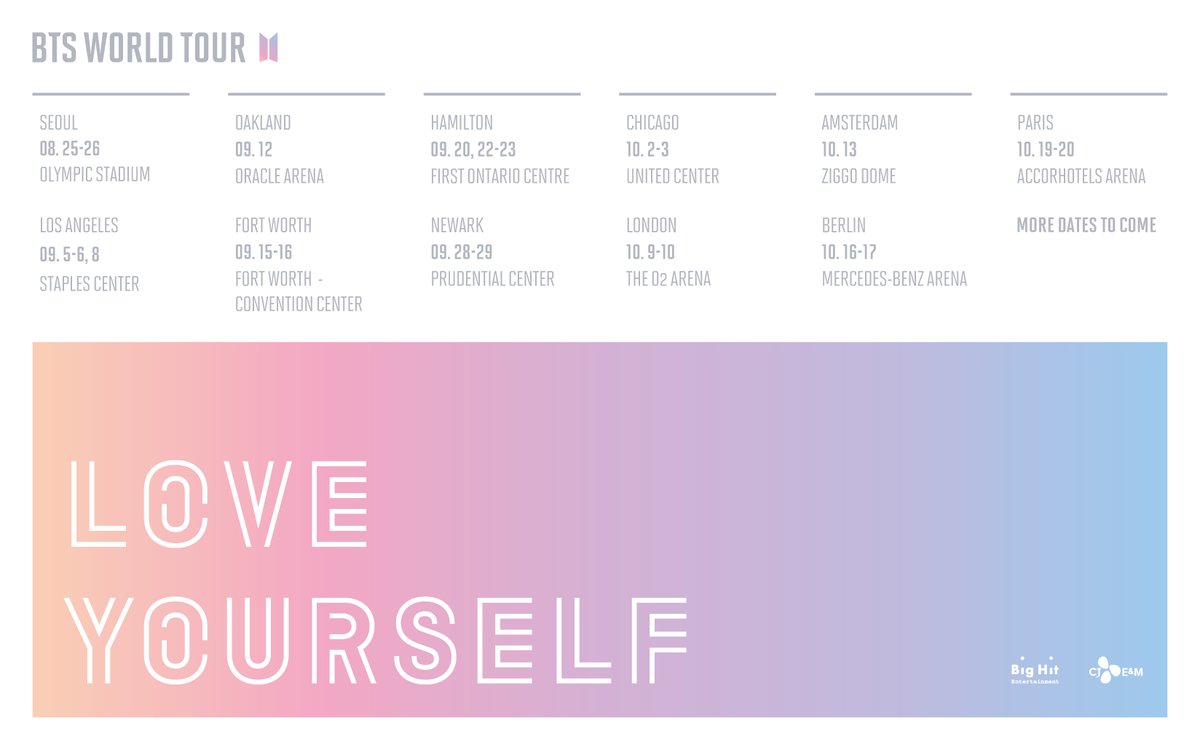 Their London concert will take place at the o2 Arena, which has a whopping capacity of 20,000 – larger than Wembley, which hosts 12,500 fans. BTS' concerts will be the UK's largest venue concerts yet with up to 40,000 ARMY expected to attend over the two dates.
If their CDs hit ASDA and merch hits Primark in time for the big concerts, ARMY will be able to gear up for the shows in style – without the wait for shipping!