GOT7 member Jackson recently treated us to another solo track. An entirely English song called 'Dawn of Us'. Today, we are taking our style inspiration from the music video!

Here's the MV:
The location of this video is a beautiful, sun-drenched paradise, and the clothing is suitably summery. These clothes are particularly great if you are planning to travel to warmer climes this year.
Jackson goes for some interesting prints on his shirts, which you should not be afraid of for yourself. Try to find a colour combination that suits your tastes, there are many to choose from. Pairing this up with denim means things are kept really casual and comfortable – perfect to wear while lounging about in the sun.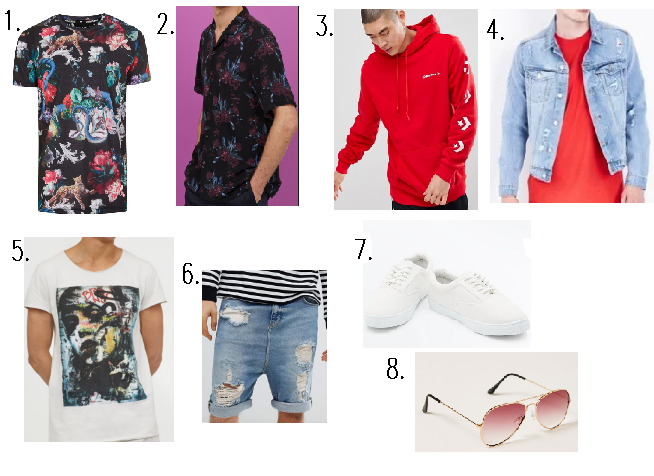 Criminal Damage's 'Dominic' Floral Print T-Shirt – Topman: £30
Resort Shirt Relaxed Fit – H&M UK: £17.99
Converse Pullover Hoodie With Sleeve Print In Red – ASOS: £45
Blue Ripped Denim Jacket – New Look: £39.99
T-shirt with a Print (Natural White/Graffiti) – H&M UK: £8.99
ASOS DESIGN Drop Crotch Denim Shorts With Extreme Rips In Vintage Blue Wash – ASOS: £28
White Lace Up Trainers: New Look: £9.99
Pink Ocean Hunter Aviator Sunglasses – Topman: £14
Jackson also wears a Supreme hoodie, but unless your bank account in bursting at the seams, I would suggest going for something a smidge cheaper. I personally think designer labels are a waste of money anyway (shh, don't tell Jackson!)
Finish the look off with some white trainers, light-coloured sunglasses and a cap and – hey presto – you are done!
[Sources: Topman Website, H&M UK Website, ASOS Website, New Look Website].