New girl group GWSN (not to be confused with WJSN – this group's acronym name stands from the Korean of 'Girls in the Park' rather than 'Cosmic Girls') debuted at the end of September with 'Puzzle Moon' and turned quite a few heads when they did so. The song is a slick house inspired track, reminiscent in tone and style to F(x)'s '4 Walls.' It's classy in a similar way too. This extends right through to the music video, and thus the girls styling.
For the core dance scenes, the girls are striking in plain and simple white. It's a statement that matches their debut perfectly. Whilst being dressed in all white evokes the innocence that is so often found in rookie girl groups first appearances, how the stylists have used it makes for a very refined look. Six of the seven members are seen in long sleeved dresses. Some are more sheer and floaty than others, whilst lace detailing and ruffles adds a little interest. Member Miya is seen in something else entirely. A long, loose-fitting shirt and trousers suit her personal style without compromising the overall look of the group. The same elements are carried over – sheer, floaty, subtle detailing – in order for her to match well with the other members. It's great to see that even through the unity in fashion, there are small nods to each girl's personality or preferred style that make them stand out. This doesn't feel like a uniform. The knee-high socks paired with the dresses go some way to adding a more childish innocence but it's not overdone. A great compromise between classy and cute.
Want to go for the same effect? Here are some suggestions on how to recreate that 'Puzzle Moon' influenced look: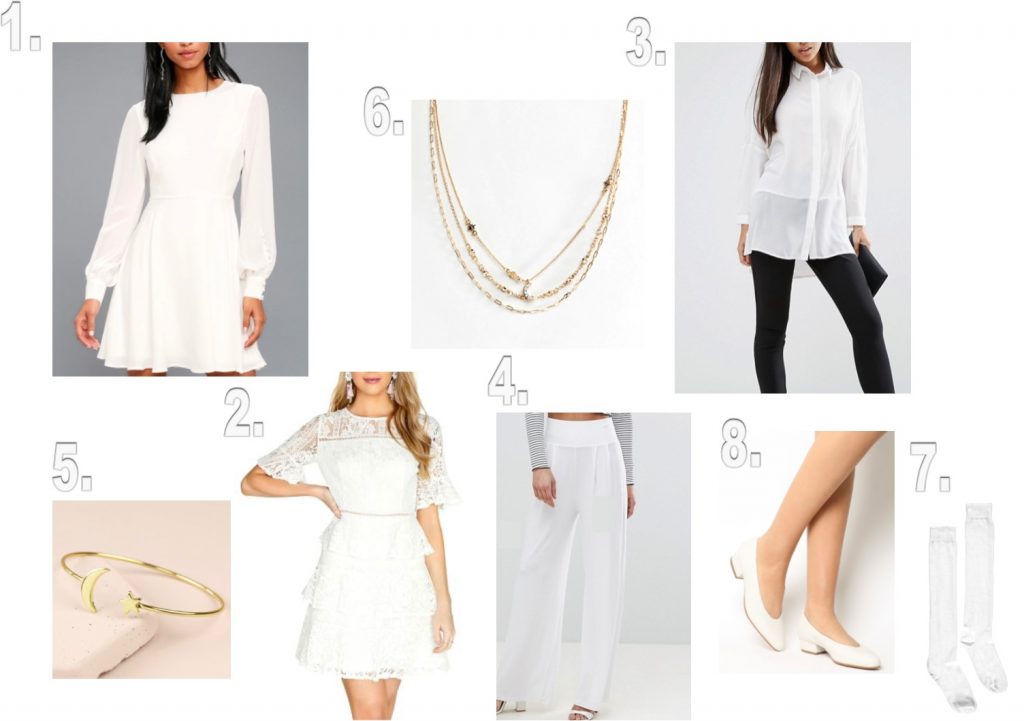 Sadie May White Long Sleeve Dress – £45, lulus.com
Girls on Film Lace Mini Dress – £36, Next
Soft Shirt in Sheer and Solid – £30, ASOS
Wide Leg Trousers With Deep Waistband – £20, ASOS
Gold Moon and Star Bangle – £8, lisaangel.com
Gold Star Three-Chain Necklace – £8, ASOS
White Knee High Socks – £4, boohoo.com
My Girl Block Heel Courts – £42, Office
The two dresses here are floaty yet not too frilly, keeping the loo from going too far in the way of cute. We've given you the two options as each member wears a dress slightly altered to their own style. You can also choose to go for Miya's look with these long white trousers from ASOS, pairing them with the loose fitting shirt. The shoes from Office have a slight school girl feel whilst also staying sophisticated. There's a lot of white in the clothes, so break it up a little with some celestial accessories in gold. The moon and star bangle is similar to one seen in the MV, and the necklace will give a subtle gold shimmer to the dress. Wear at night to be the moon and stars in the night sky!