B.A.P have released an official greeting video for their upcoming European tour, "Forever with BABYz" through Young Bros Facebook.
The five members – Himchan, Jongup, Zelo, Daehyun and Youngjae – express their excitement for the tour in the video and promise that they will show their fans an unforgettable experience.
This is B.A.P's third time touring European countries, including the United Kingdom, France, Germany and Spain, and takes place from November 30th to 9th December. It is also B.A.P's first tour after the departure of their leader, Bang Yongguk, in August. However, it hasn't discouraged the remaining members from planning to perform to their fullest.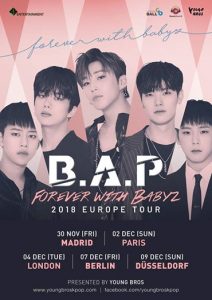 Ticket details are yet to be released. To keep up-to-date, make sure you follow Young Bros on Facebook!
Are you excited to see B.A.P performing in Europe again?