BTS and SHINee fans, rejoice – two of our favourite chart-topping performers are on the cover of Germany-based Korean culture magazine K*Bang's latest volume.
The publication, set to print this month, is giving readers the option to choose between two covers for Vol. 13: either Jin, BTS vocalist and resident Worldwide Handsome; or Key, lead rapper of SHINee and much-anticipated, soon-to-be debut soloist.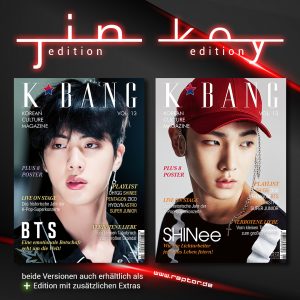 This isn't the first time a BTS member has featured on the cover of K*Bang. In 2016, Jungkook had a solo cover on Vol. 9, coinciding with the group's October comeback and release of Wings. Key's cover will be the first for SHINee, and with his debut solo single 'Forever Yours', feat. Soyou, newly released, it couldn't be better timed.
If you order the standard edition, then the contents of the magazine are entirely the same across both cover options and include, according to distributor Raptor Publishing, a recap of all the ways K-pop impacted Europe over the last year, and a look at what's to come for new bands, K-dramas, fashion, beauty trends and more.
If you opt for the plus edition, you get two bonus postcards and 18 photocards, which differ across Jin and Key covers.
The plus edition featuring Jin includes:
2 postcards (Set 1): Monsta X, VAV
18 Photocards (Set 1): Baekhyun (EXO), BamBam (Got7), Dino (Seventeen), DK (Seventeen), Felix (Stray Kids), Hoshi (Seventeen), Jimin (BTS), Jisoo (Blackpink), Quay (EXO), Key (SHINee), Lee Know (Stray Kids), Mingyu (Seventeen), Minho (SHINee), Rosé (Blackpink), Shownu (Monsta X), Suga (BTS), Vernon (Seventeen), Wonho (Monsta X)
While the plus edition featuring Key includes:
2 Postcards (Set 2): Got7, Stray Kids
18 Photocards (Set 2): Bang Chan (Stray Kids), Chanyeol (EXO), D.O. (EXO), Hyungwon (Monsta X), Jackson (Got7), Jennie (Blackpink), Jin (BTS), Jooheon (Monsta X), Lisa (Blackpink), Onew (SHINee), S. Coup (Seventeen), Seungkwan ( Seventeen), Seungmin (Stray Kids), Taemin (SHINee), The8 (Seventeen), V (BTS), Woozi (Seventeen), Xiumin (EXO)
The standard edition is available for purchase for €7.90, while the plus edition will run you €12.90. You can order your copy now through Raptor Publishing. Happy choosing, ARMY and Shawols!