Korean-American YouTuber, Joan Kim, stopped in London last weekend. Famous for her 'Joanday' travel vlogs in Korea, she collaborated with Inspire Me Korea for her first official London Meet and Greet.
We were fortunate enough to get an exclusive interview with her at her Meet and Greet with Inspire Me Korea. Check it out below!
1. Congratulations on your Joanday and night cream. Could you tell us more about the experience making the cream, and what the cream means to you?
"Creating the cream has been a journey. I've spoken more about it in detail in one of my YouTube videos, but in short, a lot of work went into it. My friend, Erin, is in the group so we were able to stay professional and personal at the same time. It did take a while to make the product, but I'm happy with the result.
The cream is like my baby. After Joanday, of course. I want people to use it and have a good day and night. Have a Joanday and night – that sort of meaning."
2. You travelled to London for the Meet and Greet. What's been your favourite moment so far? Inspire Me Korea organised the event, as well as the VIP Lunch at Yori London and Bingsoo Afternoon Tea at Cake and Bingsoo in New Malden. How did you find it?
"I love how this Meet and Greet has been intimate. In East Asia, there's a time limit for each person, so there isn't a lot of time to talk to my subscribers. Here, I've had the opportunity to be more up and personal with everyone. So, this experience is very special to me.
As for yesterday, I don't like to eat too much at Meet and Greets because I get nervous, but the food was good. I enjoyed being able to meet my subscribers and enjoy lunch and afternoon tea together. Though, I would like to eat more European food in the future. That's what I always tell Diana (CEO, Inspire Me Korea)!"
3. Diana and Alice, the co-founding sisters of Inspire Me Korea, also gave you the opportunity to curate your own boxes for the event. How did you find the experience, and did the girls give you any advice?
"No, they trusted me a hundred per cent. I wanted the boxes to be good, so that they'd be worth a hundred dollars. I didn't have a specific plan for each one. As you see in the vlog, I picked up whatever I thought would be nice to include. I also have a shelf of products at home, so I used them to fill up the gaps.
Each box is different. The only common product is my Joanday and night cream. Since I worked on it all year, including it was a must."
4. You've made a name for yourself on YouTube with your travel vlogs in Korea, but you've also travelled to many countries. Do you have a favourite country that you've been to?
"That's difficult. I love every country that I've been to. Of course, I love Korea and America. Malaysia was special because it was my first fan meeting abroad. I also love travelling to Europe because it reminds me of when I travelled here with my friends. I can't really say I have a favourite."
5. How about somewhere you haven't been to before but you'd like to?
"I've never been to Greece or Australia. Also, the Philippines – many subscribers ask me to visit the country and I'm waiting for that opportunity. I hope I have a chance to do so in the future. Maybe for the cream launch."
6. Let's hope so! Could you recommend a must-have item that UKP readers should take to South Korea?
"I don't think you have to take anything specific because it's all there. However, I would recommend that while they are in Korea, they make the most of k-beauty products. There's a huge range of products – some more affordable, others more high-end. There's something for everyone! And sheet masks especially! You can get great deals, so it's best to stock up on them while you're there."
We at UnitedKpop know it can be difficult to visit Korea, so an alternative would be to pick up some k-beauty and k-merchandise products in Inspire Me Korea's boxes.
7. That's something to look forward to! On your channel, cafes have become your signature vlogging space. Are there any you would recommend to UKP readers?
"Records, for sure! Also, I'd recommend Ikseon-dong itself. There are loads of cafes there that you'd need to try."
8. Since you're always travelling, what's currently on your travel playlist?
"It's always changing. Right now, I'm listening to a lot of Frank Sinatra. These are probably more basic but (she takes out her phone to look at her playlist) Jennie's "SOLO", Ariana Grande's "Thank You, Next", Crush's "Lay Your Head On Me". I went to his concert when I was in Chicago and I love his voice. And of course, Ladies Code's "The Last Holiday" is also on my playlist. One of the members, Ashley, is a good friend of mine."
9. What's next for Joan Kim?
"I don't have a set plan for the future. The only thing that's certain is Joanday Season 3, and figuring out what to do with my main channel. Ideally, I'd also like to work on lipsticks but I'm not too sure yet."
10. How about any personal goals?
"For personal goals, I don't like to think too much about it. Joanday has changed me as a person. I used to focus a lot on planning, but I realised I get discouraged if I didn't achieve those goals. So now, I try to have realistic aims. I mentioned in the talk that I'd like to work on relaxing more in 2019, so that's something."
11. Of course, as much as you travel you need rest. Lastly, do you have a message for UKP readers?
"It's great to be in London again. I'd love to come back!
I hope you guys get to visit Korea in the future and enjoy the culture, the language and the pop-culture.. My tip would be that there's more to the country than Seoul. So make a trip outside of Seoul and definitely visit Jeonju. That's my favourite cultural spot."
Thank you, Joan! We hope you enjoyed your stay in London! You can subscribe to both Joan's main channel and Joanday channel.
A UKP Tip – if you do plan to travel to Korea soon, check out Inspire Me Korea's Secret Travel Guide to South Korea!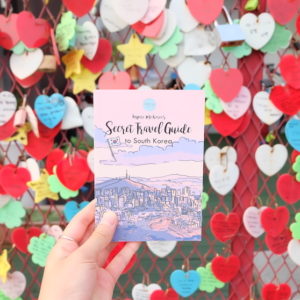 Thank you to Inspire Me Korea for giving us the opportunity to interview Joan!