Drop what you're doing because another Kpop group have announced that they will be touring Europe in 2019!
IMFACT is a boy group that debuted in 2016 with the sweet song "Lollipop". They have released two albums to date, and promoted two EDM influenced singles in 2018. The groups most recent release, "NA NA NA", was reviewed earlier in the year by the British magazine "Dazed". The magazine praised the tune, saying it is an "intimate listen" and that it is a "finely crafted song that should have seen far more success".  The magazine also ranked it at number 13 in its list of "The 20 best Kpop songs of 2018".
Following the groups success in the past year, they've now announced that they will be touring Europe this year! Kanzen Music have announced the first set of tour dates:
16th April – Cologne, Germany @ Die Kantine
18th April – Warsaw, Poland @ Progresja Music Zone
21st April – Athens, Greece @Fuzz Club
Kanzen Music have also said that they will be releasing more days soon – so keep your eyes peeled!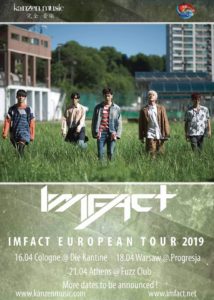 [UPDATE: 18/01/19] Kanzen Music have announced three more dates for the tour:
13th April – Madrid, Spain @ Gotham The Club
14th April – Amsterdam, The Netherlands @ P60
19th April – Berlin, Germany @ Kesselhaus
The concerts will have four different ticket types and are as follows:
Platinum VIP – this includes Hi-Touch, a photo with IMFACT, an autographed poster, an exclusive wrist band, the possibility of getting an IMFACT polaroid, and you will be the first to enter the venue.
Gold VIP – early entrance after Platinum, Hi-Touch and a photo with IMFACT.
Silver – early entrance after Platinum and Gold, and a Hi-Touch.
There will also be General Access tickets available. The tickets will go on sale on the Kanzen Music site. The pre-sale for the dates that have already been announced will start on 19th January and will end on the 26th. [UPDATE] Presale of tickets for second set of dates will begin on the 26th. Tickets will be available for a discounted price during these dates.
For more information follow Kanzen Music's facebook page and their website.