Dreamcatcher's latest mini-album Raid of Dream is ascending iTunes charts in the UK and Europe
.
As of 11pm BST last night, the mini-album has charted in 16 European countries, including the UK and Ireland
. This includes four countries at no.1: Norway, Portugal, Finland, and Sweden.
In the UK, the girl group appears to have climbed the iTunes charts, debuting in the top 20. Since then, the mini-album has risen to peak at no.11.

UK fans also managed to trend #DejaVu on Twitter, with it rising to the top UK trend during the day.

The mini-album's title track
Deja Vu
,
however
, only charted in 10 European countries.
Although the rankings for the song were not as impressive as the mini-album, the group were able to score two top 20s
.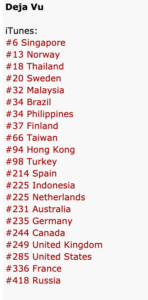 Check out the MV for Deja Vu below!
It appears to be an impressive ranking for Dreamcatcher, a group who are yet to receive their first music show win
. The girl group are also set to embark on their second European tour in October and November.
Congratulations on the girls' international success! If you haven't bought their released, you can buy them on iTunes here.