WINNER's latest mini-album,
CROSS
, has entered iTunes across Europe!
The mini-album took the top spot in 27 countries worldwide, as of 19:00 BST. This included three European countries: Turkey, Luxembourg, and Czech Republic.
As well as this, the group achieved notable feats in Russia (no.2), Italy (no.6), Sweden (no.10), Denmark (no.11), France (no.14), and Germany (no.15)
.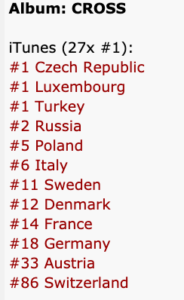 This is an impressive achievement for WINNER, who has gained a reputation for their summer releases
. Their fall comeback also happens to coincide with controversies surrounding YG Entertainment.
WINNER's Kang Seung Yoon
shared
their group's experience of creating this album, saying, "It's true that there were some hard parts to it, but it also gave us a chance to highlight the message we wanted to convey."
Check out the mini-album's title track,
SOSO
, below.
Congratulations to WINNER on their European success!