Brighton music festival, The Great Escape, has been cancelled due to COVID-19. The festival was due to take place from the 13th to the 16th May, with over 400 artists showcasing in 35 walkable venues. Manchester-based Aitch was set to be one of the headlining Spotlight artists. 
The festival posted a statement to their website and social media to announce their decision.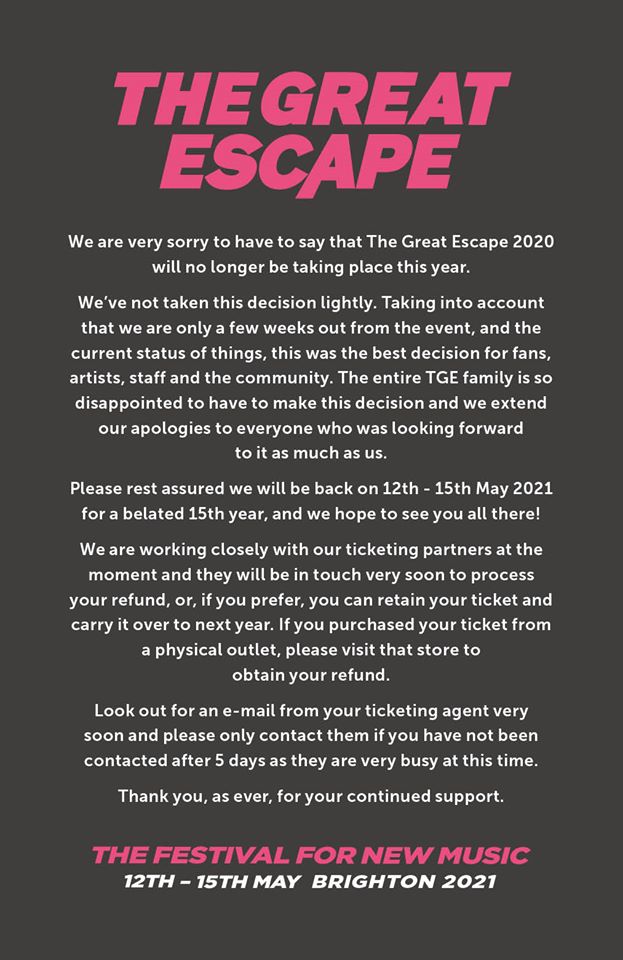 We are very sorry to have to say that The Great Escape 2020 will no longer be taking place this year.

We've not taken this decision lightly. Taking into account that we are only a few weeks out from the event, and the current status of things, this was the best decision for fans, artists, staff and the community. The entire TGE family is so disappointed to have to make this decision and we extend our apologies to everyone who was looking forward to it as much as us.

Please rest assured we will be back on 12th – 15th May for a belated 15th year, and we hope to see you all there!

We are working closely with our ticketing partners at the moment and they will be in touch very soon to process your refund, or, if you prefer, you can retain your ticket and carry it over to next year. If you purchased your ticket from a physical outlet, please visit that store to obtain your refund.

Look out for an e-mail from your ticketing agent very soon and please only contact them if you have not been contacted after 5 days as they are very busy at this time.

Thank you, as ever, for your continued support.
This year the festival was set to feature South Korean artists Samuel Seo, Balming Tiger and BIBI. The festival has long been a supporter of the independent and alternative music scenes in Korea so will no doubt include plenty more when they return in 2021 and beyond.
In the meantime, why not check out Samuel Seo, Balming Tiger and BIBI on Spotify.