With the quarantine keeping us K-Drama fans in, there could not be better time to be binging all your faves. All those titles on your list that you never got round to, you can finally work through like a storm! However, you need a light-hearted, easy to follow drama too. Something not too intense like "Vagabond" or with too many plot lines like "W – Two worlds"
[Minor spoilers ahead]
Are you a cat lover, or a dog lover? Regardless of preference, "Imaginary Cat" really pulls on the heartstrings of K-Drama lovers across the globe. The 2016 webtoon drama adaptation stars Yoo Seung-Ho as our protagonist Jong-Hyun, an aspiring webtoon artist who works part time in a book store and his daily battles with his mildly infuriating boss (played by Park Chul-Min) never seem to end. It is certain he does not want to remain a part-time book clerk, under a demanding boss, for the rest of his life. But his struggles in becoming a webtoon artist are certainly not ignored, as he constantly battles the hostility of other artists such as Park Jin-Sung (played by Kim Hyun-Joon), who Jong-Hyun seems to have some sort of past with…
Jong-Hyun lives alone with his fluffy cat Bok-Sil (cutely voiced by Han Ye-Ri) who was found abandoned on the street as a kitten and he almost treats her like a human, which makes us undoubtedly feel sympathy for the lonely artist. Their cute loving bond fills viewers with awe and love for the protagonist and his poofy ginger tabby cat. Bok-Sil's thoughts are usually at the forefront of the drama, as she usually either reassures her human during his emotional distress or wants food. She is not your typical 'I hate humans' cat for sure!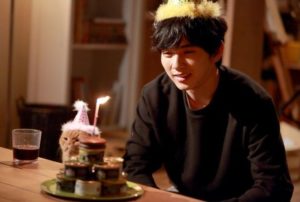 It isn't until we are introduced to the female lead Oh Na-Woo (played by Cho Hye-Jung), when we realise the special importance of Bok-Sil and the significance our furry friend has with Na-Woo's and Jong-Hyun's relationship. It seems like these two were destined to meet and not just because both have upmost love and compassion for cats. The drama reveals an underlying suspicion Na-Woo has for Jong-Hyun, in relation to her previous ownership of a similar looking cat to Bok-sil, who she lost when it was a kitten. However, their pure love for cats certainly proves that the two are compatible, as both characters show their desire to care for and nurture them.
Without a doubt, the greatest aspect of "Imaginary Cat" is the dynamic between Bok-Sil and Jong-hyun, even from the opening episode, Jong-Hyun returning home drunk with only a big bag of cat food, his first thought is to drink with Bok-Sil and attempt to feed her tuna… Although he falls asleep. At least you tried Jong-Hyun! Even when he is being scolded by his boss, the only thought he has is playing with Bok-Sil in his small, cosy apartment.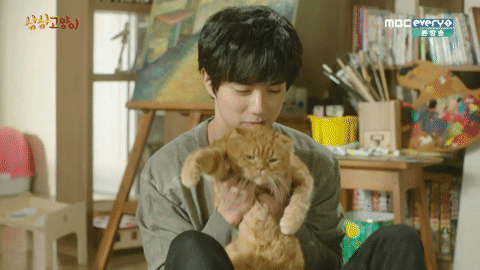 But with all the nuzzling and cuddling, the end certainly catches everyone off guard, the overall tone of the series totally flips on its head. However, despite this, Jong-Hyun still shows his lovey-dovey self to Bok-Sil, camping indoors inside a large green tent, cushioned with pillows and blankets.
With the series only being eight episodes long and lasting around forty minutes an episode, it makes it an easy drama to watch in one sitting. As mentioned previously, the story line is also very straight forward, simply just following the antics of Bok-Sil and his paw-some loving owner (more so best friend) Jong-Hyun. It is perfect for any cat or animal lover! Additionally, the wholesome and cute behaviour of the best friends, certainly can put a smile on anyone's faces during these difficult times.
Be ready to laugh, ooze in love for Bok-Sil and Jong-Hyun and perhaps shed a tear or two