With all the craziness of this year, many tours have been cancelled or rescheduled.
PH-1 is no different.
Cult of YA and Higher Music a decision to postpone PH-1's Europe Tour until 2021.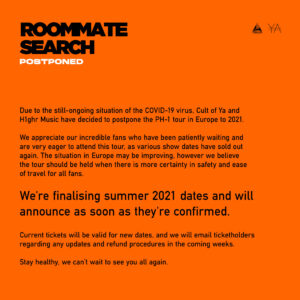 Dates for 2021 are being finalised and there will be a follow-up announcement when those are confirmed.
All those who purchased a ticket for the postponed tour dates – don't worry! Your tickets will still be valid for the rescheduled dates. Cult of YA says that all ticket holders will be contacted regarding updates and refund procedures.