Announced on June 29th, Sumni took to social media to release a teaser video and poster to promote the tour. 
She previously performed in Europe back in 2019 as part of her "Warning" tour where she performed at the indigo at The O2 in London.
Whilst there are no venues yet confirmed cities and dates have been confirmed, as she will kick off the tour in Warsaw on August 14 before heading to Madrid on August 17, Offenbach on August 19, London on August 21, Amsterdam on August 23, Paris on August 26, and finally Helsinki on August 28. Before heading over to North America and finishing the Tour in Seoul.
For further information check out Sunmi's teaser video and poster below.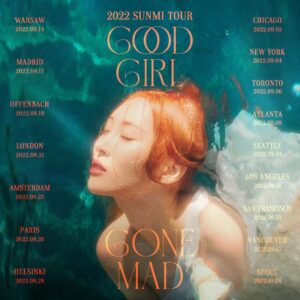 The news comes on the same day as the release of her new single "Heart Burn" surprising fans worldwide.