If you are like us then I am sure you dream about visiting South Korea and often wonder when is the best time to visit. Each season in Korea is different, much like every Country with different traditions and events being a must for those planning on visiting Korea during the summer. Throughout this piece, we will be talking about everything I wish that I knew before going to Korea and traditions that you can adopt and do at home.
Korea has various holidays over summer, many based on the lunar calendar and the country's religious beliefs. 
Also known as the traditional summer festival that takes place on the fifteenth of the sixth Lunar month, is also known as Sodu or Sudu relates to the customs of washing hair or taking a bath. It's believed to have been celebrated since the time of the Sila Kingdom (BCE 57 – CE 935).
Today, you can often find families celebrating the festival through the form of food, with the popular food consumption including Sudan (balls of cooked rice placed in a honey punch), Geondan (similar to Sudan, but served without punch), Sanghwabyeong (a steamed dumpling cooked by wrapping crushed and beans or sesame seeds into a piece of dough), Yeonbyeong (assorted pancakes containing fillings made from honeyed beans and sesame seeds) and Sugyowi (balls of minced and seasoned meat mixed with bits of cucumbers or mushrooms wrapped in dough.
A traditional holiday occurring on the full moon, this seasonal folk custom is a one-day feast chosen at the beginning of the seventh Lunar month mostly celebrated by farmers. In the early morning of Baekjung, typical food includes alcohol, tteok (rice cake), and jeok (Korean shish kebab). The old holiday is one of the lesser celebrated Korean holidays. However, it is recommended if you are looking into learning more about Korean history and culture.
Split into three days 'Chobok' (First Dog Day or the start of Sambok), Jungbok (Middle Dog Day), and Malbok (Last Dog Day, the end and transition to the colder months). Sambok refers to the three hottest days of the year. Why not celebrate by eating Sambok's most popular dishes which include Samgyetang (Ginseng chicken noodle soup), Chueotang (loach soup), Jangeoyori (Grilled Eel), or Jeonbokjuk (abalone porridge) with the majority of these dishes having a readymade alternative available Korean and Asian supermarkets world-wide.
Or if you are looking for a colder alternative then cold noodles such as Kongguksu or Naengmyeon are great options to have alongside some Bingsu (Korean Shaved Ice) a desert that has been added to many Korean and Asian restaurants growing in popularity around the world and becoming more readily available.
Celebrated on the seventeenth day of the seventh Lunar month, this folk festival often referred to as 'The Traditional Korean Valentine's day' is based on the story of Gyeonu and his lover Jingnyeo who meet every year on this day. 
In a tragic love story, it is said that if it rains the day before Chilseok it's the tears of joy of the reunited lovers separated on each side of the Milky Way with the bridge appearing every Chilseok so that they can be briefly reunited. And if it rains the day after it is thought to be the tears of the lovers separating once again. 
Traditions for Chilseok start young with young students writing poems about the story of Gyeonu and Jingnyeo each year. The most popular adult celebration is Chilseok Nori (Seventh Evening Play) special gathering based around singing, dancing, and drinking. You can often find people eating Miljeonbyeong (A thin, round pancake).
One of the biggest holidays in Korea, Chuseok translates to 'autumn eve', and is three days straight harvest. Appearing on the Lunar calendar at the Autumnal Equinox around late September. Chuseok or the 'Korean Thanksgiving', is all about spending time with friends, family, and food.
With a wide range of activities from various gift sets to traditional Hanbok often worn in traditional folk games, such as Ganggangsullae and Juldarigi to the infamous Dalkssaum (chicken-fighting game) famously played on the variety show 'Running Man'. Another important part of Korean summer is the food, now we've mentioned some of Korea's summer staples used during and throughout annual Korean holidays such as Bingsu, Samgyetang, and Naengmyeon. 
If you watched K-dramas or gone to any Korean restaurant then you know one of the main foods in Korea is chicken, popular not only with locals but also among foreigners Chi-mek (chicken and beer) is a popular dish within Korea eaten throughout the day and popular at night on restaurant terraces or outside seating this combination is a perfect mix and a must for those planning on travelling to South Korea. 
Other favourites include Oi-muchim, a dish consisting of sliced cucumber dressed in vinegar, onions, red chilli pepper flakes and sesame seeds. Jjimdak, a chicken noodle dish cooked with peppers, mushrooms and carrots in soy sauce. And a personal favourite is Kongguksu, a soybean dish soaked and blended, then added with cold water, pine nuts and a pinch of salt whilst cooked with noodles and ice cubes with a cucumber garnish.
As we have talked about all of the amazing occasions and foods you can do during summer both in Korea and at home. It is only right that we now tell you some of the amazing things and sights that Koreans do that you can do in Korea and at home.
One of the things I regret not doing enough in Korea is hiking, with beautiful mountains and city sights. This activity is perfect for those looking for that perfect picture, wanting a perfectly open view of the wonderful cities or looking for a bit of physical activity.
An absolute must, this landmark has a designated route to the top, and whilst those might take the cable car to the top like the beautiful scene in Boys Over Flowers. Why not do both and take the hike up to the top and see a slowly rising and beautiful view of Seoul from above whilst looking amongst the various padlocks.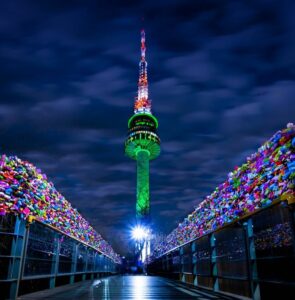 Seoraksan National park Seorak District:
Based just outside of Sokcho, this location isn't just for hikers. But is also perfect for those looking for an escape from the busy Seoul daylight.
Right next to Seoraksan National park and Sinheungsa Temple a head temple of the Jogye Order of Korean Buddhism and the UNESCO World Heritage site Seoraksan National park spans four cities and counties. The mountain reaches a height of 5604 ft and showcases Korea's natural beauty, with the option of the cable car going to Gwongeumseong Fortress placed at the top of the mountain this hike is also accessible for those worrying about the long-distance hike.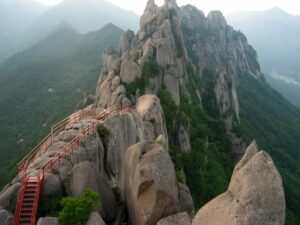 Also known as Seoul City Wall, built-in 1396 during the Joseon Dynasty, the wall stretches 18.6km along the mountains of Bugaksan, Naksan, Namsan and Inwangsan. An average wall height of 7-8m the wall stretches across the Four Great Gates in Sukjeongmin, Heunginjimun, Sungnyemun and Dongeuimun. Alongside the Four minor gates in Changuimun, Hyehwamun, Gwanghuimun and Soeuimun you can have a great insightful way to explore Seoul.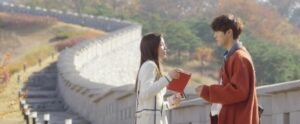 Another physical activity, I was surprised when I travelled to Korea to see many of the pavements with long and well-built cycle paths and perfect travel routes throughout the Country. One of the most popular routes going from Seoul to Busan (also known as the 4-Rivers Trail). There are a lot of short easy rides that are perfect for easily exploring the beautiful sites of Korea.
Typically starting in Yeouido Park which is a perfect place to rent a bike this beautiful park is worth exploring. Han River is popular for cyclists and walking on a nice summer day with various attractions amongst the long front. Why not reenact famous K-drama scenes or have a picnic on the back of your bike whilst at Han River.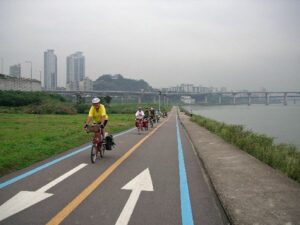 Now if you consider Korea paradise as we do then one of the most important parts of travelling during summer has to be the beach and Korea is no different, surrounded by water you won't have to travel far to find a beach.
Close to Incheon airport, why not take a lovely trip to the beach before heading back home from your flight, this is arguably Korea's busiest beach with a perfect location for those arriving in Korea and looking for a break from Seoul. It is a perfect day trip when looking for a different sight whilst travelling.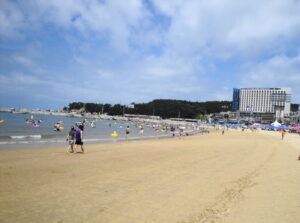 Based in Busan this 1.5km long beach is a beautiful coastline on the coast of Busan. Surrounded by beautiful hotels and private guest houses as well as restaurants this is one of Korea's premier and most popular beaches.
Some of the beach's activities include the Haeundae Cruise Boat which has been in operation since 1979 and runs from Haeundae's Mipohang port to Oryukdo Island and back, making for a perfect excursion after a day at the beach. Haeundae Special Tourist Zone is a perfect spot to enjoy all of the diverse activities available such as marine leisure activities and cultural events. The zone is an absolute must when visiting the beach or when visiting Busan.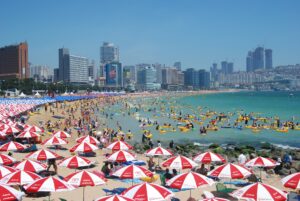 Based on the Jeju coast, Udo or Peanut Island is home to South Korea's only coral beach placed next to the Songdo Skywalk and Cable Car. You can travel here easily by ferry from Seongsan-ri port. This beach is famous for its beautiful white sand, and clear water that can be easily enjoyed with peanut ice cream.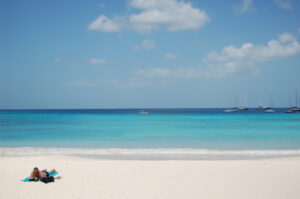 Hopefully, this piece has informed you a little bit about Korean summers for you to incorporate a bit back home. Whilst giving you a couple of ideas on where you can travel when going to Korea during the holidays.