Posted on the DICE website recently, it has been confirmed that SRP Entertainment girl group Rocking Doll will be coming to London this August.
The concert is to be hosted at Troxy in London on August 15, all tickets are free and include a £7 redeemable voucher that can be spent on food/drink. Queuing begins at 11 am with those who arrive earlier will be asked to leave the event will begin at 6:30 pm.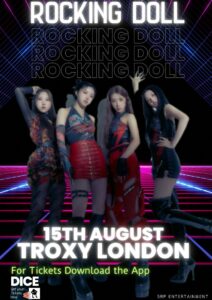 For further information and to reserve your tickets follow the link to the official DICE website here.