Announced by FrontRow Global Limited as part of their upcoming partnership to host multiple Dance Workshops in London, Frankfurt and Madrid. These workshops are to be led by Trandee Rock, famously known for choreographing dances for The Boyz 'Hypnotized,' and their dance cover of Blackpink's 'Kill This Love.'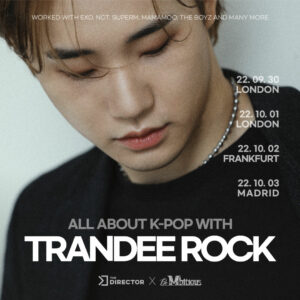 He has also worked with and choreographed alongside some of K-pop's biggest idols such as NCT, SHINee, Mamamoo, EXO, ASTRO, SuperM and Kai of SM Entertainment.
The tour is also in collaboration with FrontRow Global Limited's The Director App. Launched in May 2022, was created to be the first Korean-class style app to bring K-Content to global audiences. Featuring over 200+ classes designed to help users build careers in South Korea. The Director App can be downloaded here.
The first workshop is set to be held on September 30 in London, with the following workshops beginning on October 3. Each workshop will feature 3 separate sessions, a meet and greet and a Random dance play.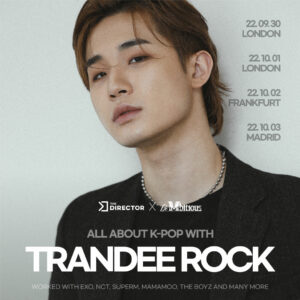 Dancers have the option of purchasing sessions individually, or a day pass that will include access to all sessions of the workshop.
Tickets are available now, and can be purchased on Eventbrite, or via The Director Facebook page here.