At UKP we often like to throw the spotlight to underrated and underappreciated Korean artists, who create some of the most unique art and music in the industry – our KHH/KRNB star of the month piece is exactly the way to do that. Our first ever star is BLOO – an artist with an evergrowing fanbase and consistently high quality music, who looks at the genre with his own angle.
BLOO is a South Korean rapper, who spent time living in the US, before moving back to Seoul. He debuted on 2017, before continuing on to release two full albums, two mini albums and a number of singles so far. BLOO pairs melodic, yet rough vocals with rnb style beats, to create his truly own style of music, catching the hearts of many khh fans across the globe. In 2022, bloo embarked on his first world tour, included coming to the UK for an incredible show – something which he's doing again next month.
BLOO has a number of famous tracks, such as downtown baby, grabbing the attention of the general public and even making its way into the charts.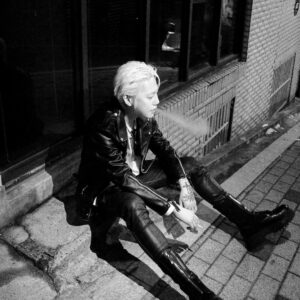 Previously, BLOO was part of MKIT RAIN, taking part in collabs with other artists at the label, such as LOOPY and NAFLA. During his time  in MKIT, BLOO won over the hearts of many fans, whilst taking part in challenges and tasks, including operating a food truck for a day. His interactions with fans, left people fawning over him, proving his talent isn't his only shining attribute. His positive, sweet and open attitude has gained him fans in all corners of the world, and left many with incredible interaction, both online and in person. In 2021, he left MKIT, to join UNCUTPOINT- the label he's currently signed to!
His steadily growing fanbase, is a strong indicator of his talent and performance skills, all his incredible work paying off. BLOO is embarking on another world tour next month, visiting many cities across Europe and the world.
He's an artist to keep an eye on, and an ear out from, with many songs that should be added to playlists for any mood.
You can listen to BLOO here!