We previously introduced Weki Meki in our [IDOL SPOTLIGHT] article to give our readers a glimpse into the girl group that is creating fans around the globe for their down-to-earth, cute and fun personalities.
Whilst Weki Meki is currently busy promoting their latest release "DAZZLE DAZZLE", the members took some time out from their photoshoot for ELLE Magazine to answer some interview questions and take some exclusive photos for UnitedKpop.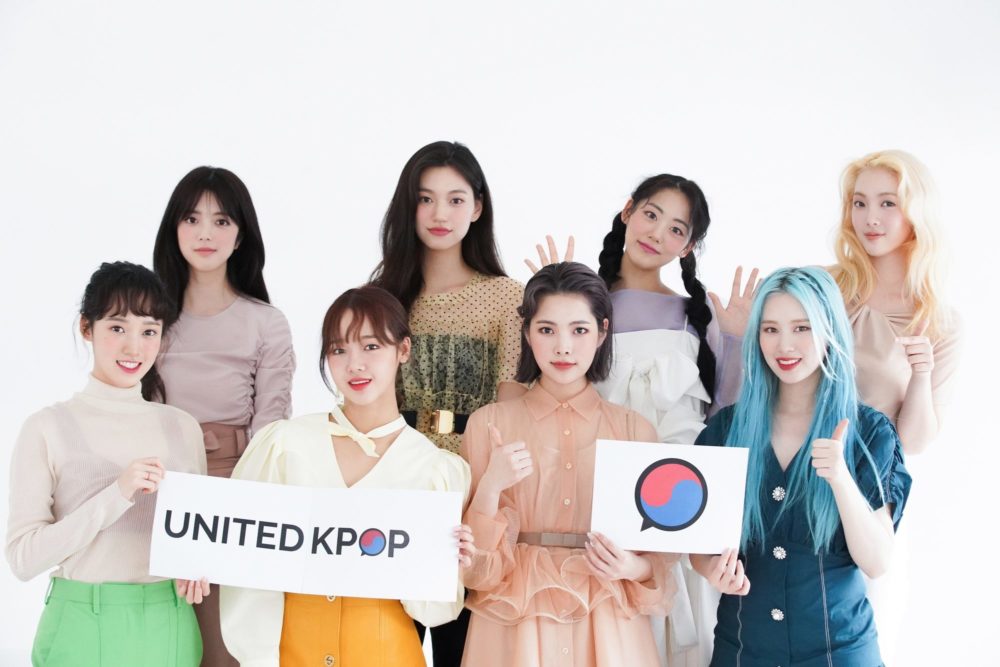 It's been 3 years since you released your first single "I Don't Like Your Girlfriend". Looking back, how do you feel you have grown as a group since then?
Su-yeon: Yeah, it's been almost three years since we made our debut and as albums are being released one after another, we've felt that we are indeed growing up, musically speaking and also in our members' way of looking at the world, it is deepening and maturing. We notice that we work faster and faster and spend less and less time to carry out our projects. That's when we realize that we matured and that our synchronicity is excellent.
You started out with the theme of "Teen Crush". Do you feel that the theme is still relevant to your current music and image? What kind of image do you wish to portray in the future?
Elly: Our current music style and image pretty much echos "Teen Crush". In fact, concepts may evolve but it does not alter the sunny energy and the cute and adorable character of our team. I would say this is a kind of "signature image" for Weki Meki and we want to keep this energetic and active image of ours. 
It has been 6 months since your last release "Tiki-Taka", did anything change in those 6 months? What kind of things did you do to prepare for the release of "DAZZLE DAZZLE"?
Do-yeon: As far as I am concerned, over the last six months…I got myself a fringe! The other members dyed their hair to bring some changes. Another very important thing we focused on while preparing activities around our new album "DAZZLE DAZZLE" is health. Our new choreography particularly required physical strength and endurance, and therefore this was where we invested ourselves the most.
It has been refreshing to see a girl group keeping cute and sexy concepts in the background but showing a more powerful image upfront. How do you feel about being noticed for your amazing dancing skills?
Yoo-jung: When preparing our choreography, every single detail counts. We invest so much of our passion and energy into each detail that we feel grateful when our fans notice our efforts. We are very proud that the public recognizes all the work done behind the scenes, this encourages and motivates us to show the best version of ourselves.
Korean music has been hitting the charts in the UK/USA (as well as most parts of the world). What does this mean to you as a younger group? Do you feel that the language barrier can be crossed?
Sei: That Korean music is hitting international charts is something we are very proud of. It really motivates groups like us to work harder and has such a positive influence on us too. And you know, we can't help noticing that every time we perform abroad, our fans sing our songs in Korean and do the fan chants! This clearly shows that the language barriers are already crossed.  
Korean idols are known for having a strict routine, from what they wear, how they present themselves, to how they speak. What do you feel about your trainee days?
Lua: From a young age, I worked as a trainee as I was attending school. During school breaks, I used to spend the whole day practising and training, yes, those were hard times indeed. But also, I was impatient to make my debut! The most memorable day was when all the members were finalized. We were so excited to finally make our debut but it also meant that we were saying goodbye to other trainees. The separation was so hard that I remember we cried so much together. 
what was the hardest thing about this comeback for you? Were there any key moments when practising or recording "DAZZLE DAZZLE" that sticks out for you?
Su-yeon: For this album, we chose the title song ourselves. And yes, it was tough to choose one but we did after discussions and communication with our staffs and we are glad to come back with such a great album and title song. When recording "DAZZLE DAZZLE", I particularly sang energetically and when I sing with my in head voice, I paid particular attention to every single detail.
Being a vocalist, has there been any times you wished you could have another members lines? In DAZZLE DAZZLE, which members lyrics would you swap with and why?
Elly: You know, I love the lyrics that I sing so much that I have never thought of changing mines with the others. But now that you ask me…  I would love to try the rap part of Yoo-jung that goes, in English, "Bermudana that was a mystery". Yoo-jung rapped that part so well that I am now curious and want to try it!
In the past, you have written lyrics for some of your releases. What did you feel when you read the lyrics for "DAZZLE DAZZLE"?
Yoo-jung: I really think that the lyrics of DAZZLE DAZZLE match perfectly with the image of Weki Meki. In fact, we are an energetic and witty group and the lyrics of DAZZLE DAZZLE express us so well and with fun lyrics that I think our fans will enjoy the song a great deal!    
There is a great mix of styles and costume changes throughout the music video for "DAZZLE DAZZLE". As one of the visuals for the group, which outfit was the one that pleased you the most?
Do-yeon: Among all the outfits, my favourite was the white one! Without being too much, the white outfit was matched with shiny accessories so the concept went perfectly well with the title DAZZLE DAZZLE.  
During the music video for "DAZZLE DAZZLE" you smash a huge diamond into a frowning face cake. How did it feel? Are you the rebellious type?
Sei: You know, food is very important to me. I never throw out food like that. It was the first time that I treated food in a brutal way. The cake was specially made for the shooting so it was unique and smelled so good that it was a hard decision for me to smash it, but I did it! and it was fun. I recalled when I was younger, that I wanted to touch and play with cakes so…yeah… it was fun to shoot that scene. I am far from being rebellious and so it was a lot of fun to exploit that part of myself during the shooting. 
While watching the dance practice video for "DAZZLE DAZZLE" I realised that the dance is possibly harder than your previous releases. Do you have a favourite part of the choreography?
Lua: The choreography that I enjoyed the most is the one that goes with my rap part in verse 2 of the song. It goes with the following lyrics : 'Breaking the rules come to me now 1% 더 한끝을 채워 (fill in the margin)' performed by four of us. The secret is that there are some special gestures hidden in it. I can't wait to perform it on stage.
Obviously your new release is titled "DAZZLE DAZZLE". But what makes this release dazzling to you and for the people listening to your song?
Rina: For all of our members, the choreography of DAZZLE DAZZLE is, without doubt, the best one. It is composed of energetic gestures. Its vibrant choreography and the glamorous change in the members' hair colour will definitely be the exciting features.
When you read the lyrics and watch the music video for "DAZZLE DAZZLE" what kind of story do you think it portrays? 
Lucy: I think the word speaks for itself. As the meaning of the word DAZZLE shows, the music video expresses the atmosphere, the concept and, above all, the shininess of Weki Meki. 
How would you describe your fan base Ki-Lings?
Lina: Our fans are adorable, gentle and their presence is an enormous support for our team.
Are there any songs or dances you would like to cover at the moment?
Lucy: We are currently discussing with our members and planning to cover the choreography of the song BLUE FLAME of the group ASTRO. We can't wait to perform it for you soon. 
Which Korean/Kpop singers do you look up to? What about British singers?
Su-yeon: IU is the singer that I admire the most. She fills the stage with her presence alone and the way she delivers her message through her songs is just amazing. I also love the British artist COLDPLAY. I think about how all of their songs feel new as well as how they come up with the songs. I especially like the song, 'Trouble in town' and the overall mood and structure of the song is wonderful so it gives me a different feeling whenever I listen to it.
If you could collaborate with anyone right now, who would you choose and why?
Elly: I am enjoying performances of the group KARD these days so much! It would be an honour for me to collaborate with them one day.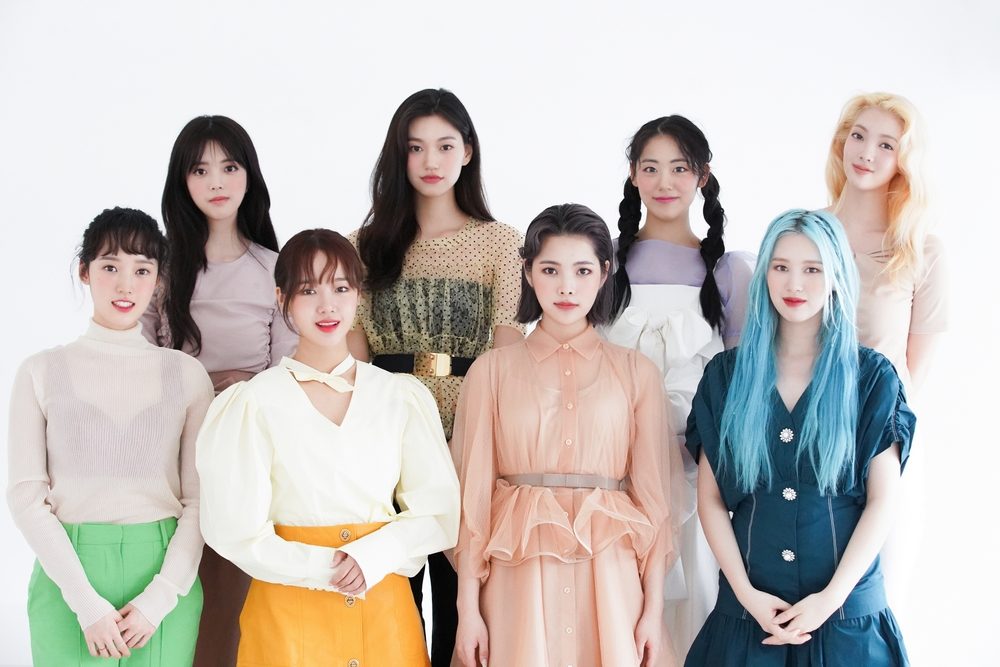 If you had to pick one of your favourite songs from any of your albums, which one would it be and why?
Do-yeon: Well, actually I love all of our songs but if I have to pick one, it would be 'Picky Picky'. For me, this song kind of gave an identity to us and led us to whom we have become today. Our new album shows, overall, a perfect harmony of the song, the choreography and fashion.
For people travelling to Korea, what food/drink would you recommend?
Yoo-jung: I recommend boiled pigs hocks and buckwheat noodles that are a perfect match. Ah! I also recommend Sam Gyup Sal, grilled pork belly. 'Tteok-bokki' too, sticky rice cake in spicy sauce too. The fun part with 'Tteok-bokki is that you can enjoy various toppings on it.
If you were to come to the UK where would you like to visit? What would you like to experience?
Sei: London, the capital of England, is the city I want to visit. Having a walk around Notting Hill, market tours and enjoying the atmosphere of London. Also, I would love to try an English style brunch in a nice brunch café that I would find walking down the street.
And finally what message would you like to say to your UK Ki-Lings?
To. UK ki-Lings!!
We always sense your support from here.
Until the day we can have a concert in UK!! We'll do our best!
UnitedKpop would like to offer our greatest support and appreciation to Weki Meki and Fantagio for spending a little time out of their busy schedules to answer our questions and would ask that our readers support the group by following the Weki Meki's Youtube, Instagram and Facebook