After yet another incredibly long, dark and damp winter season, spring is finally on its way! Okay, so maybe the current British weather is still making you feel otherwise, but that doesn't mean we can't start getting our wardrobe ready for when the spring weather finally gets here, right? (Please let it get here!)

Spring is usually when the weather starts to become warmer and when the world around us begins to awaken from its winter slumber. This gives us an excuse to mimic our surroundings and dress in warm and bright colours – shedding our winter coats in favour of something (only slightly) less cumbersome.
For SHINee's latest release "Dream Girl', the boys exhibit the perfect spring look. They bravely sport bold colourful and floral prints, but maintain their masculinity thorough sharp blazers and Hip-Hop style caps. It's the kind of look that says: "Yeah, that's a teddy bear on my shirt/salmon pink blazer, what of it?!" Of course, not all of us have the bravery (or the money!) to emanate SHINee's fashion exactly, but theirs is an excellent source of inspiration for us!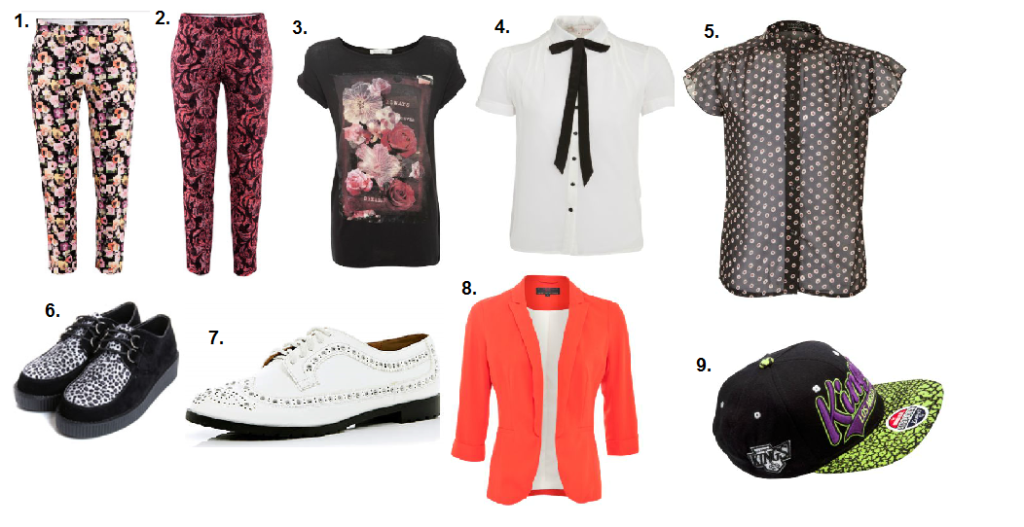 1)  Trousers (Floral) – H&M: £14.99
2) Trousers (Orange) – H&M: £14.99
3) Black Floral Dreamer Print T-shirt – New Look: £9.99
4) Cameo Rose White Bow Tie Blouse – New Look: £16.99
5) Pussycat Black Pebble Print Cap Sleeve Blouse – New Look: £12.00
6) Ivanna Dalmation Print Suedette Creeper – boohoo.com: £25.00
7) White Studded Lace Up Brogues – River Island: £35.00
8) Red Crepe Roll Sleeve Blazer – New Look: £24.99
9) Zephyr Black and Purple Kings Snapback Cap – New Look: £24.99
Earlier in the year, SNSD made their long-awaited and very much-anticipated comeback with "I Got A Boy". Many SONEs were left gobsmacked by the unique nature of the single as a single verse isn't allowed to go by without the beat being switched up entirely with another sporadic tune. The girls' outfits also expressed spontaneity – mixing up a variety of colours and prints, styles and types. It was great to see the usually incredibly girly women sporting a more attitude-filled concept, for once wearing flat trainers instead of their trademark knee-high heels.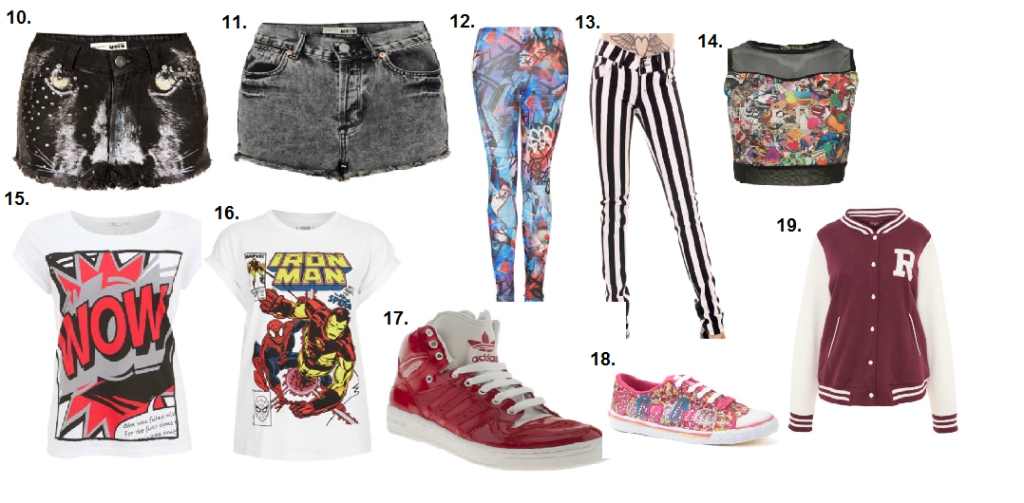 10) Moto Stud Panther Denim Shorts – Topshop: £38.00
11) Moto Black Acid Denim Hotpants – Topshop: £28.00
12) Graphic Graffiti Leggings – Topshop: £20.00
13) Jist Black and White Wide Stripe Women's Stretch Skinny Jeans – attitudeclothing.co.uk: £29.99
14) Parisian Black Mesh Toy Print Crop Top – New Look: £12.99
15) White Wow Comic Strip T-Shirt – New Look: £7.99
16) Iron Man Tee – Topshop: £20.00
17) Women's Adidas Adi-Metro Attitude Logo Trainers – Schuh: £44.99
18) Babycham Pink Patch Letter Floral Trainers – New Look: £39.99
19) Inspire Red and White Baseball R Jersey Jacket – New Look: £19.99
All the suggestions in this post are not really on the cheap side, but as long as you are keeping things bright and floral and very daring, you really cannot go wrong with this style. The way to complete the 'I Got a Boy' look is to add some leggings of a contrasting colour to the rest of your outfit (yellow always looks great) and pop on a crazy statement hairband.
Unfortunately and as always, it is a lot harder for the males among us to replicate this look on the British High Street. Unless you guys have a top personal stylist with access to custom-made pieces, chances are you won't be able to find a lot of floral prints in the Men's section, which is very sad! 🙁
However, there are some High Street brands (especially New Look and Topman) that offer a few men's t-shirts and trousers that sport bolder patterns and brighter colours! So go for it and be brave!
You do not have to spend too much to achieve these K-Pop looks, you just need to be brave and adventurous with your style and then you are sure to turn heads this Spring with the help of these SHINee and SNSD's styles!
[As always, every single suggested item is available in the online versions of these shops – some exclusively and thus not available for purchase in store. Make sure you go on to the official site and type the item into the search bar to locate it! :)]
What do you think of these styles?
Are there any other K-Pop looks that give you an overwhelmingly 'Spring-feel'?
Another great look for spring can be found here!
[Sources: Google Images, H&M GB Online, New Look Online, boohoo.com, River Island Online, Topshop Online, attitudeclothing.co.uk, Schuh Online].