Following my review on BIGBANG's Alive Tour In Seoul DVD back in February, I will now take a look at one of their newest live DVDs – Alive Galaxy World Tour.
Alive Galaxy World Tour consists of three DVDs. The first DVD has 68 minutes of concert footage with an extended tracklist that includes songs from BIGBANG's Still Alive and snippets of G-Dragon's One Of A Kind mini album. Rather than have full length songs from all the countries on the world tour, the DVD plays the songs but cuts from different countries (however you can't easily tell which countries they are because there are no captions). So for instance, when you watch the performance for the song Fantastic Baby you will find the guys still performing but their hair and costumes will differ every few seconds (you could play the guessing game on which country BIGBANG were performing in by looking at GD's many hairstyles!!). In other words it feels like a very lengthy music video cutting to different scenes.
If there is one thing which bothered me about this DVD it was the fact there were no full length performances of songs from some of the countries on this world tour. I would have preferred to see that as opposed to constant cuts from various concerts to cover one track. Why not add the Tonight performance from Seoul, Stupid Liar from London or Last Farewell from Singapore for example? Despite that little letdown, I definitely think this DVD gives VIPS the pleasure of re-visiting key highlights from the Alive World Tour. You will be reminded of how very electrifying these five guys are when they perform.
The second DVD has the BIGBANG – Alive Around The World documentary that was shown on MTV Live recently. Interestingly enough, the opening sequence with the various crowd shots has captions this time so you can see which countries the overexcited VIPs come from. There is also a BIGBANG Alive Galaxy Tour Behind The Scenes feature which shows fun footage of the guys before and after some of their concerts including TOP trying to blow a balloon for his birthday and his voice being affected by the helium.
The final DVD steps away from the concert performance and provides BIGBANG's fan interactions. BIGBANG Alive Galaxy Tour Special Events From Fans has clips from concerts where the band members all had lovely birthday celebrations while on tour and there is also a Haru Haru moment where the guys tell the Korean VIPs to sing the chorus for them. The next section on the DVD is BIGBANG Alive Galaxy Tour Dialogues With Fans. This was during the chitchat sessions after the concert opening songs were performed. Most of these segments had Taeyang, Seungri and Daesung exciting the crowd, introducing themselves and talking about the countries they were currently performing in that night.
To complete this final experience of the World Tour DVD is BIGBANG Alive Galaxy Tour Encore which is a selection of Seungri's encore fancams recorded from his Samsung Galaxy phone. You may have already watched them on BIGBANG's Youtube channel but this DVD allows VIPs to rewatch some of these highly energetic encore performances on your own DVD player. Examples of such delightful moments include G-Dragon with the dinosaur on his head and TOP playing peekaboo with his towel.
Favourite moments
* Choom!TOP on the special feature DVDs.
* TOP speaking Thai (you will notice the English subtitles on the DVDs are not perfect overall and there was an error on which country BIGBANG were in during this talk).
* BIGBANG speaking Mandarin at the China concerts (I felt GD carried the accent well, as did MC!Seungri). Would liked to have seen the Hong Kong talk included on the DVD as well as that was just as fun to watch.
* Seungri's You alright? / general attempt at British English from the second night in London.
* G-Dragon rapping to Crayon and One Of A Kind while his band members helped with the beatboxing.
* Taeyang, TOP and Daesung singing some of G-Dragon's One Of A Kind songs.
* The G-Ri moment during Stupid Liar. Actually you will find a lot of interactions between the charismatic leader and the entertaining Maknae in all three DVDs. There is something rather touching when these two are sharing the stage together.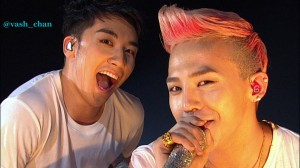 Other goodies
The three booklets that come with the DVDs contain stunning photos of the band at various concerts – whether it's backstage or during a live performance. There are also photos explaining the labels each band member are wearing so this is definitely something to check out if you are very enthusiastic about fashion.
Did you buy this DVD? What are your thoughts or personal favourite moments?