f(x) have recently made a comeback after quite a while away from the limelight (well, it's a while when  you consider how incredibly active most K-Pop acts are). The lovely SM Entertainment girls are back with "Rum Pum Pum Pum" – another bouncy electro inspired song to add to their repertoire.
f(x)'s videos are usually quite a feast for the eyes, often covered in vibrant colours from top-to-bottom. Lights flash and sparkle, highlighting the members' equally bright outfits. This time around, we see a deep red tartan feature along with some tie-dye and bold print designs. It's fair to say this style is not for the faint-hearted, but the eagle-eyed high-street shoppers among you may have noticed that a lot of their pieces come from the British fashion outlet Topshop. This not only means we can match parts of the outfits quite accurately here, but also ensures a certain level of affordability for the poor ones among us. (I feel your pain, guys).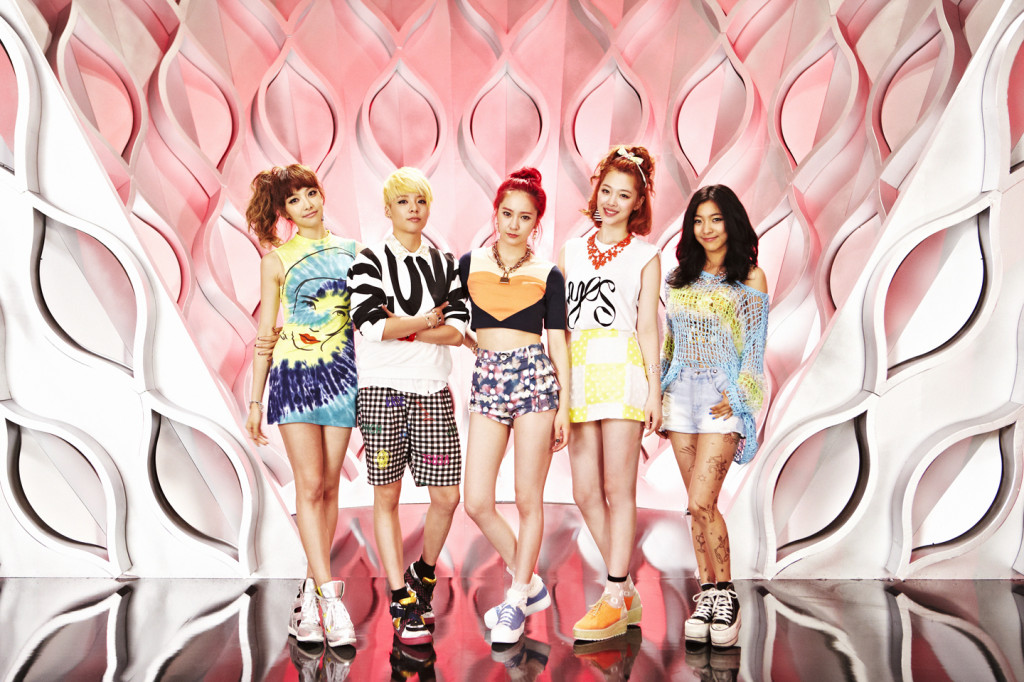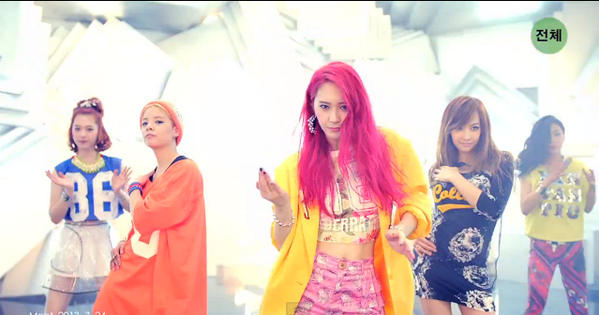 This group give off a very young feel and their look is always fresh and slightly unusual. One of the good things about f(x) is that they combine both femininity and masculinity in their looks. Clearly Amber feels more comfortable with more masculine clothing, but all the members – Amber included – are quite good shape-shifters in their respective styles. This means that fans are always given something quite different, even in the confines of a single music video – for 'Rum Pum Pum Pum' we see a variety of bold looks, giving you a lot of choice if you want to try this look out for yourself!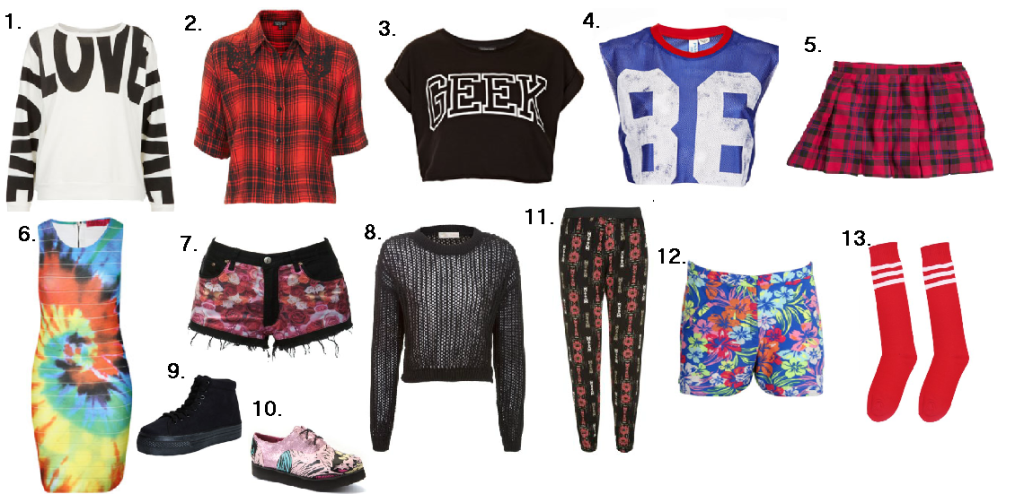 Love Sweat – Topshop: £10
Panther Applique Crop Check – Topshop: £29
Geek Crop – Topshop: £5
86 Mesh Crop Tee by Project Social T – Topshop: £12
Pleated Skirt – H&M: £14.99
Kelly Tie Dye Bandage Bodycon Dress – boohoo.com: £30
Bambam Rose Print Black Denim Shorts – New Look: £25
Cameo Rose Black Mesh Crop Jumper – New Look: £4
Grace Black Hi Top Flatform Trainer – boohoo.com: £12
Iron Fist Pink Grave Dancer Brothel Creepers – New Look: £22
Misumi Black and Red Aztec Stripe Trousers – New Look: £9
Cici Tropical Print Flippy Shorts – boohoo.com: £10
Soccer Baseball Football Basketball Sport Over Knee Ankle Men Women Socks sold by WMA [also available in 6 other colours, including black]– amazon.co.uk: £3.29
As with all fashion, the key is confidence! Don't be afraid to try out bold prints and crazy colours.
Crop tops and mesh jumpers are quite full on, but I find a plain black vest underneath is a simple way to keep things modest! 😛
I would like to give a special thanks to my fellow UnitedKpop writers Ella Kaill and Mai Duff for helping me find some items for this article!
Remember to look for all the suggestions on the official websites of these stores, some of the items are online exclusives!
Please share your opinions on this article in the comment section below.
Will you be trying the 'Rum Pum Pum Pum' look out for yourself?
[Sources: Google Images, Topshop website, H&M website, New Look website, boohoo.com, Amazon UK].