After our first Unisex edition of 'Get the K-Pop Look' featuring Bangtan Boys was published, we received a request from a male reader to try and recreate the look from rookie group NU'EST's debut MV for 'Face'.

This concept certainly offered an interesting look. The boys used the single to help promote anti-bullying in schools and used their fan-club colour of pink to assert that people should be who they are and feel comfortable within themselves no matter what. This led to the usually formal and stern boy school uniform to be jazzed up with graphic tees, studs and some very pink accessories.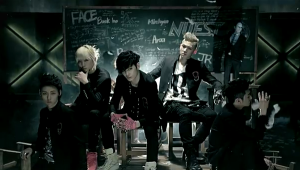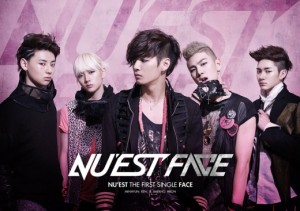 The second look taken for this article is a little less formal, allowing the boys to express a more adventurous masculine style and, evidently, a bit more of the neon pink colour.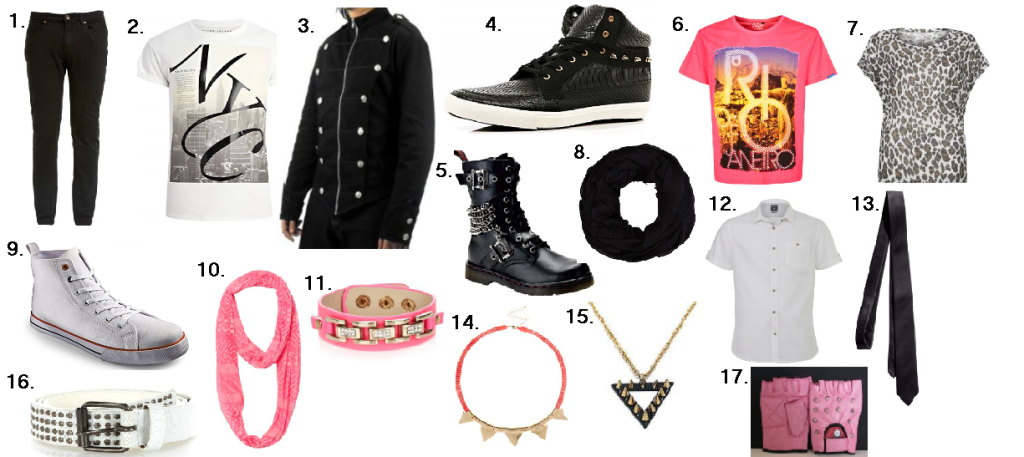 Men's Black Skinny Jeans – New Look: £19.99
White NYC City Print T-Shirt – River Island: £16
Odins Men's Black Military Jacket by Necessary Evil – amazon.co.uk: £39.99 [+£4 UK delivery]
Men's Black Croc Panel Studded Hi Tops – River Island: £50
Men's Demonia – Disorder 204 Boot – attitudeclothing.co.uk: £91.99
Unsung Hero Pink Rio Carnival Graphic T-Shirt – New Look: £7
Brown Leopard Print Oversize T-Shirt [Ladies!] – New Look: £9.99
Black Mesh Snood – River Island: £10
Jacamo Hi Top Style S Fit – jacamo.co.uk: £25
Pink Ethnic Burnout Jersey Snood – New Look: £4
Neon Pink Strap Bracelet – New Look: £5.99
 White Short Sleeve Oxford Shirt – New Look: £14.99
 Tie – H&M UK: £7.99
Neon Pink Chain Arrow Necklace – New Look: £3
 Triangle Stud Necklace – ringsandtings.com: £6.50
 White Stud Belt – New Look: £7.99
 Pink Studded Leather Fingerless Gloves Size Medium – Unisex by GB – amazon.co.uk: £3.85 [+ £4.59 UK delivery]
A couple of these items are on the costlier side, such as the gothic-style black boots (Item 5). These sorts of things are probably not what you would pick up of your casual shopping trip and are more of a fashion investment than impulse buy. However, you really do pay for what you get and items like boots are worth a higher price if you want them to last for a long time. Having said this, these boots were inspired by Ren's particular footwear in the video, but realistically, any type of black boot would do the job just as well if you really can't spare the cash.
You may have also noticed that a few of the suggested items are also girls items, but it is both unfortunate and unsurprising that pink does not feature heavily in male clothing lines. Alas, though it is the 21st century, we are still somewhat constrained by gender boundaries. So, I bestow the mission upon you, male UKP readers, to challenge these norms and values by wearing pink (and animal print) with pride!
Okay, so you may not be a K-Pop idol like Ren,  so gender-confusingly pretty that you make many a female question how good they look in a dress, but this look is about being able to express yourself and feel comfortable to not be how society apparently expects you to be.
This look is also unisex, so the ladies can also get involved and embrace this look full of attitude and flair!
Every item is available on the online stores of the respective fashion outlets. Please search for them online rather than going to the shop, as some are online exclusives!
[Sources: Google Images, New Look Official Website, River Island Official Website, amazon.co.uk, attitudeclothing.co.uk, jacamo.co.uk, H&M Official UK Website, ringsandting.com].