It's been a long time coming, but it's now far too obvious for people to ignore. SM C&C is likely to be the center of attention in the Korean entertainment industry for the foreseeable future, whether it is successful or not.
The way that SM C&C is moving and the rhetoric coming from SM Entertainment HQ itself, sounds like SM Entertainment has plans on building a media empire on the scale of which Asia has never seen.
Too busy, too long?
Click here for the summary.
It was a name that's new to most fans until the news broke that Woollim Entertainment had been taken over, but I'm sure people who used to go to my blog remember SM C&C. Some analysts in the industry have been presenting it as evidence that the SM Group, that is the several companies built around SM Entertainment, have grown beyond expectation and will continue to grow. The projected aim of the company seems to be to be influential in every field imaginable in mainstream entertainment.
What is SM C&C?
Incorporated in April 2012, SM Culture & Contents is a separate entity from SM Entertainment, expanding on current business by exploring video contents production, management outside of music talent, travel and leisure etc. With the purchase Woollim, and so moving towards global sales in music, that SM C&C seems to be expanding its own portfolio to be more in line with its parent company.
However, that's not the case. With the acquisition of a rival label that has a more diverse range of genre, it's just another part of their diversification. Taking on a more financially risky (as proven by the situation Woollim were in) roster into a subsidiary company isolates that risk, while potentially bringing in benefits from the economies of scale that only giants like SM, YG and mnet/CJ E&M can bring.
And now there are industry whispers coming to focus, about another huge movement. SM are rumoured to be targeting J.Tune, Starship and WM Entertainment for acquisition among other smaller entertainment agencies. Those involved in the M&A are very cautious on what they say, but they do not deny that discussions have been had on the subject; it is highly likely that industry eyes will be on how SM C&C will manage Infinite, Nell and Tasty before progressing any further with further mergers.
SM are said to especially be interested in mid-tier groups who have less opportunity cost and can be promoted in SEA and China – these are the expansion markets that SM will be targeting in the mid-term, which suggests that they've already conceded the American market as a possibility to poke at but not a business opportunity to push forward.
Woollim's current CEO Lee Joongyup is set to remain in his position. That shows SM is not here to plunder assets and talent but to absorb more entities as a whole to become bigger, have more varied output and also hoping for synergies. This and the creation of a "label" shows that they don't want to push the SM flavour of music production – and it's smart because it gives them an opportunity to debut a more diverse range of talent from their own academy.
If all of this plays out, combined with SM's stated commitment to being a global music distributor with Woollim Label, one could paraphrase that oft-used quote: "shit's about to get real".
So all this financial commitment, what about the risk?
We've seen what happens to groups and companies that neglect their core markets in the shape of JYP with Wonder Girls. That's why SM C&C exists to take the burden of all other "Culture & Contents" business ventures of the company. Even management of actors and MCs have been assigned here, as opposed to at HQ and Woollim Label is based here too – that isolates the risk, and HQ profits can be used to help fund the SM C&C venture.
As long as SM Entertainment itself keeps running as usual, and SM C&C is seen as taking on new assets, new employees and expanding as its own financial and legal entity, the risk should not affect the SM Group as a whole. At the beginning of the year, SM share prices fell by almost a quarter on fears that they wouldn't be able to consistently deliver the breakneck speed of growth. One of the fears was that SM had reached its mid-term capacity and couldn't expand any more until significant investments had been made.
In fact, SM C&C is evidence that SM is making those significant investments and doing it in a way that is smarter than the market was expecting.  SM have been using it for video production, drama, talent management, travel, 3D hologram R&D,mobile applications and other avenues of revenue stream diversification.
Combining its current assets and looking at the potential, SM C&C has a forecasted growth in revenue and operating profit of 52% and a staggering 177%  respectively in 2014. In the next 18 months, SM C&C will be focusing heavily on recently acquired talent from Woollim and also in drama production.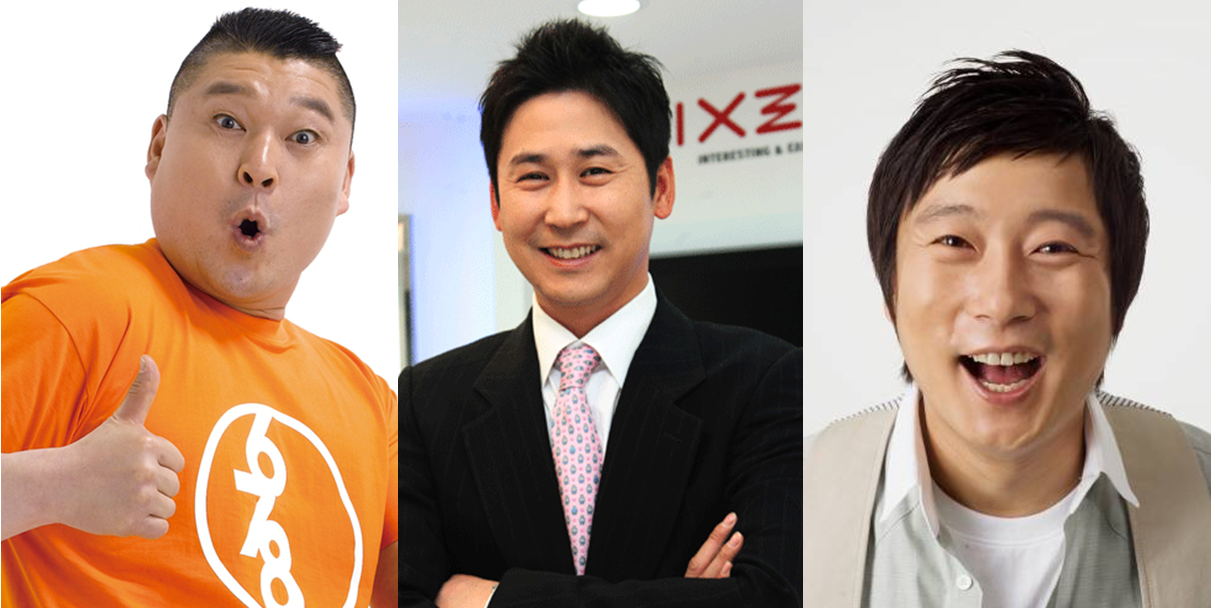 Kang Hodong, Shin Dongyup and Lee Soogeun are all household names as MC's and are one of many under SM C&C
Speaking of drama production, I tweeted back in April 2012 that SM would be focusing heavily on drama and television, which was followed by the signing of a diverse range of talents in that field. Since then, they've acquired Hun Media, a programming production business that specialises in variety shows. With its roster of MCs, self-produced entertainment productions are not an impossible target.

Han Jimin, Jang Dong-gun, Kim Haneul and Kim Sooro lead up a surprisingly solid roster of actors in SM C&C
In terms of television and cinema, SM are quietly gathering up the ingredients for their own production in those fields too. Productions that they know will sell abroad, even if the Korean audiences don't like them. The sale of "To the Beautiful You" for $6.5m to foreign countries (despite low national ratings) shows that even if production is not quite up to expectations, SM can still make a decent amount of money from such ventures. Once idols are roped into such projects, the risk of a failed project diminishes in the foreign market because there is a consistent, even growing, demand.
With a rumoured four-part drama and two miniseries to be announced in the next 12 months, and even plans for musicals in the works, the diversification of content continues. But we do have to keep in mind that this kind of aggressive expansion requires capital. Profits of SM Entertainment may have already been plundered for the sake of SM C&C, and this financial burden, while not a huge threat, is still significant.
What about the competitors?
The moves by SM C&C certainly caused a stir among entertainment circles, not just among fandoms. And no, they weren't tweeting "OMG INFINITE IS RUINED CREYS", they are watching the beginnings of a monopoly. Realistically the only companies that stand close to SM Entertainment are the CJ E&M group (a splinter of the Samsung dynasty, who basically do much of  what SM C&C plan to do) and YG Entertainment (who have been recently raised in valued thanks to PSY).
It's difficult to predict how CJ E&M, the owners of mnet, will react to this. Mnet and SM Entertainment haven't exactly had the smoothest of relationships, but it's curious to see that nothing has been said or done publicly when they certainly will have known about the acquisition a long time before it was finalised. This company remains an unknown factor.
Meanwhile, YG Entertainment will have its own problems to deal with. The two broad choices are to pursue and replicate SM to take them head on in this diversifaction, or to concentrate on their music production in hopes of gaining more ground while SM may be distracted.
YG purists have long since claimed that their favoured company has always been about music, content with the lack of other entertainment products from the artists under that brand. With the lack of experience and expertise in these fields in their in-house roster of talent, the only choice seems to be the latter in pursuing with music. However, this is where PSY will prove to be both a blessing and a curse (which will come in a later editorial).
Where do we go from here?
There are some simple conclusions.
SM Entertainment, as a group, will be involved with even more content in wider fields. More dramas, possible musical and film, and several music labels that focus on individual markets in a de-centralised manner. Expect more foreign concerts, broadcast productions and promotional activities in China and South-East Asia.
Expect more SM-related idols to appear in more dramas, even kids you didn't think were interested in acting as their popularity alone can make a domestic disaster an international success.
If SM C&C manage to make Infinite more successful and bring Nell and Tasty to popularity, then expect acts like SISTAR, K. Will and B1A4 to be acquired. It's been predicted that SM will continue to create more labels for more diverse musical content.
In theory, if everything goes as they plan, SM Entertainment will not be just an idol factory but an entertainment empire that produces almost every kind of mainstream consumable entertainment for the main markets in Asia.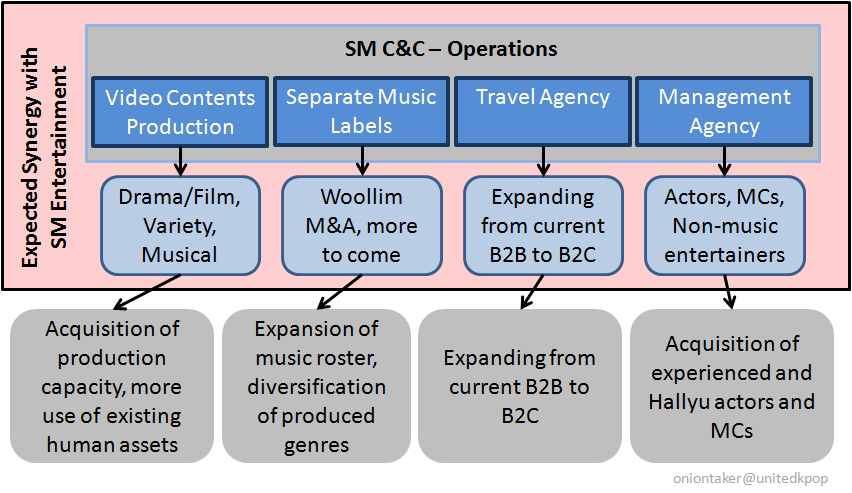 And that's not including all the other SM Entertainment activities.
To quote SM, "SM Entertainment will run its global music distribution and additional businesses while SM C&C will take charge of the label's functions. In terms of business structure and scale, we will acquire international competitiveness and will stand as Asia's premier music group which can compete with global major music groups. We will take our place as the first global major music group in Korea."
Whatever the outcome, all eyes will be on SM.
Click here for a summary of this article.
For another look at a previous editorial, see Looking Ahead with SM Entertainment